Ad blocker interference detected!
Wikia is a free-to-use site that makes money from advertising. We have a modified experience for viewers using ad blockers

Wikia is not accessible if you've made further modifications. Remove the custom ad blocker rule(s) and the page will load as expected.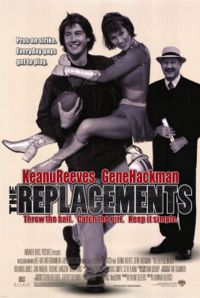 Director: Howard Deutch
Producer: Jeffrey Chernov, Steven Reuther, and Erwin Stoff
Writer: Vince McKewin
Starring: Keanu Reeves, Gene Hackman, Brooke Langton, Orlando Jones
Music: John Debney
Cinematography: Tak Fujimoto
Editing: Seth Flaum
Distributor:
Released: 2000
Runtime: 118 minutes
Language: English
Budget: unknown
Based loosely on the actual National Football League player strike of 1987, The Replacements follows the fictitious Washington Sentinels, who elect to use players of various backgrounds who never got a decent shot in the NFL to attempt to get to the playoffs. Each player seems to have unbelievable talent, combined with a strange twist which kept them from becoming a football star: An amazing Tight End who was born deaf, a runningback that had his shot in the pros but tore his knee up, a blazingly fast wide receiver who can't seem to catch a football, a safety who has talent but is a highly dangerous prisoner, a kicker who is actually a U.K. soccer player and has a nasty gambling problem, and Shane Falco, a phenom college quarterback known for choking in the big games. Together, the rag-tag bunch must find a common ground between them and attempt to live the dream of getting a second shot.
Summary
The film opens with a professional football game being played in Washington, D.C. During the final minutes of the game, commentators John Madden and Pat Summerall (playing themselves) discuss the fact that at midnight, all of the players in the League will go on strike since contract negotiations with the owners have failed, perilously close to the end of the regular playing season. Due to League regulations, the strike cannot extend into the post-season. The Sentinels are poised to continue into the post-season play-offs if they win three of the last four regular season games. Edward O'Neil, owner of the Washington Sentinels, contacts former head coach Jimmy McGinty, recruiting him to put together a team of replacement players during the strike. McGinty agrees on two conditions: that he have no interference in his coaching from O'Neil and that his choices for the replacements are unquestioned. While other teams recruit semi-pro or former pro players, McGinty assembles an eclectic group of players that confuse the other coaching staff.
The team cheerleaders also join the strike, leaving Annabelle Farrell, the head cheerleader, to find a new cheering squad during the remaining four games. The first group of prospective cheerleaders are so untalented that Annabelle eagerly accepts Dawn and Heather, the only two so far to have dance experience or acceptable looks. When they inform her that they dance at a strip club, Annabelle hesitates, then agrees to recruit them. She invites them to send their stripper friends to tryout as well. The resulting cheerleading squad, composed of strippers, is uproarious, and their extremely sexual antics prove most helpful to the replacement Sentinels during the San Diego game.
At first, the team suffers from communication problems and disagreements. They lose their first game. But McGinty's unique coaching style and an ensuing barfight with the striking Sentinels team helps the replacements cut through their mistrust and lack of cohesion. Even after winning the San Diego and Phoenix games, the replacement quarterback, Shane Falco, is still choking when the game is on the line. When Eddie Martel, the Sentinels' contracted quarterback, crosses the picket line, O'Neil breaks his promise of non-interference and manipulates McGinty into allowing Martel to play in Falco's place. O'Neil doesn't believe that Falco has the ability to lead the team to victory against the reconstituted Dallas team, whose team is once again composed of regularly contracted world champion players who have all crossed the picket line in order to ensure a play-off bid. Martel's prima donna behavior causes serious problems on the field during the Washington-Dallas game. When McGinty is questioned at half-time by a reporter about what the team would need to win, he replies: "Heart... miles and miles of heart." In addition to quoting "Heart" from Damn Yankees (which also takes place in Washington, D.C.), this is a veiled message to Falco, who is watching from home after being inexplicably cut from the team despite being the backup quarterback. McGinty had told Falco when he was informed about the switch to Martel that Falco had something Martel didn't have: heart. Falco makes it to the game before halftime ends, Martel is thrown out, and Falco leads the replacement team to victory. Though they are precluded from playing in the playoff spot they earned for the Sentinels, the replacement players are able to return to their lives with their heads held higher, knowing that they finally won their moment of glory.
There is a romantic subplot involving Shane Falco and Annabelle Farrell, the head cheerleader. Players and cheerleaders are not allowed to fraternize in professional football, but the temporary status of Shane's position on the team makes the point rather moot (As John Madden puts it, "Yeah, but what are they gonna do, fire him?"). Shane and Annabelle become friendly, then fall for one another. Shane has a date with Annabelle following the Phoenix game, but stands her up after being cut from the team in favor of Martel. When he returns to the team during the Dallas game, he apologizes to Annabelle and they rekindle their relationship at the end of the movie.
Cameo Appearances
John Madden and Pat Summerall appear as commentators in the film.
Trivia
Keanu Reeves, who plays QB Shane Falco, is rumoured to have received a tryout for an actual NFL team at QB, but obviously was not good enough to make the team. No record of this tryout exists.
External Links