Template:Stadium Ratings
Target Center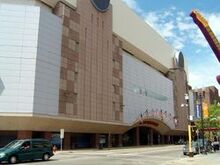 Location:
Broke Ground
Opened:
Owner:
Construction Cost:
Architect:
Former Names:
Tenants:
Seating Capacity:
The Target Center is the home to the NBA's Minnesota Timberwolves, the WNBA's Minnesota Lynx, as well as the Minnesota Fighting Pike of the AFL in 1996.
The City of Minneapolis has owned the arena since 1995, although management has changed hands a few times. Most recently, the management was changed in May 2004 from Clear Channel Entertainment to Midwest Entertainment Group, a joint venture of the Timberwolves and Nederlander Concerts. The Timberwolves originally built and owned the arena in 1990.
In 2004 Target Center underwent a major renovation that saw the replacement of all 19,006 of its original seats plus the addition of nearly 1,500 new seats as well as the reconfiguration of the lower bowl to make the arena more fan-friendly. In addition the arena's original scoreboard was replaced with a new state-of-the-art 9-by-16 foot video screen and state-of-the-art LED signage, LED signage on the upper deck fascia, a new luxury lounge (Club Cambria) and improved access for fans with disabilities. Today Target Center seats 20,500 for basketball and from 13,000 to 19,000 for end-stage concerts, 19,500 for center-stage concerts and 17,500 for ice hockey.
Prior to the renovation, the minimal amenities of the arena (such as a "club level" consisting of a flat deck populated by folding chairs), led some critics to characterize the building as "the type of arena a Target store might sell."
The Target Center has been the host of the Minnesota State High School Boy's and Girl's State Basketball tournament.
Target Center is one of three NBA arenas with parquet floors, including TD Banknorth Garden in Boston, and Amway Arena in Orlando. It hosted the 1994 NBA All-Star Game and the 1995 NCAA Women's Final Four.
Target Center Timeline
Ad blocker interference detected!
Wikia is a free-to-use site that makes money from advertising. We have a modified experience for viewers using ad blockers

Wikia is not accessible if you've made further modifications. Remove the custom ad blocker rule(s) and the page will load as expected.