So before the season started I was researching for my national league auction fantasy baseball draft. While scouring the Cincinnati Reds starting line up, I noticed that there was a major omission. I said to myself, "When did Ryan Freel get hurt?" I mean, Tony Womack could not possibly be the starting second basemen over this young stud, could he? Well then the announcement came, On April 2nd, the Cincinnati Post informed me that Tony Womack would start at second base, and he would bat lead off for the Reds. Ryan Freel was actually out of the line up. I am still in such disbelief, and I want to tell you why Ryan Freel needs to be the starting second basemen.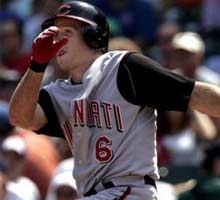 First, let us look at Ryan Freel, and what he has done, along with what he brings to the table for the Cincinnati Reds. When talking about flexibility and defense, Ryan Freel is one of the best "utility" guys in the majors. He can play second base, third base, and all over the outfield. His tremendous speed and athletic ability allows him to do nearly whatever he wants. Continuing on the speed factor, Ryan Freel is a nightmare for opposing pitchers and catchers. In the last two years, Ryan Freel has stolen 36, and 37 bases.
Adding onto Ryan's speed and defensive ability, he is actually a solid hitter. Don't get me wrong, Ryan isn't the most powerful guy out there, but he can make solid contact to go along with his excellent batter's eye. Ryan Freel's lifetime batting average is roughly .275%, which is more than respectable. How about Ryan's near 1:1 strikeout to walk ratio? For someone who needs to bat at the top of the lineup, it sure is important to obtain a solid amount of walks to get on base. Speaking of getting on base, lets look at the guy who doesn't know how to, Tony Womack.
Sure, "starting" second basemen Tony Womack is ok at getting around the base paths, but that is about it. His defense is nothing to write home about, and his skills are diminishing. Looking back to his days in New York, where had all sorts of protection in that line up, Tony was less than effective. He batted a near .249, and only had 12 walks! Compare that with 49 strikeouts, and it is clear that Tony Womack is nothing but a below average hitter. For those of you who complain about Ryan Freel's lack of power, how about Womack's goose egg in the home run department last year? That's actually a downgrade.
Seriously, The 36-year-old Tony Womack is bringing nothing to this Cincinnati Reds organization. They should play the younger, stronger, more athletic, and smarter Ryan Freel, and never think twice. The fact that Freel is on the bench, and Tony Womack is leading off, is a clear indication of poor management.
(To see the Video Segment on this issue: http://www.15sports.com/cincinnati-reds-ryan-freel-video)
Date
Mon 04/10/06, 3:41 pm EST
Source
Comments
Ad blocker interference detected!
Wikia is a free-to-use site that makes money from advertising. We have a modified experience for viewers using ad blockers

Wikia is not accessible if you've made further modifications. Remove the custom ad blocker rule(s) and the page will load as expected.