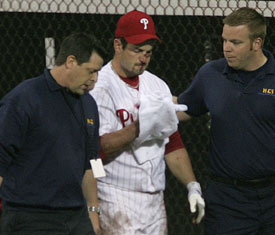 Aaron Rowand broke his face catching a deep drive by New York Mets OF Xavier Nady. Aaron Rowand suffered a broken nose and lacerations to the face after crashing into the center field fence to make an over-the-shoulder catch for the final out of the first inning. Rowand caught the ball running at full speed with his back to home plate and went face first into the chain-link fence in front of the bullpen. After the catch, Rowand remained on the ground for a few minutes with a towel held to his face, surrounded by several teammates and team personnel. After the injury, the team rushed Rowand to Thomas Jefferson University Hospital.
When asked about Rowand, Phillies manager Charlie Manual said: "I've seen some great plays that one definitely ranks up there with the best of them. That might be the best effort and determination I've ever seen. He's going to be out for a while," Manuel said. "How long, I don't know."
Date
Fri 05/12/06, 6:08 am EST
Source
Comments
Ad blocker interference detected!
Wikia is a free-to-use site that makes money from advertising. We have a modified experience for viewers using ad blockers

Wikia is not accessible if you've made further modifications. Remove the custom ad blocker rule(s) and the page will load as expected.