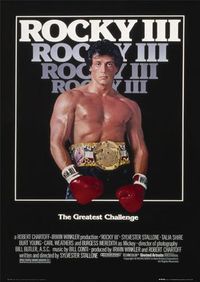 Director:
Producer:
Writer:
Music:
Cinematography:
Editing:
Distributor:
Released:
Runtime:
Language:
Budget:
Rocky III (1982) is the third installment in the Rocky movie series. It stars Sylvester Stallone as the title character, with Carl Weathers as former boxing rival Apollo Creed, and Talia Shire as Rocky's wife, Adrian.
Rocky's opponent is Clubber Lang, played by former bodyguard Mr. T. Lang is a younger and more aggressive boxer than Rocky. He is brash, outspoken, and charismatic.
The film also features professional wrestler Terry "Hulk Hogan" Bollea as the supporting character "Thunderlips". The role brought Hogan to a widespread audience.
Rocky III begins with an opening montage of scenes that explains what happened in the time between Rocky II and Rocky III.
Three years after the events of Rocky II, Rocky Balboa, has become the new heavyweight champion of the world. Rocky begins a string of 10 successful title defenses. As his win streak grows, so does his fame and celebrity, and soon Balboa is seen everywhere, from magazine covers to TV show guest star appearances. Balboa is also heavily merchandised, including T-shirts and his own "Crunch Punch" chocolate bars, and appears as a spokesman for Tony Lama boots and American Express, to name a few. At the same time, James "Clubber" Lang (Mr. T) is climbing the ranks, becoming the number one contender for Balboa's title. Rocky's brother-in-law Paulie (Burt Young) has grown jealous of Rocky's accomplishments. After a night of drinking, Paulie destroys a ROCKY pinball machine in a rage and is arrested.
Rocky agrees to a charity boxing/wrestling match with Wrestling champion, Thunderlips (Hulk Hogan). Rocky treats the whole affair as light-hearted fun; Thunderlips, however, attacks Rocky with a variety of wrestling moves. After being thrown out of the ring, Rocky decides to remove his gloves and fight back, even managing to throw the hulking Thunderlips out of the ring. Just as the match degenerates into a shoot fight, the bell rings and the match is declared a draw. Thunderlips calms down, even agreeing to have his picture taken with Rocky's family. When Rocky asks why he got so crazy, he merely says "That's the name of the game."
Rocky has a statue unveiled in Philadelphia and reveals his plans to retire. Clubber Lang, who is in attendance at the ceremony, challenges Rocky yet again, this time criticizing Rocky's title defense as being fixed. Rocky agrees to the fight, but Mickey, his trainer, wants no part of it. He admits to Rocky that the fighters he defended his title against were hand-picked (or in Mickey's own words, "they were good fighters but they weren't killers"), but only because Rocky received such a bad beating (that should have killed him) in his win over Creed. He also tells Rocky that Lang is young and hungry "wrecking machine" and that Rocky has no chance beating him. Rocky manages to convince Mickey to train him, but his Vegas-style training camp is filled with distractions.
Lang and Rocky meet at Philadelphia's Spectrum. During a melee before the fight, Mickey is inadvertently hurt by Lang, and suffers a heart attack. Rocky wishes to call the fight off, but Mickey urges him on while he stays in the dressing room. By the time of the fight, Rocky is both enraged and severely distracted by his mentor's condition, and despite attacking Lang fiercely in the beginning of the fight, Rocky is easily knocked out by Lang in the second round, losing the title. When he returns to his locker room, Mickey passes away.
In a funk of depression, Rocky is confronted by Apollo Creed, who offers to help train him. He convinces Rocky to challenge Clubber again, only this time Creed will help him train. Apollo takes him to the slums of Los Angeles so that Rocky can get back to the basics. At first, Rocky is too demoralized to put forth his best efforts. However, after admitting to Adrian that he's afraid and after Adrian tells Rocky to do the fight for himself, and no one else, he pulls himself together to train as hard as he can.
The rematch is held at Madison Square Garden in New York City. With the odds of Rocky recovering his title strongly against him, Rocky is ready for anything. During the rematch, Rocky fights with a level of skill and fighting spirit that no one, including Clubber Lang, had expected. As a result Rocky completely dominates the first round, scoring punch after punch and demonstrating his newfound speed, modeled somewhat after Apollo's fighting style. Defying Creed's corner advice, Rocky intentionally takes a beating, gambling that Clubber Lang will tire before Rocky is knocked down, which frustrates Lang because he is used to quick knockouts instead of endurance matches. Clubber wears himself out, and is defeated with a knockout in the third round. Rocky recovers his world heavyweight championship and his self-respect.
Sometime after the fight, Rocky and Apollo return to Mickey's gym, with Apollo revealing his favor: a third fight with Rocky. However, this would only be a sparring match between two friends. The film ends with Rocky and Apollo circling the ring, freezing the frame just before they make contact.
Trailer