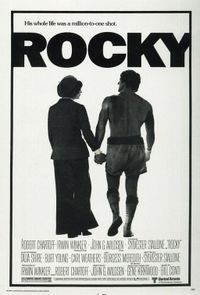 Director:
Producer:
Writer:
Music:
Cinematography:
Editing:
Distributor:
Released:
Runtime:
Language:
Budget:
Rocky is a 1976 film written by and starring Sylvester Stallone and directed by John G. Avildsen. It tells the rags-to-riches American Dream story of Rocky Balboa, an uneducated but good-hearted debt collector for a loan shark in Philadelphia. Balboa is also a club fighter who gets a shot at the world heavyweight championship when the scheduled contender breaks his hand. Also starring in Rocky are Talia Shire as Adrian, Burt Young as Adrian's brother Paulie, Burgess Meredith as Mickey Goldmill, Rocky's trainer and Carl Weathers as the champion, Apollo Creed.
The film, made for only US$1.2 million,[1] and shot relatively fast in 28 days, was a sleeper hit; it made over US$117.2 million,[2] won three Oscars, including Best Picture, and garnered mostly positive reviews which helped to launch Stallone's career.[3] The film spawned five sequels: Rocky II, III, IV, V and Rocky Balboa.
Rocky Balboa is introduced as a small-time boxer and enforcer for a loan shark. The World Heavyweight Championship bout is scheduled for New Years Day 1976, the year of the United States Bicentennial. When the opponent of undefeated heavyweight champion Apollo Creed is injured, Creed comes up with the idea of fighting a local Philadelphia underdog and, because he is known as "The Italian Stallion," Creed selects Rocky.
To prepare for the fight, Rocky trains with 1920s-era ex-bantamweight fighter Mickey Goldmill, while Rocky's best friend Paulie, a meat-packing plant worker, lets him practice his punches on the carcasses hanging in the freezers. During training, Rocky dates Paulie's quiet sister, Adrian. The night before the fight, Rocky confides in Adrian that he does not expect to beat Creed, and that all he wants is to go the distance with Creed, meaning last 15 rounds against him (the typical scheduled length of championship fights at the time).
Creed does not initially take the fight seriously, but Rocky unexpectedly knocks him down in the first round and the match turns intense. The fight indeed lasts 15 rounds with each fighter suffering many injuries. After the fight, Rocky calls out for Adrian, who runs down to the ring. As Creed is announced the winner by split decision, Adrian and Rocky embrace where they profess their love to one another.
Trailer