by cityhockeyfever
ArmchairGM writer
In this storybook season in the making, the New York Rangers continue to find ways to impress while doing what they can to silence their skeptics. Remember what it was like when they created memorable chapters to their 1993-1994 season? Not to suggest they are destined to win their fifth Stanley Cup championship in this 2005-2006 campaign, but there is one moment from 12 years ago that shows much similarity to Wednesday night's 5-1 victory over the archrival New York Islanders.
We go back to March 5, 1994. Prior to that day, the Rangers couldn't muster a single victory for five years at Nassau Veterans Memorial Coliseum. One of the instrumental players on the team provided a memory that will be remembered for many more years to come. Sergei Zubov put an end to that Coliseum hex with the game-winning goal against Ron Hextall for a 5-4 win.
Now we return to March 29, 2006. Only this time it was not to end another Long Island drought. The Broadway Blueshirts have had much better luck on enemy turf lately and finished this season with a 3-1 road record against the Islanders (33-39). It would be more than just another win. It had more meaning for the Rangers (41-32) given it all but put an end to the Islanders' playoff hopes while at the same time increased their Atlantic Division lead to four points over the Philadelphia Flyers with nine games remaining in the regular season. But for the franchise record books, it was rewritten on Wednesday night based on individual performances.
Jaromir Jagr continued to make his candidacy for the Hart Memorial Trophy (most valuable player) award very loud and clear in the first 14 minutes by assisting on all three of the Rangers' first period goals. Thanks to Jagr setting him up on a nice centering pass from the right faceoff circle, Petr Prucha sent a one-timer past Islanders goaltender Rick DiPietro just 7:23 into the game. Prucha tied Camille Henry's Rangers rookie power play goal record with his 15th out of 29 total goals this season. At the same time, Jagr broke Jean Ratelle's previous team record of 109 points set in the 1971-1972 season on the play. He finished with four assists in the game to establish the Rangers' new single-season points record with his NHL-leading 113 points, a total that will only climb in the final nine games.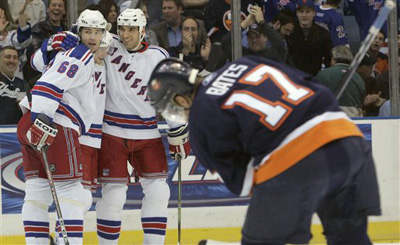 Jagr would take care of Martin Straka's contributions by assisting on all three of his goals. Straka recorded his first hat trick as a Ranger and first in the National Hockey League since January 8, 2001. At first, Straka's third goal with 7:46 left in the second period was thought to be Jagr's team record-breaking 53rd goal of the season, but Jagr's shot from the right circle went into the Islanders net off Straka's leg instead. At least half the crowd made up of Rangers fans in attendance began chanting "MVP" thinking the goal was Jagr's. You would think you were at Madison Square Garden given how loud the serenation was for #68. For at least another game, Adam Graves' name remains part of a shared record with Jagr that he set on March 23, 1994 in Edmonton.
Straka eclipsed the 600-point plateau for his NHL career on this night as well. Jagr would have one more big chance at goal #53 midway through the third period on a partial breakaway, but DiPietro denied him with a big save.

While his teammates have taken plenty of notice to his fabulous season, Rangers head coach Tom Renney told Andrew Gross of The Journal News what Jagr has done on his part to get the team very close to officially ending an 8-year playoff drought (if you include the cancelled lockout season).
"He's clearly decided he's got to do what he's got to do in order for this team to get its playoff spot and that's foremost in his mind," Renney said. "We're all the beneficiary of that attitude."
Interesting to learn of a subject that may be right now in the back of most people's minds who follow the Rangers on a regular basis is how long will Jagr keep up his torrid pace and more so how long will he play. Jagr has two remaining years on a contract that is still partially paid by his previous team (the Washington Capitals) and has not made up his mind if he plans to continue playing in the NHL beyond 2008 as he stated to New York Times hockey writer Jason Diamos.
"I want to play on a high level and I want to play in New York," Jagr said. "I don't think I can play somewhere else. It all depends on how healthy I'm going to be and how good I'm going to be. I don't want to play on a third line or a fourth line. I don't think I can do it. It wouldn't be good for the team."
The Rangers' prized rookie goaltender picked up where he left off from Monday night's outstanding performance in New York's 5-4 comeback win over Buffalo. Henrik Lundqvist came in to start the third period of that game and did not allow a single goal (including the shootout). In the opening minutes against the Islanders, he came up big with key stops against Jason Blake and Miroslav Satan to establish a rhythm and set the tone of the game from a Rangers' defensive standpoint. The lone blemish on his near-perfect night against the Islanders was Alexei Yashin's slap shot from the high left faceoff circle with 2.7 seconds left in the second period to make it 4-1. The shot appeared to fool Lundqvist and in turn would cost him his shutout bid. He only had to make 18 saves to record his 30th win of the season (30-19) to also establish a new team record. Jim Henry and Johnny Bower both had 29 victories in their rookie seasons.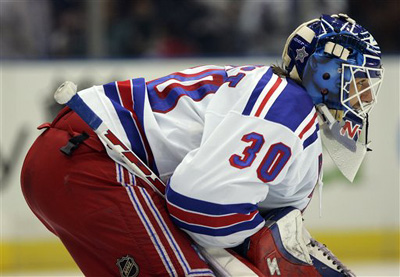 Lundqvist was happy to accomplish the record-breaking achievement at the young age of 24, but he stated to Newark Star-Ledger hockey writer Colin Stephenson he had set a goal of just winning as many games as he could in his rookie season to establish himself in the league. However, he's done more than that.
"Of course it's nice to break the record, but it's better to reach 30 wins my first year," Lundqvist said. "It feels really good. I mean, the team has been playing really well. When I got here my main goal was to make the team. And here I am with 30 wins. Of course, I'm very happy."
On a team which has surprised the masses in the hockey world from the fans to the media and to those within league circles, no one can argue that Jagr and Lundqvist will be considered for awards by this summer. Whether there's any postseason hardware to be included, it's anybody's guess. But it will take both of these key cogs to continue to perform at their best for the New York Rangers to make some serious noise in the team's first playoff campaign since 1997.
Date
Fri 03/31/06, 12:00 am EST
Sources
Comments
Ad blocker interference detected!
Wikia is a free-to-use site that makes money from advertising. We have a modified experience for viewers using ad blockers

Wikia is not accessible if you've made further modifications. Remove the custom ad blocker rule(s) and the page will load as expected.