by cityhockeyfever
ArmchairGM writer
If there ever was a time for Kevin Weekes to prove he is a big money goaltender, Tuesday night was it. With starting goaltender Henrik Lundqvist sidelined with a mild hip flexor strain, the opportunity was there for Weekes' taking. We are talking about his chance to prove his worth a lot more than just any #2 netminder. Given all the adversity he has faced from the injury bug to not spelling Lundqvist's statistical success, the Toronto native came through with flying colors. Unfairly many fans at Madison Square Garden have been highly critical of Weekes throughout the season when he wasn't at his best, but hockey observers finally saw for the first time the fans' real appreciation for him with his best performance of the season at the most clutch time. Weekes made 21 saves to help the New York Rangers defeat the Philadelphia Flyers in a 3-2 shootout victory.
More importantly, the win extended the Rangers' Atlantic Division lead to three points over the Flyers with seven games remaining in the regular season. At the same time, New Yorkers don't need to do a double-take or wipe their eyes to read the headlines right.
It's really true! No joke I'm telling you!
The New York Rangers have officially clinched a berth in the 2006 Stanley Cup playoffs and will participate in postseason play for the first time in 9 years, ending what was the longest current drought in the National Hockey League (seven long seasons).
"It's terrific," Rangers head coach Tom Renney said at a postgame press conference. "It's great for this group of players. It's certainly good for the organization. We rolled the dice on this philosophy of rebuilding. We've secured a playoff spot. That's all it is. We have a lot more hockey to play."
With Lundqvist unavailable to play in such a crucial game that has such playoff implications, Weekes had no choice but to come up big. But his teammates in front of him had to even more so. For a 15:50 span that went very early into the second period, the Flyers did not even register a shot. Denis Gauthier had set the tone just 22 seconds into play with a crushing body check on Martin Straka into the left corner boards. It was with so much impact that it got Mike Emrick and John Davidson calling the game on OLN to react with such enthusiasm and their mood was captured perfectly. Straka shook off the hit and played on. There was only one fight and it was just 2:24 into the game between Ryan Hollweg and Mike Richards. You'd think there would be more, right? Thought wrong. Just over four minutes later, Jaromir Jagr and Sandis Ozolinsh combined to set up Michael Nylander at the right doorstep for the game-opening goal past Flyers goaltender Robert Esche for a 1-0 lead. Nylander added to his best career season totals with his 20th goal to give himself 19 points in his last 11 games. Jagr extended his point-scoring streak to 12 games as his chemistry with Nylander has been as fun to watch as Rangers fans have seen in a long time.
Philadelphia would step up their play in the second period as they finally tested Weekes. At the same time, Peter Forsberg had picked up his game and did his part to keep Jagr off the scoresheet. He then himself took over as one of the very best players in the world does. As Jagr and Nylander as a pair create and produce, so does Forsberg and Mike Knuble. From behind the Rangers net, Forsberg made an excellent centering pass for Knuble above the crease and Knuble buried it to tie the game at 1-1. As Jagr has burned the Flyers this season, Knuble has done the same against one of his former teams with his sixth goal in the season series.
After Simon Gagne put Philadelphia in front 2-1 when he pounced on a juicy rebound from Knuble's long slapper with 9:31 left in the second period, you can hear the groans from the crowd and their serious concern for whether Weekes could weather a brewing storm. Gagne's 43rd goal of the season would provide the Flyers' only lead in the contest little did fans know. The Rangers goaltender would thank the crossbar as his best friend as a blast from Knuble within the last 90 seconds of the period struck iron. It was inches from being a 3-1 Flyers lead.
New York faced the very real prospect of once again dropping into a first place tie with Philadelphia for the division lead and falling to fifth in the Eastern Conference where in that scenario the Flyers would have one extra win under their belt. The Rangers would begin to generate more scoring chances in the third period than the previous twenty-minute session. The last tying goal would come off a failed zone-clearing attempt by Sami Kapanen from Nylander's right circle faceoff win. The puck would carom to Straka at the right place at the right time near the left doorstep to send it home past a diving Esche to make the score 2-2 with 14:26 remaining in regulation play. The mood of the Madison Square Garden crowd had changed. It was back alive and kicking. But the best they would get to cheer about was yet to come.
Esche would continue to quietly put on a show with big saves throughout the game. He already had denied Jagr in a one-on-one showdown in the first period with a right pad save. He made a big glove save against Jagr in the second period that had John Davidson going crazy (in a good way, folks) and made Jagr crack a smile in disbelief. This time around, it was seconds after Straka's equalizer where he took a centering feed in the low slot from Straka and was robbed as the puck struck Esche's right pad into the air and away from the goal line.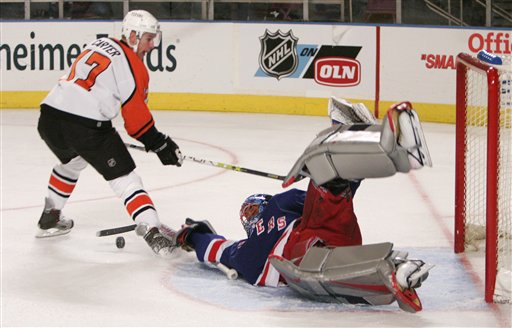 But the big story of this game was the play of Esche's counterpart Kevin Weekes. Working with a newly clean slate and the score even, Weekes would have to bail out his teammates in defensive breakdowns or turnovers. After Joni Pitkanen came dangerously close to putting the Flyers back in the lead a second time with a shot from the point striking the right post, Weekes would make his biggest save as a Ranger when he instinctively dove to his right to make a stellar stick save to steal a goal away from Flyers rookie Jeff Carter with just under 12 minutes left in the third period. This was a moment that many fans and the media will look back on should this be the turning point to Weekes' season. It is something you as a Rangers fan would want to bottle up and use again in the future. Following that save, you hear the Garden faithful not only give Weekes a standing ovation, but also serenade him by chanting his name.
"I watched Dominik Hasek so many times," Weekes chuckled as he told MSG Network's John Giannone after the game, "and used that one horsing around at practice and used it in street hockey. It's just one of those things where I just reacted and knew that I had that and just basically tried. I knew that Carter is a righty. He's a power player. I knew that I'd probably have to bring it back across his body. Fortunately enough, it worked."
Then it would become a goaltending clinic as Weekes and Esche would trade high-quality saves as the third period progressed. Seconds after Weekes denied Gagne on a long slap shot from the point, Esche would continue to deny Jagr at the other end of the ice with yet another big glove save with about nine minutes to go. Back and forth the two teams went and for the kind of hockey where no goals were scored, this was a barnburner. The crowd would get louder. The excitement would grow as well after Fedor Tyutin laid out Brian Savage on a big hit near the Rangers bench. How could it get better, you ask? Here's what the doctor ordered in terms of more highlight reel plays. Kapanen had a golden opportunity to redeem himself from his role in the Straka's tying goal by making a big steal at his own blueline and stormed down ice on a shorthanded breakway. This was the next big moment for Weekes to shine and he came through with another big save. The chants got louder and even if he is diplomatic in talking about it, you know it had to feel so good for Weekes.
New York continued to push for the winning goal. But Esche continued to keep them at bay. During one of seven power plays, he made a clutch stop on Tom Poti with 5:55 remaining as Jagr set up the play perfectly to the open teammate. You know Flyers fans had their hearts skip a beat on that play. The nailbiting would be more evident as the two teams would finish regulation play even for the fourth time in the seven games between them this season. It was the third overtime period for the Flyers at Madison Square Garden and won the first two times. Could they do it again? Not if Weekes could help it on his 31st birthday.
The Rangers controlled much of the overtime period in the Flyers zone with the sense of urgency you wish had been present a lot more often during the worst times of their 8-year playoff drought. Jagr continued to try setting up his teammates for goals, but it was Esche who would continue to deny them. Jagr tried to make Marek Malik the hero with a great pass to the 6-foot-5 defenseman just above the hash marks, but the man that has the most famous shootout goal in NHL history missed just wide of the cage. The crowd was buzzing on that missed scoring chance. Tension continued to mount as the Rangers pressed on in the final minute of overtime. Michal Rozsival charged up the right wing side with a nice move to get by Pitkanen and open up some ice for a late rush toward the Flyers net. He would find Blair Betts near the left hash mark and he would also be stoned cold by Esche, the Flyers' answer to Weekes. Even one last try in overtime would not determine a winner as Rozsival was stopped just before the final horn off of Petr Prucha's faceoff win on a nicely orchestrated play. So for two teams battling intensely for Atlantic Division supremacy, what is better than to decide it by a shootout? This is not the playoffs yet where multiple overtimes if necessary would, so this was the best option.
As the players went to their respective benches, you can hear the fans chant Weekes' name again prior to the start of the shootout. No doubt about it, if there's one man that wanted the win more than anybody else in the arena, it was Weekes. If you saw the game on OLN, the production crew did a good job in showing a split-screen cutaway of both goaltenders. If you looked at Weekes standing in his crease, you can see he was quite focused. His dilated pupils said it all. Not one blink.
None of the fans at Madison Square Garden were sitting. At this time of the game, why should they? The one great element with the addition of the shootout in tiebreaking games is the crowd atmosphere that the NHL's competition committee envisioned. We saw it on November 26, 2005 when Malik scored that amazing goal against Washington Capitals goaltender Olaf Kolzig to end an epic 15-round battle. Gagne scored on the first Flyers shootout attempt on a nice backhander and here was where Weekes needed to dig his deepest to find a way to overcome this latest chapter of game adversity. Following a successful shot by Nylander against Esche to even the shootout at 1-1, Weekes faced one of the most feared players in the game and that was Forsberg. As the crowd chanted "Weekes", Forsberg beared down on him one-on-one. What would he do? He tried to put a backhander through the five-hole. Excellent reflexes by Weekes to quickly get his stick down flush to the ice and close his pads in time to make the big save.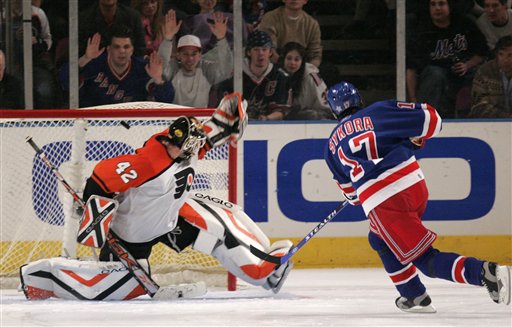 Up next for the Rangers was a player that has won shootouts before. Remember that game in Boston? Well, unlike past attempts where the backhand shot ruled, Petr Sykora fired a wrister upstairs to Esche's glove side for the 2-1 shootout advantage. The roar grew even louder than before.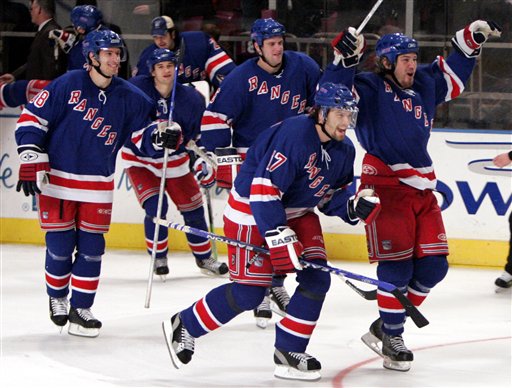 So the stage would be set for Weekes. The night would be his if he could stop Philadelphia's third shooter in Michal Handzus. After a deke or two that he never went for, Weekes deflected Handzus' shot wide left of the net to seal the victory for the Rangers. Step number one, mission accomplished. That was to make the playoffs. Weekes was the man who completed that initial step among many goals for New York.
"We were happy to have clinched a playoff spot tonight," Weekes said. "And to do it in front of so many people here that have supported us is nice."
No champagne flowing on this night. Not by a long shot and that only means there are now loftier goals to be reached in the next two months. How this organization progressed this quickly in last seven months to become a playoff team was identified as simply as buying into the team philosophy and instilling the vital importance of team unity.
"We bought in in the first week of training camp. It was completely clear. We did some things away from the ice surface that have a lot to do with team building." Renney said. "Coming to grips with that single purpose that a team has to share. Some of the things we did exposed to people's personalities and the likes to the point where we all had to check what we're doing here. Why we need each other in order to have success and it really has manifested itself for the most part game in and game out even when we haven't played very well and even when we lost and looked bad in doing it."
Lundqvist explained that Weekes' big game performance could not have come at a better time than on Tuesday night.
"I'm really happy for Kevin. It was two big points for us. I guess it's his birthday today, too," Lundqvist said with a smile. "So it's a nice way to celebrate that."
Renney couldn't be happier either. When asked by one member of the media at the press conference how much this win led by Weekes meant to him, you know he is a very firm believer in the game's number one star for regular season game #75.
"Hugely gratifying. Beyond anything I can say," Renney said with pure satisfaction knowing what Weekes has gone through this season. "It takes a veteran goaltender. A man that is very comfortable in his own body and mind to be able to deal with these things. He's been a great teammate from the get-go. If this is a reward for being all that, then we all need to be great teammates."
Whether or not Lundqvist is back within the next game or two, one statement was made loud and clear to the hockey experts that had concern for the Rangers' goaltending depth when they participate in the postseason later this month. It is that Kevin Weekes showed he's more than ready to rise to the occasion and be a reliable "go-to guy" between the pipes when needed. Remember he teamed up with Arturs Irbe to get the Carolina Hurricanes into the 2002 Stanley Cup Finals. The clutch performance. The clutch win. The best birthday present he could ever receive from the Rangers fans with their celebratory serenation. Hopefully for their beloved Broadway Blueshirts, this is only the start of more memories yet to come in this storybook season of no expectations as pretenders to perhaps even Stanley Cup contenders.
And what did Renney think of the crowd finally getting behind Weekes in such a big game as it was on Tuesday night?
"I think they've wanted to love Kevin. The bottom line is that Henrik came in here and stole the show. And when Kevin couldn't get himself into games because of injuries and whatever, the momentum went the other way. I think tonight he clearly demonstrated that he's a great goaltender. Having said that, it is somewhat baffling. But that's the beauty of sport. People can come in and be entertained and voice their opinions however they choose. And it's up to us to handle that however we need to in order to achieve success."
Weekes was certainly humble as any athlete would be and emphasized the team being supported first and foremost and any that is focused on individual players is secondary.
"I don't put too much stock into it. Obviously expectations are high. I think people have to understand nobody's expectations of us are higher than our own. We expect a lot of each other and of ourselves and that's why we're in this position now having clinched a (playoff) berth. Conversely it's certainly nice for the support. We're always appreciative and it makes a very big difference. Any of the players in the locker room will tell you when they (the fans) are supportive of our team first and foremost. When they support us individually too, that's just a bonus."
As for Lundqvist's health status, the rookie goaltender said it was important for him to rest his sore hip now rather than sit out longer if he made the injury worse when it was when the team needed him most.
"It's not bad at all," Lundqvist said. "I'm just being cautious here. It's only for a couple of games before the playoffs. I talked to the trainers and they told me to rest. Hopefully I'll be back on the ice tomorrow or in two days."
Now that the Rangers are for the moment in the driver's seat to win the Atlantic Division, OLN conducted an online fan poll asking which team would wind up finishing in first place. About 57% felt that New York would be that team. Interestingly, the results were revealed during the first intermission and not after the game. Should the Broadway Blueshirts win on Tax Day, it's very safe to say "consider it done"!
Next up is another date with their hated archival from Long Island on Thursday night at the Garden. Even though Jagr was kept off the scoresheet outside of an assist on Nylander's goal, perhaps the New York Islanders will be the team he scores his record-breaking goal against who he burned for four points last week.
Date
Wed 04/05/06, 11:15 pm EST
Source
Madison Square Garden Network

photos by Julie Jacobson/Associated Press
Comments
Ad blocker interference detected!
Wikia is a free-to-use site that makes money from advertising. We have a modified experience for viewers using ad blockers

Wikia is not accessible if you've made further modifications. Remove the custom ad blocker rule(s) and the page will load as expected.