by user DNL
Yesterday, I wondered if Dwight Gooden's first ten years was the stuff worthy of Cooperstown. Because of the short-career fiction I posited, I needed a benchmark, and went with Sandy Koufax, who pitched 12 seasons (and really only 10 full ones).
Even though I expressed skepticism about short-career Gooden's Hall chances, others were doubly so. There was not one person who thought even this hypothetical Dr. K would be Hall-worthy.
Indeed, many even took exception with my comparison of Gooden and Koufax. To wit, here are some comments:
Anonymous Fanatic: "gooden was no koufax stop...it is embarrassing to compare gooden to a hall of famer"
Darrel: "Comparing him to Koufax isn't doing him any favors"
ASwaff: "I agree that the comparisons to Koufax aren't good ones."
Bball3345: "In those 10 years, Gooden won 9 more games than he was expected to win based on the amount of runs he gave up and the amount his team scored. Koufax won 5 more than expected. So you could argue Gooden would be under 150 wins with 4 of those 10 years having an ERA+ of 101 or under. Take out the 1985 season and there would be no mention of Gooden's name in a Hall of Fame discussion."
Another Anonymous Fanatic: "Koufax was more dominant, in Ks, ERA, and WHIP"
They're all correct. I chose Koufax because, as ASwaff said, "that comparison is time frame." To a large degree, my hands were tied, as beyond Koufax there are few other short-career Hall of Famers.
In fact, no one knowledgeable would consider Koufax and Gooden in the same class of pitcher. No one, apparently, except Major League Baseball itself.
Yesterday, my 2006 MLB.com Spring Catalog came in the mail. It would have just as quickly gone into the trash, but it just happened to open to the "Cooperstown" page. Lo and behold, for the low, low price of $249.99, one can buy a Sandy Koufax jersey. Other Hall of Famers also have their retro-jerseys available. Listed with Koufax are Roberto Clemente, Ernie Banks, and Nellie Fox.
And one other guy. For $299.99—that's right, fifty dollars more than Koufax—one can buy another jersey from the Cooperstown collection:
A Dwight Gooden jersey.
The Catalog Page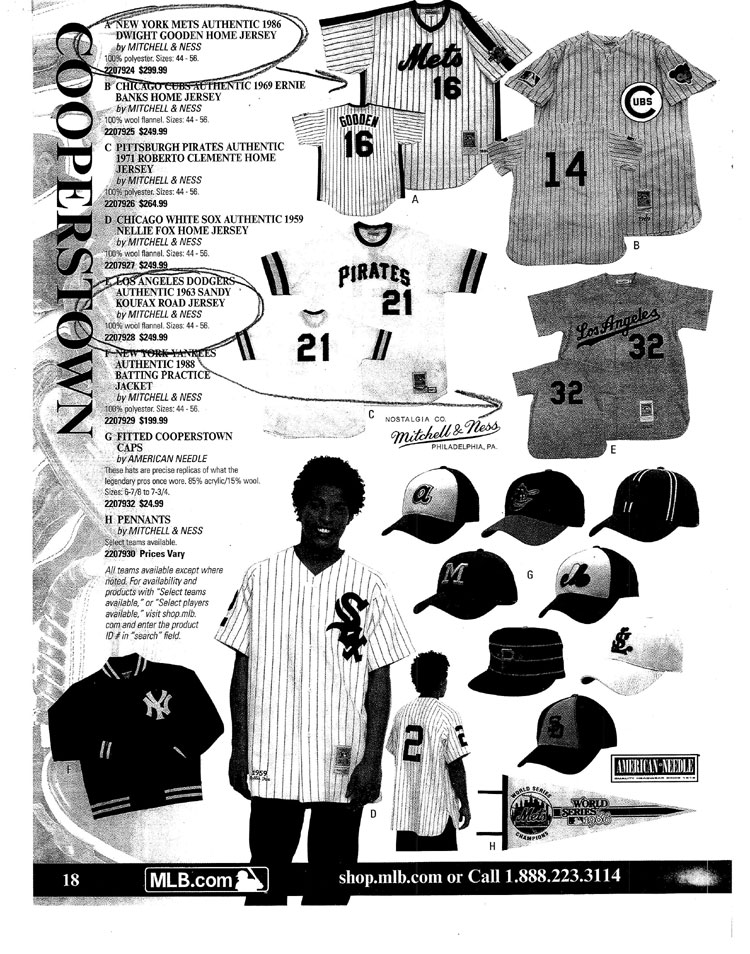 Date
Thu 04/06/06, 7:33 am EST
Ad blocker interference detected!
Wikia is a free-to-use site that makes money from advertising. We have a modified experience for viewers using ad blockers

Wikia is not accessible if you've made further modifications. Remove the custom ad blocker rule(s) and the page will load as expected.