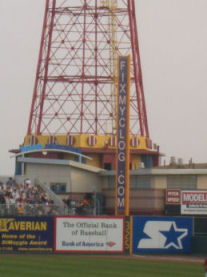 KeySpan Park is located at 1904 Surf Avenue, Brooklyn, New York, 11224, on historic Coney Island. KeySpan Park opened in 2001 and houses the Brooklyn Cyclones, the New York-Penn League (Class A) affiliate of the New York Mets The stadium has capacity for 8,000 fans. It cost $39 million to build, and finished on time and within budget. It was designed by Jack L. Gordon Architechts.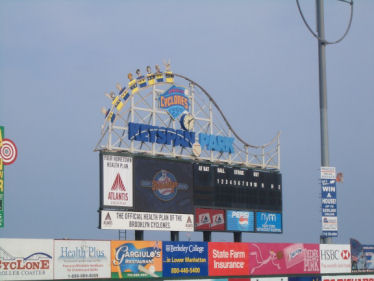 The stadium is well-regarded for its design features that complement the surrounding area. Astroland, Coney Island's capstone amusement park, is visible over the left field fence. A boardwalk connects the infield and outfield seats. The scoreboard features a mockup of a roller coaster. Finally, a long-defunct parachute drop ages gracefully just outside the right field foul pole. The design was a finalist in the 2002 Business Week/Architectural Record Awards. The only arena that bested KeySpan in that year's Awards was Paul Brown Stadium in Cincinnati.
The field's dimensions are 315 feet down the left field line, 412 to center field, and 325 to right. The turf is natural grass.
A statute of Jackie Robinson and Pee Wee Reese -- both of whom played for the Brooklyn Dodgers -- can be found in front of the park.
The stadium is also used to house various concerts throughout the year.
Ad blocker interference detected!
Wikia is a free-to-use site that makes money from advertising. We have a modified experience for viewers using ad blockers

Wikia is not accessible if you've made further modifications. Remove the custom ad blocker rule(s) and the page will load as expected.