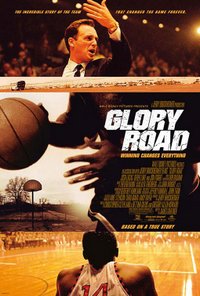 Director:James Gartner
Producer:
Writer:
Music:
Cinematography:
Editing:
Distributor:
Released:
Runtime:
Language:English
Budget:
Glory Road deals with the events of the 1966 NCAA Men's Division I Basketball Championship, in which Texas Western College coach Don Haskins led a team with an all-black starting lineup, a first in NCAA history.
Several scenes in this movie were filmed at the University of Texas at El Paso (UTEP), which was formerly Texas Western College, and El Paso High School in El Paso, Texas, Louisiana State University in Baton Rouge, Louisiana, Jesuit High School in New Orleans, Louisiana, and Chalmette High School in Chalmette, Louisiana.
As of February 12, 2006, the film grossed a total of 40.7 million dollars in the domestic Box Office.
Glory Road is also the title of Haskins' autobiography, a national bestseller released in 2005 by Hyperion Books. The book details Haskins' early life as a player and coach and the focuses on the 1966 team and the aftermath of the championship, which is not in the movie version. It was reprinted five times in its first four months of release and was selected as an "Editor's Choice" by the New York Times Book Review.
Glory Road is also a street on the UTEP campus near the Sun Bowl which was renamed to commemorate the 1966 NCAA championship.
The real life Don Haskins was cast as an extra in the film as the gas station attendant. The real life David Lattin was cast as an extra as a military bartender.
The players on the team were David Lattin, Bobby Joe Hill, Willie Cager, Willie Worsley, Jerry Armstrong, Orsten Artis, Nevil Shed, Harry Flournoy, Togo Railey, Louis Baudoin, Dick Myers and David Palacio.
Trailer
Template:Sports Movies Bottom
Ad blocker interference detected!
Wikia is a free-to-use site that makes money from advertising. We have a modified experience for viewers using ad blockers

Wikia is not accessible if you've made further modifications. Remove the custom ad blocker rule(s) and the page will load as expected.