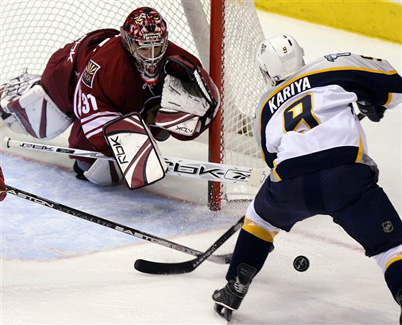 by cityhockeyfever
ArmchairGM writer
Regardless if a monumental miracle for the Phoenix Coyotes to make the playoffs fails to materialize with just 10 games left in this 2005-2006 NHL season, you can count on the team doing its best to give their fans something to treasure. One of those times came when Curtis Joseph achieved another milestone when he backstopped the Coyotes to a 5-3 victory over the visiting Nashville Predators on Tuesday night.
Joseph moved into sole possession of sixth place on the National Hockey League's all-time goaltender wins list with his 424th career victory, passing his idol Tony Esposito. While nobody knows but Joseph himself if he's willing to play into his mid-40s to catch all-time leader Patrick Roy (551), he'd prefer to concentrate on just continuing to play instead of reflecting back on each career milestone he reaches as he explained to Arizona Republic hockey writer David Vest.
"It's not time to reflect now, but to be mentioned in the same sentence as Tony is a good feeling," Joseph said. "While you're still playing, there's lots of things to do and lots of games to be played. Once you retire, you may reflect a little more."
After getting some time off to rest with David LeNeveu starting the previous two games, the 38-year-old Joseph won his third straight decision with 28 saves and improved his season record to 28-22.
"Records are pretty special at the professional level in that you know how important they are and how hard they are to get," Coyotes head coach Wayne Gretzky told East Valley Tribune hockey writer Matt Paulson. "If you look at his career, a guy who gets that many wins, it's from a lot of effort and a lot of hard work and a lot of hours. It was nice and he has been tremendous for us all year long."
And for his hard work and his newest career achievement, the Coyotes announced the next day that the team will honor Joseph by giving away a "Cujo" bobblehead to the first 10,000 fans in attendance at their April 8th home game against the Pacific Division-leading Dallas Stars.
Unlike some tough losses he's suffered in the past thanks to lack of offensive support from his teammates, they didn't let him down this time around. It would be rookie defenseman Keith Ballard scoring a shorthanded goal off Tyson Nash's foiled breakaway scoring chance to put Phoenix in front for good at 3-2 with 2:55 left in the second period. Shane Doan, Mike Comrie, Derek Morris and trade deadline acquisition Oleg Kvasha each recorded one goal and one assist. Doan equaled his career high with his 27th goal of the season.
While the deserved attention was paid to Joseph's milestone, two young players each achieved one themselves. With defenseman Jamie Rivers sidelined with a left foot bruise and Paul Mara and Dave Scatchard under the weather, Matthew Spiller filled in nicely to record his first NHL point with an assist on Doan's second period goal. A day after Spiller was recalled from the San Antonio Rampage, the Coyotes signed 23-year-old free agent forward Bill Thomas right out of the NCAA tournament and he made his NHL debut on Tuesday night as well. The University of Nebraska-Omaha product recorded a two-minute penalty and 1:08 of power play time.
While it is frustrating to some fans to see the Coyotes get into a nice groove too late into the season when it could've meant more in a run for a Western Conference playoff spot, Phoenix has won five of their last seven games. At this stage, playing the spoiler role could help determine who could make the playoffs and who joins them on the golf course in a few short weeks. This loss may not hurt Nashville as much as another could for Phoenix's next opponent in the San Jose Sharks. The resurgent Sharks are making a big push of their own in a dogfight to make the playoffs and will play the Coyotes on Thursday and Saturday nights in San Jose. Phoenix can potentially damage Edmonton's hopes with a meeting against the Oilers at Rexall Place on Monday.
Date
Wed 03/29/06, 10:35 pm EST
Sources
Comments
Ad blocker interference detected!
Wikia is a free-to-use site that makes money from advertising. We have a modified experience for viewers using ad blockers

Wikia is not accessible if you've made further modifications. Remove the custom ad blocker rule(s) and the page will load as expected.