by user Saber Head
Save a rainy Sunday night Indians-White Sox matchup in Chicago, Opening Day officially took place one week ago today. All teams have played six or seven games and have already experienced their fair share of early season triumphs and setbacks. After such an action filled seven days it is hard to believe that we have yet to scratch the surface of this 2006 MLB season. Discussion, debate, and controversy are most definitely in the cards, as they always are in any professional sports league.
As each week passes countless headlines reach the papers. There is typically a lot of analysis, reasoning, and head scratching over what went on, why it happened, and what the future will bring. That is the point of this first installment of the "Baseball Notebook"--to take a look at the most notable occurrences and trends throughout this MLB season, and answer the classic inquiries of why? and how?, along with an educated prediction of what can be expected. Conclusions will be based on the wise words of others, what the eye (mine and others) has seen, and those often unbelievable, but very valuable, numbers.
Put the reading glasses on, as we are now embarking on this week's "Baseball Notebook" (in easy to follow outline form):
Red Sox Pitching
The staff with all the question marks is giving the once doubting media a reason to be embarrassed—and they're doing it in spectacular fashion. In their opener, aging Curt Schilling showed that Roger Clemens is not the only old-timer who can shell some effective stuff down to home plate. Taking on the potent Texas lineup in scorching heat of Arlington, Texas, Schill cruised through seven innings, allowing two runs on five hits while striking out five. He followed up in his second start against American League weakling Baltimore, throwing another stellar performance: one run, three hits, and sitting four batters down on strikes.
And it would be an understatement to say that Schilling's fellow Boston starters are only "doing their job." Tim Wakefield got rocked in his first start, raising eyebrows focusing on whether or not the knuckleballer can maintain his long-time role as a premier inning eater for the Sox. Wake as he is lovingly and respectfully known stayed on the mound for only 3.2 innings until skipper Terry Francona had seen enough of Wakefield's complete lack of control. He gave up seven runs on the same number of hits, walking three batters. As desperate as things appeared, Wakefield took the field at Camden Yards yesterday (Sunday) with confidence, and threw a gem of a game. He had the Orioles' number, as he shut them out over six solid innings, while posting a respectable 2-1 K/BB ratio compared to the 1-1 ratio he sported against the Rangers.
Wakefield's performance fluctuates up and down as much as his devastating knuckler. Surprisingly, his better outing was in dry Baltimore as opposed to humid Texas, quite a conondrum considering the knuckleball supposedly performs better in humid conditions. From what I saw, the supposition held true: Wake's knuckler was much more effective in Texas. I'd be willing to bet that the decrease in motion provided for better control, enablin him to hit his spots and dominate the Orioles lineup. And, don't forget, his personal Josh Bard was most likely much more familiar with Wake than during their first regular season start.
Offseason acquisition Josh Beckett was successful himself in his only start of 2006, allowing the Texas Rangers seven hits scatted across seven strong innings, leading to only one run. His low walk total of one should become a trend this season, as it was during his five years with the Florida Marlins. If Beckett continues this style of play throughout this season he'll prove that he's worth ex-Red Sox shortstop prospect Hanley Ramirez, who was sent to Florida in the deal. He can provide a fantastic number two option for the Sox, a dominant force behind Curt Schilling.
Matt Clement fills in the number four spot, and following an inconsistent 2005 hopes to bounce back. After six innings of breathless pitching, Clement nearly imploded in the seventh, crumbling against what appeared to be the realization of Baltimore's linueup potential, who put four runs up on the board throughout the course of the game. One of the most meaninful numbers regarding Matt Clement is his K/BB ratio: 7-1. While in Chicago he earned a reputation as a decent but reckless hurler, consistently walking batters. That image of Matt Clement extended into last season, and was the cause of many of his woes. However, despite, only walking one batter is a great sign that Clement has possibly improved.
Boston's fifth start is David Wells, who struggled in a Pawtucket rehab start. He is expected to see major league action sometime this week. As a number five man, the veteran Wells is not a bad choice. Wells has gone through a serious decline since his hay day, and there is only a glimmer of his past remaining in the big lefty's eye. If all goes as well as the Red Sox hope, he'll settle his disputes with Francona and settle into his place.
The pen in Beantown looks much more promising than what was predicted. Youngster Jon Papelbon is assuming the role of closer for now, until Keith Foulke works himself back to his 2004 self. Mike Timlin--one of the elite set-up men in baseball—has yet to allow a run in his three innings of work. So far, only journeyman Rudy Seanez and David Riske (who came over from Cleveland in the Coco Crisp trade) have had rough outings. On paper, the Sox bullpen is nothing special, but with Papelbon, Foulke, and Timlin at the top, there is no denying that this formidable relief corps can provide enough late inning power to boost the Sox into their fourth third consecutive postseason.
It must be said, and now is most likely the proper time. There are often arguments that conclusions ought not be made following only one week of play. I fervently hold this view when it is applied to position players and relief pitchers: they have not faced enough pitchers/batters; the sample size is too small. However, it is my opinion that this differs with starting pitcher. If Curt Schilling was successful after two enire seven inning starts, we have a good indicator that his success will continue. A pitcher's game is different from the batter's: pitchers are matched up against batters all game long, but position players come to the plate only 3, 4, or 5 times. That fact is one of the many reasons why pitchers as a body typically command more free agent money, and the basis of why I expect the Red Sox pitching to continue to flourish, unless an injury plagues the staff.
Detroit Tigers
Surprisingly, Tigers fans can find joy in the young season. Following today's loss to the White Sox (their second straight), the Tigers are 5-2, featuring one of the best records in all of baseball. From what I see, this all pretty typical early April stuff...
I have yet to see the Tigers play on television, so my views on this matter are most likely a little off. However, from scanning the Tigers' depth chart, scouting report, and stat pages I have a decent feel for what is going on—strong young pitching and sample size.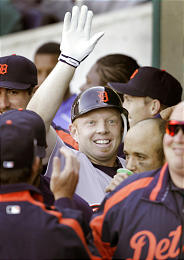 Let us begin with the former.
Jeremy Bonderman
is the undisputed ace of the staff: he throws hard, gets good movement on the ball, and can bring a nasty mid-80's slider. However, his real value belongs in his control: he can hit any spot catcher
Ivan Rodriguez
asks for. Last season he came close to a 3-1 K/BB ratio, but his great control was overshadowed by a mediocre 4.57 ERA. This season, Bonderman's 8-1 K/BB is second best in the big leagues to his teammate,
Kenny Rogers
(10-1), and he leads the majors with 16 strikeouts.
Backing Bonderman up are veteran Kenny Rogers, famed 21 game loser Mike Maroth, fireballing prospect-reached-majors Justin Verlander, and 26 year old Nate Robertson. Rogers, in his two starts, has fanned 10 batters but gave up six runs in the 11.1 inning process. In only one start, Verlander threw seven scoreless innings and put that 99 MPH fastball to use by mowing down seven opposing Rangers. Maroth and Robertson have pitched decently, although both were limited to 5.1 innings in their starts.
With Rogers's guidance, Bonderman and Verlander can turn into a lethal one-two punch, supported by a talented cast. I must note, it is unlikely that these youngsters can keep up such success, but, at the least, Bonderman and Rogers should pitch consistently.
The offense is an entirely different animal. There is nothing impressive about it, besides future Hall of Famer Ivan Rodriguez, injury prone outfielder Magglio Ordonez, and the "Big Papi" of Detroit, Dmitri Young. They, however, are not the players making noise. Instead its the former benchwarmers and prospects coming up big. Most notable is Chris Shelton, the major league home run leader. In 28 at bats Shelton knocked 5 homers out of the park and carries a gigantic 1.888 OPS. All this may be meaningless considering he's only played seven games, but Brian Roberts did a similar feat in 2005 and turned out with 18 home runs on the season. And Shelton has a large advantage: his age. At only 25 years old, there is a possibility that Chris Shelton may be breaking out into an all star first basemen. We may be getting ahead of ourselves with that statement, but when considering sample size we can't assume that nothing matters. At the end of the season he'll have five more jacks than he would if he wasn't on such a hot streak.
I see the Tigers as an American League wild card dark horse. I don't believe their team is well developed enough to compete with the Cleveland Indians, whose players are entering their prime. Also, the loaded White Sox pitching staff has the ability to obliterate the Tigers lineup, as they have done the past two games.
Rollins Hit Streak
Philadelphia shortstop Jimmy Rollins had his intriguing hit streak squashed last Thursday, ending virtually all excitement for Phillies fans, as their team continues to lose. I never jumped on this bandwagon—I'm not much of a record kind of guy. However, the fact that the streak spanned two seasons was able to throw some controversy on the matter. I recall ESPN's Baseball Tonight sportscasters comparing it to Dimaggio's, as if they were the same record. Most other sports outlets considered this a separate record, and I have to agree. Rollins received an entire off season to rest and tune up, getting a break from the day after day grind. Still, a 38 game hit streak is an amazing feat whatever the timing.
Braves Pitching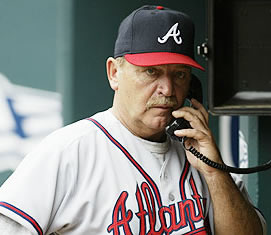 The post-
Mazzone
era in
Atlanta
may already be evident. The once pitching power of the NL East has posted a 7.58 ERA so far this season, the worst in the majors. Again, K/BB tells much of the story: the Braves have walked (35) more players than they've struck out (33). This is much different than how the team fared from 2000 through 2005 (under Mazzone's guiding hand), when they're team K/BB was nearly 2-1, a truly superb team mark.
There are three possible reasons for this:
small sample size
the Braves just don't have a good staff anymore
Mazzone is gone.
My opinion hangs somewhere in limbo between reasons 1 and 2, probably inching towards #2. The Braves just don't have a lights out rotation or bullpen anymore. Tim Hudson and John Smoltz are proven starters (they've both had a pair of difficult starts—for arguments sake let's assume they bounce back), but there isn't much backing them up, as Horacio Ramirez has never been steady, John Thomson has been slumping since last season, and the young Kyle Davies hasn't come close to fulfilling expectations.
Sabermetricians are aware of the "Mazzone effect," thanks to a heavily cited study performed by J.C. Bradbury of Sabernomics a few years ago. However, Mazzone's reported effect should not be this profound. I'd like to send J.C. Bradbury, a huge Braves fan, an email and see whether or not he has an answer. Also, I'll do some MLB.TV scouting on the next few Atlanta games, to determin whether or I notice anything.
Pedro Martinez
Boston's old ace, the Queens's new one, jumped on the mound last Thursday night. His pitching line isn't all that glamorous, but from what I saw he pitched pretty well considering his drastic loss of velocity (he throws low nineties now—91, 92, 93 at the highest). Pedro still features a nasty changeup, and struck out six in the same number of innings. However, his control was of, and he walked five while allowing five runs, four earned. His pitch count reached 96, a very good mark for Martinez.
For me a very revealing sign of Pedro on his way to returning to form is that he was throwing at batters. He was brutal to the Nationals offense, and got into a little on-field conflict with Nats pitcher Ramon Ortiz and outfielder Jose Guillen. Pedro being Pedro.
Stealing Working
You may or not be aware that the sabermetrics community has always had a problem with managers who steal heavily. This is because a team needs a at least a 2/3 stolen base percentage for a team for stealing to improve run production. Sabermetricians are by no means against stealing—you may be familiar with Dave Roberts's stolen base that won the Red Sox that ALCS game, continuing that magical series enabling the club to reach the World Series. Stealing below that mark, however, is hurting a team.
David Pinto showed at Baseball Musings today that stealing percentages are up:
Runners are stealing at a 75% clip (77 steals in 102 attempts). Twenty three of the thirty teams are above the 66.7% break even point. The Reds ran the best, with Freel and Lopez combining to make the team 7-0. The Cardinals ran the most, swiping seven in nine tries. And in an effort to show just how little stolen bases do matter, Detroit scored big while stealing just one base in five attempts.
I wonder why this is so. Is it because things have yet to even out? Or, have managers just wised up realized to play for to the odds? Either way, it is an interesting observation.
That wraps up Week One's "Baseball Notebook."Tomorrow will feature my new "Series of the Week" column, where I'll preview what is in my opinion the best upcoming series.
Date
Mon 04/10/06, 6:20 pm EST
Ad blocker interference detected!
Wikia is a free-to-use site that makes money from advertising. We have a modified experience for viewers using ad blockers

Wikia is not accessible if you've made further modifications. Remove the custom ad blocker rule(s) and the page will load as expected.