Welcome Ladies, Gentlemen, and fantasy leaguers of all ages to the inaugural installment of Gridiron Goddess' Your Fantasy Football Reality Check!
My name is Stephen Lamare. I am the youngest brother of the resident Gridiron Goddess Amy, and I'm here to share the insights I've gathered from my 11 seasons of fantasy sports with the loyal readers of Gridiron Goddess. Every Thursday leading up to the regular season I'll be previewing each fantasy relevant position, beginning with Quarterbacks next Thursday, followed by Running Backs, Wide Receivers, etc. The aim of this column is to provide you with useful tips and applicable advice on:
1) How to approach your fantasy draft
2) How to structure your line-ups from week to week and
3) How to manage the free agent/ trade market.
Before I get started handing out any advice, I'm going take you on a trip down memory lane.
The first season of fantasy football for me was back in '95 (Our commissioner tallied the weekly final scores by using the newspaper box scores on Mondays and Tuesdays.), when a young Brett Favre was my 1 st round draft choice. I finished that year 15-1 with my only loss suffered in the fantasy super bowl- I know, it WAS devastating at the time. However, I rebounded, never gave up, and have enjoyed a very successful fantasy run since.
In 172 career fantasy football games I have compiled a 117-55 record with 3 fantasy bowl appearances, two championships in '02 and '07, playoff berths in 10 of 11 seasons, and only one season at .500 or less. After my first championship in '02 (coincidentally the year I re-named my team the South Park Cows) I was invited to join two separate fantasy rotisserie baseball leagues, and I ended up winning both in '03.
Following my fantasy baseball sweep, I branched out and tried my hand in a head to head fantasy basketball league where I had my most successful season yet - an undefeated year in '05.
All in all, I have accumulated six fantasy championships in three different sports, so if it isn't football, rest assured my sports mind is always active.
If you're a serial fantasy leaguer like me, this likely isn't the only site you're shopping for advice from. With that in mind, it's my intention to deliver the not so obvious tips and strategies that have helped propel my own success. I'll tell you why it's paramount to have a legitimate #1 QB on your squad in next weeks article.
The following week we'll explore the ever receding contributions of the #1 RB and the rise of the committees.
After that, I'll be informing you how depth at the wide receiver position are quickly making receivers more reliable than any running back outside the top ten.
Most importantly I'll be hammering home the REALITY CHECK that your later round draft choices can be and often are the keys to your championship run.
We're just over a month and a half away from the start of the '08 NFL campaign so if you haven't already- GET STARTED!! Check back here next Thursday and every remaining Thursday until the end of the regular season for the advice you're looking for.
Happy Football Everybody! Stephen Lamare, pictured below with my sister Amy, the Gridiron Goddess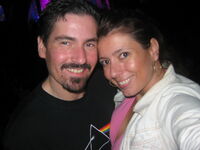 [1]
Ad blocker interference detected!
Wikia is a free-to-use site that makes money from advertising. We have a modified experience for viewers using ad blockers

Wikia is not accessible if you've made further modifications. Remove the custom ad blocker rule(s) and the page will load as expected.