There will be no more San Francisco 49ers wearing the number 8 come October 5.  The Niners organization has decided to retire the number, worn by Hall of Fame QB Steve Young from 1987-1999, during halftime of their game v.s. the New England Patriots.
Young's career, which included 7 Pro Bowls and 3 Super Bowl championships, was cut short in '99 due to an accumulation of concussions over the 15-years he spent in an NFL uniform (2 with the Buccaneers, 13 with the Niners).  He was inducted into the Pro Football Hall of Fame in 2005, along with Benny Friedman, Fritz Pollard, and Dan Marino.
Young is arguably the greatest left-handed QB in the history of the League, and his numbers prove it.  Young, and former QB Randall Cunningham, are in my book two of the greatest running QB's in the history of the game.  Yes, he may have warmed the bench up for Joe Montana for four or five straight years, but he came out as the Niners' number one QB in 1992, and was an immediate success.  He led the Niners to a 14-2 record in his first full season as the starter in San Fran, and ended his career with a 94-49 record as a starter, and a Super Bowl MVP award to his name.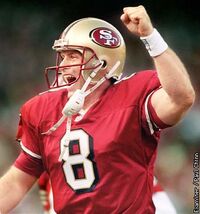 Now, about his playmaking ability.  Young could turn nothing into something in a split-second with his quick legs.  Yes, he did fumble every once in a while.  But at the end of the day, he has multiple rushing and passing TD's.  In fact, he had at least one rushing TD in 13 of his 15 seasons, and in his career had a 5.9 yards per carry average.  If he was a running back, that would be quite an accomplishment.
My reflection on his career?  Well, I don't think he could've planned it any better.  He had to backup a legend for several years, but it sure was worth it in the end.  Montana handed him not one, but two Super Bowl rings, but Young also earned that third one all on his own (with a little help from Jerry Rice, I guess).  His record of 6 TD passes in Super Bowl XXIX still stands as the Niners defeated the San Diego Chargers 49-26 in Miami.
Steve really deserves this honor, and I think it should've come sooner.  This will give 49ers fans something to look forward to, because I'm sure they aren't looking forward to playing the Patriots (Brady-less or not).
Ad blocker interference detected!
Wikia is a free-to-use site that makes money from advertising. We have a modified experience for viewers using ad blockers

Wikia is not accessible if you've made further modifications. Remove the custom ad blocker rule(s) and the page will load as expected.