Article:Yet Another Rumor: Teixeira to DC
Talk

0
Ad blocker interference detected!
Wikia is a free-to-use site that makes money from advertising. We have a modified experience for viewers using ad blockers

Wikia is not accessible if you've made further modifications. Remove the custom ad blocker rule(s) and the page will load as expected.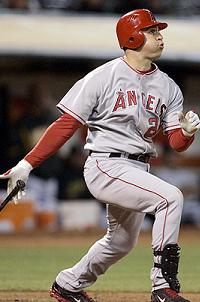 The Hot Stove season not only involves
Scott Boras
clients suddenly becoming generational stars and signing major contracts but also wild rumors that come from multiple "sources." The latest rumor that has emerged suggests that Angels' free-agent first baseman
Mark Teixeira
would like to be a
Washington National
in 2009.
A person "familiar with Teixeira's thinking" told Bill Ladson of MLB.com, that Teixeira likes the possibility of playing for the cellar-dwelling Nationals. Teixeira is from the Potomac area and many of his closest friends still reside in the region so presumably he'd be interested in playing for the Baltimore Orioles as well.
There's no telling who this source actually is. It could very well be someone familiar with Scott Boras' thinking. Or it could even be Boras himself, who may be trying to increase the bidding for the 28 year old first baseman since the Yankees appear to be out the Teixeira sweepstakes after acquiring first baseman Nick Swisher a week ago.
The source also states that Teixeira wants to receive a contract greater than the 8 year $153 million dollar deal that Miguel Cabrera received from Detroit last season. In all likelihood, he should get it since Cabrera is primarily a designated hitter and Teixeira is a great first baseman in addition to being a more versatile hitter. Despite his high demand, the Angels need Teixeira more than anybody does, because after the 2009 season, Vladimir Guerrero's future is in question and they're going to need some power. Sorry but I don't have that much faith in Brandon Wood and Kendry Morales to be the cornerstones of the franchise.
But the question still remains where Teixeira will be playing next season. On Thursday night, while in attendance for the Georgia Tech-Miami football game, Teixeira told ESPN's Erin Andrews that he would like to have his future home decided before Christmas:
"I want to go where I can win and my family is happy. Whether it's the East Coast — that's where I'm from — but I loved playing in Anaheim, too. So we'll see what happens."
If Teixeira truly wants to win in the immediate future as he has stated than it would appear as if three of the teams believed to be his suitors the Nationals, Orioles and Giants, would not be likely destinations. Since moving to the nation's capitol in 2005, the Nationals have not finished higher than fourth in the N.L. East, and the last time the organization made the playoffs was back in 1981 when the team was playing north of the border in Montreal. The most exciting thing to come out of Baltimore in the past two decades is Camden Yards, which launched the retro ballpark construction craze back in 1994. The actual team hasn't made the playoffs in  ten years . The last time the Giants made the postseason was back in 2003 when they were eliminated in the first round by Florida Marlins. In the post-Bonds era their offense has been among the worst in the league.
So with these losing organizations potentially out of the running, it would appear as if Teixeira would either be playing in Anaheim or Boston next season. That seems to be good news for the Angels but it will be very tough to outbid Boston if they are truly serious about acquiring this winter's top power bat.