I'm not going to talk about last night's game since I know there will be about 5000 articles today about that. Instead, I want to talk about the NBA playoff race, and by that, I mean the Western Conference.
Oh yeah, Eastern Conference too....is this a prank I see here?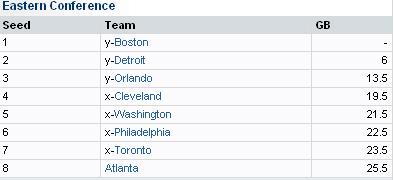 Seriously, the Atlanta Hawks in the playoffs? Seriously? What?! It's not a prank?!
Dallas Mavericks Get Huge Win
Well, thanks to both the Denver Nuggets and Golden State Warriors falling apart on Sunday, the Dallas Mavericks essentially control their own playoff destiny after their come from behind win over the Phoenix Suns. This is the 2nd win in 3 games in which they have defeated a team over .500, and this is their first win on the road against a team over .500 since the Jason Kidd trade. Although they'll likely make the playoffs, they're probably looking at being swept by the San Antonio Spurs, Los Angeles Lakers, or New Orleans Hornets at this point. They're just not clicking.
Cavaliers Are Fading
Something tells me the Cleveland Cavaliers are facing a first round elimination. They have lost 5 of 7 games, and they're losing to the Milwaukee Bucks, the Chicago Bulls, and the New Jersey Nets. They've lost their last two games at home and threw away a chance to beat Chicago at the last second. LeBron James is essentially getting little to no help from his teammates, and their total offense has actually gone down since the mega 3 team trade occurred, and they allow more points on average than they score. There is reason that Delonte West and Wally Szczerbiak were playing for the SONICS. Ben Wallace is banged up, and Zydrunas Ilgauskas is not getting the job done.
They've clinched a playoff spot and since then, they are in the Eastern Conference they are a #4 seed, but they are in danger of sliding to the #5 spot if the Washington Wizards continue this little run they're having, and then Cleveland would lose home court advantage. All I can say right now for Cleveland is to use your draft pick wisely, and don't trade it....
The Warriors Will Make the Playoffs; Denver Will Not
Yes, they imploded against the Hornets, and they seem to have lost their shooting touch, but I have every reason to believe the Golden State Warriors are going to the playoffs. Want to know why? Because the Denver Nuggets are stuck in 1986 and are just as bad defensively as the Warriors are. Denver not only lost against the Sacramento Kings at home, but they lost to the Seattle Supersonics and gave up 151 in the process in the double OT thriller. Denver seems to have no one that can play well defensively outside of Marcus Camby. Look at the final few games for Denver and Golden State:
Nuggets remaining schedule
@ Clippers
@ Warriors (Season series, 2-1)
@ Jazz
Warriors remaining schedule
Nuggets (Season series, 1-2)
@ Suns
Essentially, the Nuggets committed playoff suicide because they couldn't beat the easy teams. Denver has the worst away record of any team in the WC currently in the playoffs, and the Warriors have 4 of their last 5 games at home. We'll see how this pans out, but right now, both teams are tied for the last spot, with Denver holding the edge because of the season series record over GS. But the Nuggets know that if they have at least two losses in those final 5 games they are done. I mean... the Warriors have it made (outside of the Suns, and GS leads that series 2-1), while the Nuggets have a very very difficult schedule.
Playoff Matchups If the Season Ended Today
Eastern Conference
Gosh those are boring series all around.
Western Conference
(4) Jazz vs. (5) Rockets* (Note the Rockets would have home court advantage due to better overall record)

Mr. Manny Stiles, should the Suns and Spurs win their series, you essentially get your wish. Are you happy that this scenario could end up working out perfectly?
That's it from me, enjoy the last week of the NBA regular season.
Ad blocker interference detected!
Wikia is a free-to-use site that makes money from advertising. We have a modified experience for viewers using ad blockers

Wikia is not accessible if you've made further modifications. Remove the custom ad blocker rule(s) and the page will load as expected.