So the series is tied 2-2 and the city of Boston is in a state of emergency and haters are having a field day. Note to Stern if you want people to get interested in the NBA, just have the Celtics lose, I never seen so many non basketball fans so ecstatic for a game.But I'm not worried though, even if it is a sub .500 team because its called a second season for a reason. Everything prior doesn't mean a thing. But the real reason I'm not concerned is because I knew this would happen.
Yes, I predicted this even though I predicted a sweep earlier and here's the reason why. No its not KG folding under pressure, or Doc Rivers being outcoached or of course my favorite "reason" a 66 win team being overrated. Actually this problem been brewing all season long, the Celtics can't keep up with run and gun teams. Thats why the Bobcats gave them hell all year, the Warriors as well, as did the Wizards (who LeBron should take care of in Game 5). Why because the Celtics were built to beat the top tier teams with lockdown half court defense. That is hard to do with teams just running up and down the court basically playing street ball.
That's how the Mavs lost to the Warriors last year but the Celtics will not make the same mistake, plus the Hawks can't win on the road. But hell it's been fun to watch though, but the Celtics wrap this up in 6, a blowout in game 5 and a down to the wire game 6. Hell maybe it'll go 7, but I'm calling the Hawks bluff, they have the youth, momentum and a new bandwagon of Boston haters(i wonder how many bandwagoners will be at game 6 eh Mike Bibby)but can the Hawks pull it off. I dont think so, but by all means prove me wrong
Joe Johnson and Josh Smith have been great this series but they are the only sure things. Horford turns if off and on, and Bibby is supposed to lead but rather follow. And another thing is that they don't play defense, aside from a couple blocks from behind they basically have a "if they shoot we can hurry up and get the ball back" mentality and thats what's ultimately going to shoot them in the foot
But instead of waiting for them to beat themselves, this is how the Celtics need to beat the Hawks.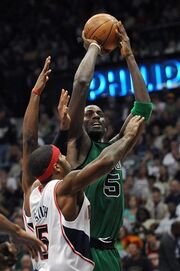 1. KG, KG and more KG- There is no one on that team that can stop you. Stop playing media darling I'm going to get my teammates involved and take over for once. Your becoming Tim Duncan but Duncan has Parker and Ginobili who could drop 40, Pierce and Allen drop 25 and their done for the night
2. Young meets Younger- Give the young guys a chance, let Big Baby go up against Josh Smith, you see how good Rondo has been?
3. Your the facking Celtics- Act like it
On another note, the Sixers they had a nice run as well but you had the dagger in your hand and dropped it, Game 4 at home up 2-1, they had that game and series in hand and blew it. I think the Pistons come back and pull it off in 7(yes im changing that prediction as well).
Ad blocker interference detected!
Wikia is a free-to-use site that makes money from advertising. We have a modified experience for viewers using ad blockers

Wikia is not accessible if you've made further modifications. Remove the custom ad blocker rule(s) and the page will load as expected.