With Christmas now over, I begin looking toward 2008 and am hoping that my seven wishes can come true.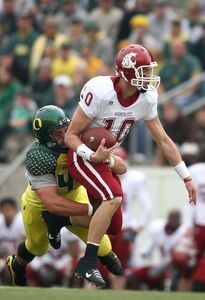 7. For the Pac Ten to play on ESPN The Pac Ten finally gained some respect nationally this past season and it would have been nice for the rest of the country to see the conference's exciting teams more frequently. With late-night telecasts on Fox Sports Net and Versus, it becomes increasingly difficult to watch teams other than USC. By playing weekly on ESPN, the Pac Ten could really increase its exposure, benefiting us all.
6. For Somebody to beat the Patriots There isn't a team in all of sports that I despise more than the Pats. From spygate to their arrogance of Bellicheat, I find myself rooting for New England's opponents each and every week. Nothing would make me more sick than seeing this group of guys go 19-0 and become the greatest team of all time. Sorry but that is just how I feel so please make sure this team doesn't stay undefeated.
5. For Andrew Bynum keep improving So far this season, Baby Bynum has proven to his critics that he is a legitimate NBA center by averaging a double double (11 pts and 10rebounds) per game. Bynum is a humble young man who hasn't been treated well by the Lakers' star player, Kobe Bryant. So far Bynum has handled on the criticism of Bryant and Phil Jackson well and it'd be nice for him to continue his success.
4. For John David Booty to play in the NFL During his five seasons in Los Angeles, John David Booty's class and determination on and off the field have won me over. I can vividly recall Booty thanking my younger brother for seeking his autograph back in 2004. Yes, you heard that right thanking him. With all the preseason hype, it was sad to see Booty have an "average season this year. Because of the way USC fans have turned on him, it'd be nice to Booty get a chance to do well in the pros.
3. For East Coast Baseball Powers to Collapse Nothing bothers me more than watching Baseball Tonight during June, July, and August, and being forced to listen to everybody hyping up the Yankees, Red Sox, and Mets. I figure that the only way to get them to stop talking about the New York and Boston teams would be for them to just go down the tube.
[1] 2. For the Packers to do well in the playoffs Despite a 12-3 record so far this season, I am not expecting or even demanding that this team take home its fourth Lombardi Trophy. Just two years ago the Packers had just four wins and last year they only had a .500 record. Therefore, I was not expecting this current Packers team to win the Super Bowl this season. Yes, they have a very good team but with the Patriots, Colts, and Cowboys, all appearing to have more firepower, a loss to either of these three teams would not be a bad mark in my books.
1. For the Angels to win the World Series Over the past few seasons, the Angels have been very close to being a great team. In both the 2006 and 2007 seasons, the Halos have been just one power hitter away from taking home a World Series title. Is Torii Hunter the missing piece? I hope so. Nothing would be better than the Vladimir Guerrero Angels taking home the World Series crown come next October.
Ad blocker interference detected!
Wikia is a free-to-use site that makes money from advertising. We have a modified experience for viewers using ad blockers

Wikia is not accessible if you've made further modifications. Remove the custom ad blocker rule(s) and the page will load as expected.