Winter X Games 12: Day 3 Recap
Last night was filled with action (what else is new...). Shaun White made his first X Games appearance of the year 2008. White competed in the Snowboard Slopestyle Finals in the afternoon, and then competed in the Snowboard SuperPipe elimination round last night. The Women had a little action on the Pipe as well. Here is my Day 3 recap.
Women's Snowboard Slopestyle Finals:
Despite her 50.00 first run score, Jamie Anderson walked away as the Gold Medalist in the event. Anderson scored a 90.66 on her second, and final run, which was more than enough to take the Gold. On her second run, Claudia Fliri improved her score by about one, and took the Silver with an 86.33, while Spencer O'Brien (Ha, sounds like a boy's name) took the Bronze with her first run's score of 80.00.
Results (Run 1/Run 2/Best Score):
GOLD: Jamie Anderson (50.00/90.66/90.66)
SILVER: Claudia Fliri (85.66/86.33/86.33)
BRONZE: Spencer O'Brien (80.00/35.00/80.00)
4TH: Jenny Jones (63.66/72.00/72.00)
5TH: Marie-France Roy (68.33/38.66/68.33)
6TH: Megan Ginter (63.66/26.00/63.66)
7TH: Cheryl Maas (36.66/19.66/36.66)
8TH: Alexis Waite (35.00/38.00/38.00)
9TH: Erin Comstock (26.66/28.00/28.00)
10TH: Leanne Pelosi (17.33/14.33/17.33)
Men's Snowboarder X Finals:
The Snowboarder X is a timed event, where the fastest time wins (obviously), and the Men's Snowboarder X Finals this year was VERY close. Nate Holland, from the US, took home the Gold this year, with a time of 93.48 seconds. What was amazing about that was that the second-place finisher, Markus Schairer from Austria, finished in 93.81 seconds. That's less than 1 second difference, about 3 tenths of a second, actually. Here is how the rest of them finished.
Results (Time):
GOLD: Nate Holland (93.48)
SILVER: Markus Schairer (93.81)
BRONZE:David Speiser (95.80)
4TH: Graham Watanabe (104.42)
5TH: Seth Wescott (109.23)
6TH: Derek Wintermans (119.85)
Women's Snowboarder X Finals:
The Women's Snowboarder X Finals was very close as well. The winner, Lindsey Jacobellis finished the course in 102.00 seconds, while Tanja Fredien, the Silver Medalist, completed it in 102.67 seconds. Sandra Frei wasn't too far behind them with a time of 104.33, enough to take home the Bronze in the event.
Results (Time):
GOLD: Lindsey Jacobellis (102.00)
SILVER: Tanja Fredien (102.67)
BRONZE: Sandra Frei (104.33)
4TH: Dominique Maltais (104.62)
5TH: Mellie Francon (112.05)
6TH: Zoe Gillings (126.88)
Men's Snowboard Slopestyle Finals:
Shaun White made his first WXG apperance in this event. And, just minutes before his first run, White cracked his board while warming up. WHite had to take his first run with the cracked board, and he scored an 83.33, enough to put him in 3rd place for the time being. White decided to use his SuperPipe board for his 2nd run, he didn't exactly do that great with it, scoring a 60.66. White came away with the Bronze in the event.
Results (Run 1/Run 2/Best Score):
GOLD: Andreas Wiig (92.00/28.33/92.00)
SILVER: Kevin Pearce (88.33/38.66/88.33)
BRONZE: Shaun White (83.33/60.66/83.33)
4TH: Eero Ettala (82.66/30.00/82.66)
5TH: Heikki Sorsa (56.00/77.00/77.00)
6TH: Charles Guldemond (76.33/32.66/76.33)
7TH: Mason Aguirre (63.66/30.66/63.66)
8TH: Mikkel Bang (68.66/51.33/68.66)
9TH: Mathieu Crepel (36.00/43.00/43.00(
10TH: Jussi Oksanen (19.00/42.00/42.00)
SnoCross Round 2:
Yesterday afternoon was the second round of the Snocross. Their was 2 heats of 12 racers, and their is 6 laps, the top 2 racers of each heat advance to the Finals, which were later last night. There is 12 total drivers in the Finals.
Who advanced to Finals:
Heat 1:
Willie Elam
Steve Taylor
Heat 2:
Dave Allard
Robbie Malinoski
Blair Morgan failed to qualify for Finals, coming in 3rd place in heat 1.
Men's Snowboard SuperPipe Qualifier:
This was the elimination round for snowboarders, there is 20 snowboarders, and the Top 10 scores advance to the Finals, which are later tonight. Shaun White fixed up his board, and was able to qualify, and will be in the Finals tonight. White had the second-best score, scoring an 88.33, behind only Ryoh Aono from Japan (92.33). Other recognizable names who qualified are Danny Kass (4th), Kevin Pearce (6th), and Antti Autti (8th). J.J. Thomas (12th), Steve Fisher (18th), and Louie Vito (15th) were among those who didn't qualify for tonight's finals. Many guys had trouble landing trickes, mainly because the ice cooled, creating odd bumps, and hard spots on the ice, messing up their landings.
Qualifiers (Best Score):
Ryoh Aono (92.33)
Shaun White (88.33)
Mason Aguirre (85.00)
Danny Kass (80.00)
Iouri Podladtchikov (78.33)
Kevin Pearce (75.00)
Kazuhiro Kokubo (72.33)
Antti Autti (70.00)
Gary Zebrowski (68.66)
Elijah Teter (68.00)
Snowboard Big Air Finals:
The Snowboard Big Air event is pretty much a "Best Trick" competition, and fans have 50% of the vote (by texting "X" to 43776 to get a ballot). Their was 4 snowboarders that was in the finals this year. First, Andreas Wiig took on Kevin Pearce, and then Travis Rice faced off with Torstein Horgmo. Pearce defeated Wiig 3-0, and Horgmo defeated T-Rice 2-1. So, in the finals Horgmo took on Pearce, and there was NO contest, Horgmo had the better trick, and easily won 3-0, for the Gold Medal.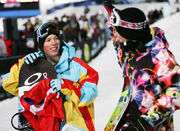 SnoCross Finals:
Tucker Hibbert, the heavy favorite, was looking for his 3rd Gold medal in the event (2nd straight), and he easily reached his goal. Hibbert bursted out of the gates, getting the lead by the first turn, and he led the whole entire race, yes, that's right, ALL 25 laps. At one point, Hibbert led by 13 and a half seconds. Levi LaVellee, who was supposed to at least get the Silver medal, crashed, but ended up coming in 6th (out of 12) anyway.
Order of Finish:
Tucker Hibbert
Brett Turcotte
DJ Eckstrom
Steve Taylor
Zach Pattyn
Levi LaVellee
Ross Martin
Robbie Malinoski
Shaun Crapo
Willie Elam
Dave Allard
TJ Gulla (DNF; crashed)
Today:
Right now, on ESPN, the final day of WXG is going on. From 2-6 PM, and 9-11 PM (ET), ESPN will be airing the final day of the '08 Winter X Games.
Events Today:
2-6 PM ET (ESPN)
Skier X Finals
Snowmobile Freestyle Elimination
Ski Slopestyle Elimination and Final
Mono Skier X Final
9-11 PM ET (ESPN)
Snowmobile Freestyle Final
Snowboard SuperPipe Men's Final
Day 4 Recap coming tomorrow. ENJOY!!!
Ad blocker interference detected!
Wikia is a free-to-use site that makes money from advertising. We have a modified experience for viewers using ad blockers

Wikia is not accessible if you've made further modifications. Remove the custom ad blocker rule(s) and the page will load as expected.