ESPN's Chris Mortenson is reporting that NFL Player Representative Matt Stover (K-Baltimore Ravens) has sent an email to his fellow reps calling for a replacement of Players Union President Gene Upshaw. (The letter can be seen here.)
A lot of people believe this would be a good idea having had several issues under Upshaw's leadership.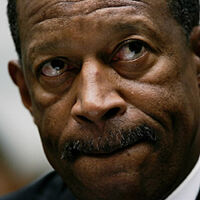 Upshaw said: "Matt Stover has no clue. Whoever is pulling his chain is doing a disservice to the union. I could understand the idea that they need to get rid of me if I wasn't doing a good job but, shoot, the owners are mad because they think I've done too good of a job."
This isn't the first time there have been rumblings about Upshaw's rule. Upshaw has stood in the way of implementing a true and solid performance enhancing drug testing program, even now with Congress breathing down his neck. He was the focus of last year's retirement plan controversies, where he said about Joe DeLamiellure's criticism of the way Upshaw has treated NFL retirees: "A guy like DeLamielleure says the things he said about me; you think I'm going to invite him to dinner? No. I'm going to break his goddamn neck."
If that wasn't enough he has been criticized for not pushing for stronger protection against concussions. (mouthpieces, helmets, etc.)
He is unprofessional and it is time for a change. Finally a current player had the nerve to stand up to what some could call a tyrannical ruler.
From: Afraid of Ed Hochuli
Ad blocker interference detected!
Wikia is a free-to-use site that makes money from advertising. We have a modified experience for viewers using ad blockers

Wikia is not accessible if you've made further modifications. Remove the custom ad blocker rule(s) and the page will load as expected.