Now that Spring Silliness is over (well at least to me) its time for the age old question; "Will they or Won't They declare for the draft." Have the frosh decided to one and done, will Stephen Curry and Derrick Rose take their high draft stocks and bail. Some have already made their decision some are too busy crying to make comment TYLER but since April is the month of mocking I will break it down. Who stays who leaves, where they will fall in the draft et cetera et cetera.
The Sayonaras
Michael Beasley, Kansas State University- Beasley will be a top 3 pick if and when he does declare but but will he? Of course he will, if he wanted to stay in school he would've went to a more prestigious program. Beasley will make them sweat and declare in a month or so. I believe he will carry over his game into the pros and drop 18-20 points a game in his rookie campaign and will likely take ROY honors. One of the few "sure things" in the draft. Only one more obvious than this one is...
O.J. Mayo, University of Southern California- Like Ryan Howard on a 2 strike offspeed pitch, he is outta there. Mayo would've declared his junior year of high school if they let him. Something tells me that he will go to the Knicks, overhyped star, NY media its exactly what they need to fill their expensive ass seats. Mayo is a great scorer but he has problem with shot selection and if he gets a real coach next season I think he could really take his game to the next level. Unless he gets injured in the offseason or something like that I can't possibly see him going back to USC. Now he can finally drive around in that Bentley without getting those funny looks.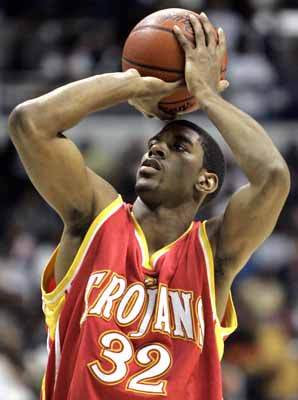 Ty, Ty, and Wayne, University of North Carolina- The reason they are all grouped together because they will all end up doing the same thing, based off Hansbrough. While that Final Four upset made have left a bitter taste in their mouths I think Tyler declares, Lawson declares and Ellington isn't going to stay be his lonesome. Hansbrough is projected as a lottery pick but I see him barely missing it going 16th or 17th, I think Lawson will go not far behind him and Ellington would be a mid second rounder. Hansbrough needs to work on his 18 footer because all them slow post moves and bitchy flops won't cut it in the pros, Lawson will be a nice 6th man his rookie year and Ellington will be a legitimate role player.
Kevin Love, UCLA- I think he isn't as prone to leaving as most predict but he will likely bail. He is a decent big man who will be fine in the NBA if they don't make him play center, he's not tough enough. I see him as a top 10 pick will maybe average 15 and 10 and will get some mentions in the ROY race.
Darren Collison, UCLA- In the Trizz proclaimed "Draft of Point Guards" I see Collison going high perhaps too high because I see him as nothing more than a role player. He has great vision and quickness despite choking in the Final Four and will definitely need to work on his ugly Amy Whinehouse-like jumper especially if he wants to hit those big boy threes.
D.J. Augustin, University of Texas- Most NBA ready PG in the draft but will be slept on. Scoring playmaker with solid quickness and outstanding ball-handling skills. Unselfish, with excellent court vision. Rarely gets rattled, keeps turnovers to a minimum, and has multiple speeds he can utilize to get by his man and create offense, particularly running the pick and roll. He could easily find himself amongst the top young PGs in the league.
The Lopez Twins, Stanford University- One of them is a lottery pick one is not. One is nailing Michelle Wie one is not. One should declare one should not but they both will and were some of the first to do so. Brook is the lottery pick he could go very high depending on how the lottery shakes out. Unlike Hansbrough and Love, I think he will be a dominant big man in the league. Has great size and strength and can hit the jumper when necessary. Robin could stay another year outside his brothers shadow and be a lottery pick next year but he wants to be copycat. He lacks his brothers offensive abilities but is a solid defender sort of like Ben Wallace.
Eric Gordon, Indiana University- Like Leonardo DiCaprio, Gordon is off the sinking ship that is the Hoosiers. He was going to leave regardless and because he's Eric Gordon already has made headlines by declaring instead of waiting until after the tourney. He's really a shooting guard trapped in a point guards body he should be fine in the pros if he's paired with a taller guard. His ball handling is suspect and he faltered down the stretch and could've been a much higher pick. I see him still as a top 10 pick.
Jerryd Bayless, University of Arizona- Another early declarer, another one and done. Another quick of the dribble, body sacrificing, point guard. Only thing is he's sort of selfish so unless he ends up on a team willing to let him control the offense this might cause problems. Some have him going top 3 but he's maybe the 3rd best PG in the draft IMO
Brandon Rush, University of Kansas- He would've left last year if not for an injury so its safe to say win or lose he's gone especially with Bill Self as coach theres no guarentee of winning a championship let alone repeating. He's a swingman with excellent size, wingspan, basketball instincts and athletic ability. Solid perimeter shooter with feet set or off the dribble. His main problem is that he lacks a killer instinct, he will pass instead of score. He should fit on an unselfish team like the Detroit Pistons or San Antonio Spurs he is a lottery pick talent but if you need to revamp your franchise he's not your guy.
Maybe, Maybe Not
Stephen Curry, Davidson College- The Cinderella Man himself has said he just doesn't feel he's ready for the pros and will go back to Davidson and lead them to a championship. If he was to change his mind I could slip into the first round he's undersized but like Eric Gordon if he's given a taller guard in the backcourt he would be fine. As Gus Johnson said 103859 times all he needs is a glimmer of daylight to get a shot off, nice quick release unselfish player, he has great intangibles. But I'm interested to see how he does now that the spotlight may very well be on him next season.
Joe Alexander, West Virginia University- Another Spring Silliness hero who seems to get better each year. He would be a mid first rounder this year but next year could be much higher. Alexander loves Huggins and may give it one more go. I think he stays.
Derrick Rose & Chris Douglas-Roberts, University of Memphis- Like the NC trio, they will both be in the NBA or on the Tigers next year. If they win, Calipari might convince them to go for another one. Rose is projected as the top guard in the draft while CDR is a mid first rounder. Rose has all the potential to be a great guard in this league and many scouts are willing to take a chance on him. Roberts is a what you see is what you get guy. A Very efficient player who shoots a high percentage from the field. Perimeter shot was considered a weakness going into the season, but has shown major improvement. Ball-handling skills and mid-range game are improvable. But there are plenty of decent wingmen in the league and like I said this year will be all about the guards.
AJ Price, UConn- Would a team be willing to take a chance on him? Perhaps but like Rush, Price will have to come back and improve his stock. A great guard with a high ceiling and if he can come back from his injury 100% should be a top pick next year.
Ad blocker interference detected!
Wikia is a free-to-use site that makes money from advertising. We have a modified experience for viewers using ad blockers

Wikia is not accessible if you've made further modifications. Remove the custom ad blocker rule(s) and the page will load as expected.