The turbocharged engines sounded for the last time. The Power to Pass button will be pressed no more. Nor will teams have to choose between "red" tires and "black" tires. The streets of Long Beach, California saw the ending of a 29 year history that began a group of car owners decided to wrestle control of American open wheel racing for USAC. CART and Champ Car are officially history, and the new era of racing can begin. The era came to an end with a race dominated by Will "yes, that's his real name" Power, showing everyone how you're supposed to race a street circuit.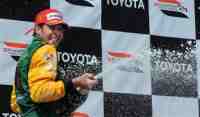 Newman/Haas/Lanigan's Justin Wilson held the pole for the final Grand Prix of Long Beach run with Champ Cars, followed on the grid by one-off driver Alex Tagliani, Conquest's Franck Perera and Power. From the standing start Power to off liking a rocket, passing Perera and Tagliani easily before Turn 1 and (presumably using the Power to Pass system) beating Wilson through Turn 2 to take the lead. He would dominate the entire race, only briefly challenged by Wilson and Tagliani. Neither could keep up however. Justin Wilson has major misfortune when the car gave out on lap 12, forcing him out of the race and losing valuable points. Power led all but two laps of the race, conceding the lead only during pit stops to E.J. Viso and Roberto Moreno.
Tagliani briefly chased the Aussie while on the softer "red" tires (the name is due to have red sidewalls), but could not keep up with Power once the reds started to wear and fell back. Unfortunately for him his seventh place finish does not indicate how well he raced. The Canadian gave himself a shot at a ride for 2009, when his country should have two races on the schedule.
Power's domination gave him a huge points boost in the IndyCar standings, moving into fifth. For the rest of the IndyCar drivers, the results were mixed. The Conquest pair of Enrique Bernoldi and Franck Perera raced in the top 10 throughout the race, finishing fourth and sixth respectively. Power's teammate Oriol Servia climbed from a 12th place starting position to finish fifth, and Viso also had a top 10 by finishing ninth.
After winning Long Beach three years running with Sebastien Bourdais, Newman/Haas/Lanigan had a poor showing this year. In addition to Wilson's mechanical issues, Graham Rahal made a number of mistakes that cost him a high finish. While battling with eventual runner-up Franck Montagny, Rahal was spun out and dropped into the lower half of the running order. After climbing back up again, he found a tire wall on the last lap, ultimately finishing 13th. A poor showing also came from Dale Coyne Racing, as Bruno Junqueira finished 12th and Mario Moraes crashed out on lap 5 and ended up 20th. It's a bad showing for Junqueira in particular, who had a lot of strong results for the low-budget team at the end of last season. Moraes has not shown anything to prove himself as something other than a backmarker (and not even the well-funded, Milka Duno kind), and I wouldn't be surprised if he gets replaced before the season is complete (perhaps at Edmonton by Tagliani?).
Another one-off driver who showed well was third place Mario Dominguez, although he might not be one-off for long. Talk has been that the team he runs for, Pacific Coast Motorsports, has found a sponsorship package and they'll starting running the season beginning at Indy. If that happens, he should be entitled to the 35 series points from this race.
Someone else trying to find a ride for the year is veteran fan favorite Paul Tracy, who got screwed by Gerry Forsythe not wanting to run IndyCars. A shredded tire sent Tracy from fourth down into the back of the field. He climbed back up again, only to have a CV joint problem that needed a lengthy pit stop to solve. The only active driver from before the merge finished 11th, behind fellow old-timer Jimmy Vasser, who came out of retirement for one last race. He finished tenth, but as the co-owner of the winning car he still has a lot to be happy about.
Top 10
Other Notes
Danica was not the only woman driver to win this weekend. Simona De Silvestro of Switzerland won in the Atlantics race that supported the Long Beach Grand Prix. She is the second woman winner for the former CART/Champ Car feeder series, as Katherine Legge won three times in 2005. Also female and victorious was the winner of the Toyota Pro/Celebrity Race, ESPN pit reporter Jamie Little. Clearly the time spent with IndyCar and NASCAR drivers rubbed off on her, as did her victory celebration: she climbed the fences in front of the crowd a la Helio Castroneves.
Speaking of Danica, it was bad form on ESPN's part to interview her during the end of the race. I don't know if they planned on having her earlier and she did not make it to Long Beach any earlier than that, but considering that it was the final laps of a racing series they should have paid attention to it. If they were going to interview someone during the end of the race, it should have been someone involved in the series' high times, like three-time CART champion Bobby Rahal. Hell, they could have pumped him full of Danica questions, since he helped develop her open wheel career. But what happened felt really tacky.
Ad blocker interference detected!
Wikia is a free-to-use site that makes money from advertising. We have a modified experience for viewers using ad blockers

Wikia is not accessible if you've made further modifications. Remove the custom ad blocker rule(s) and the page will load as expected.