Nintendo Wii Releasing "Wii Fit " on May 19th.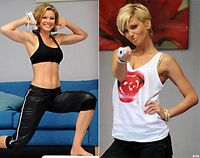 Wii Fit - Wii what? As many of you know, Wii is the popular interactve Nintendo game console - well Wii Fit is the new fitness game in their Wii Sports collection that promises to get your body in tip-top shape.
Wii Fit has already sold over 1.8 million copies in Japan and the United States May 19 th launch is expected to share the same results. Last week the UK launched a successful Wii Fit Campaign ( Model / Fitness Athlete Nell McAndrew and girl singer Sarah Harding demonstrated Wii Fit at the launch) with sellout pre-orders of this interactive fitness game. Wii Fit is incorporated with the Balance Board accessory (a pad that players stand on during their exercises) which will have an estimated price point beginning at $89.99. The board is innovative in that it responds to both your balance and body weight.
The interactive fitness game begins with you checking your BMI (Body Mass Index Rate) and then test your balance to determine what your "Wii Fit Age" is. You can select from forty plus workout sessions such as challenging muscle conditionings, aerobics, boxing, running, snowboarding, yoga and even hula-hooping.
This game has the potential of getting your body ' super sexy bikini ready' (or bathing suit ready - for those chicks out there that prefer sexy one-pieces!) just in time for the summer. Perhaps even just get those legs toned so you even look even sexier in the latest styles of strappy stilettos
For busy hot moms or just hot chicks with hectic schedules, Wii Fit may just be the ticket for you to become the best glamour babe you can be! Grab your guy or your kids and get healthy and fit!
Sport Tidbits:
BMI or Body Mass Index is your number that is calculated from your height and weight. It an estimation of the percentage of your total weight that comes from fat and doesn't include muscle, bone or organs. For example, the higher your BMI is, the higher the percentage of fat you have in your body. General rule of thumb for a good healthy weight is a BMI between 20 and 25.
Ad blocker interference detected!
Wikia is a free-to-use site that makes money from advertising. We have a modified experience for viewers using ad blockers

Wikia is not accessible if you've made further modifications. Remove the custom ad blocker rule(s) and the page will load as expected.