The Boston Bruins advanced in the playoffs for the first time in 10 years. I've only been a fan since 2000, so for me, it's the first time I've "been there" to see them advance, and it's a pretty cool feeling. I woke up Thursday morning feeling like it was a whole new world. Nine years is a long time for a young man, and for those 9 years, I'd just accepted that Bruins weren't allowed in the 2nd Round. Now… Well, I think KG said it best…

Now we need a video Zdeno Chara screaming this in Slovak.

Všetko je možné!!!

Anyway, reality hit home this morning as I remembered there are 12 victories to go before any parade. And those victories would grow progressively more difficult. The Rangers are 1 win from being the Bruins' next opponent, and their goalie looks pretty sharp.

And this sweep was hardly an upset. The Habs backed into the playoffs, topping 9th placed Florida with the head-to-head tie-breaker. They were a shell of the team that went 8-0 against the B's in the 07-08 season. Kovalev was impotent on the power play, Price's luster faded, and he was even replaced mid-season for a time. Markov didn't play in the series, and Guy Carbonneau also didn't make it to the party.

The Bruins did what they were supposed to do: dominate an inferior team. There really was nothing the Canadiens could do better than the Bruins. This was evidenced by Montreal's countless and desperate attempts to antagonize the B's. Some of these attempts were successful on an individual level:

Milan Lucic was suspended for that, which I thought was great since it taught him an important lesson. But as a whole, Montreal's efforts to get under the Bruins' collective skins failed. And sadly for the Habs, that was their only chance to win this series.
The Bruins did what they were expected to do, at least maybe for people who aren't from Boston, or haven't followed this team for longer than 5 months. In 2004, the B's were the #1 seeds in the East, faced Montreal in the opening round, won the first two games, split two in Montreal, then lost 3 straight to lose the series. Up to Wednesday night, the Bruins have been expected to fail, no matter how good they are. Kind of like another team that merited similar expectations from supporters and detractors alike.

A #1 seed sweeping a clearly inferior #8 seed isn't news, but the Bruins sweeping the Canadiens is. In the 32 series between the Original 6 rivals, the B's have swept the Habs just twice - in 1992 and 1929. Tiny Thompson registered two 1-0 shutouts in the '29 series, and the Bruins advanced to play (and sweep) the Rangers for their first Stanley Cup. Foreshadowing?

Why is the Bruins' sweeping the Canadiens so gratifying? Was it the 20,000 Hab fans in the Bell Centre booing their own players off the ice? Was it ex-Hab Michael Ryder nearly getting a hat-trick in Game 4, which would have meant a tramp stamp tattoo of the #73 on my lower back, complete with black and gold flowers? (drunken promise to a friend who celebrated Ryder's signing last off-season, while I wrongfully lamented it) Was it the jerks who gave me crap for wearing a Bruins shirt to the Celtics parade last year, comparing the B's to the Revs in terms of obscurity and irrelevance? Was it for the few but proud diehard fans who laugh when I tell them my Bruins sweater has no name or number on the back because Jeremy Jacobs lets all our good players go? Was it all the times Montreal ended our season with that Ole song (will that change to "My Heart Will Go On?")?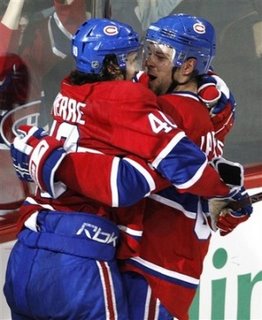 All these reasons coalesce into a spectacular exuberance, but I particularly enjoyed the manner in which the Bruins swept this series. They weren't relentlessly scoring like Detroit, or playing a team of zombies like the Canucks did. And whereas those sweeps featured last gasps of hockey from the dying team, the Canadiens went quietly into the night, totally defeated.

Although the Canadiens were weaker on paper, hockey is perhaps the sport played farthest from paper. The Bruins, lacking playoff experience, played solid hockey, I'd say 90% of the time. After the first 10 minutes of Game 1, there were no signs of nerves. Montreal lead for about 23 minutes of the 120 played, and during those stretches (if you didn't know better), you'd swear that the Bruins were the ones up a goal, just from the way they played.

We saw the unexpected in this series. When Lucic was suspended, Byron Bitz took his place in the lineup for Game 3. Up in Montreal, Bitz played 13 smart, tough, and controlled minutes of 4th line hockey. With the game tied 1-1, he mucked it up in the corner, used his 6' 5" frame to clear space for himself, found Shawn Thornton in the high slot with a perfect pass, and Thornton lit the lamp to make it a 2-1 game. Bitz was a healthy scratch for Game 4.

Patrice Bergeron had played 303 NHL games without a fighting major, until Game 2 when Josh Gorges pushed some buttons, and Bergeron pushed back. Gorges learned the hard way that Patrice fights southpaw.

I've seen Tim Thomas prevent a lot of goals this year. I even saw him get an assist during the regular season, but playoff assists are hard to come by for goalies. And this one in Game 2 was huge. Maybe not huge, but it was essentially game ending. With about 10 seconds left in the 2nd, down 4-1, and killing a penalty; the Canadiens dumped the puck in front of Thomas. But he found cleverly and quickly Marc Savard by the penalty box, Savard passed to Michael Ryder near by faceoff circle. Ryder snapped it past Price with 2.3 seconds on the clock. Perhaps not a game-changing goal, but certainly a game-ending goal.
Eight Bruins scored goals, including unlikely scorers Shawn Thornton and Shane Hnidy. By the way, Hnidy's goal was in Game 2, he didn't play Game 1 because Matt Hunwick was in the lineup. Hunwick needed emergency spleen removal, Hnidy gets the call in Game 2, and scores a goal. Eighteen Bruins had points. Only 3 players who touched the ice didn't have a point, and one of them was Hunwick.

This is a new kind of Bruins team.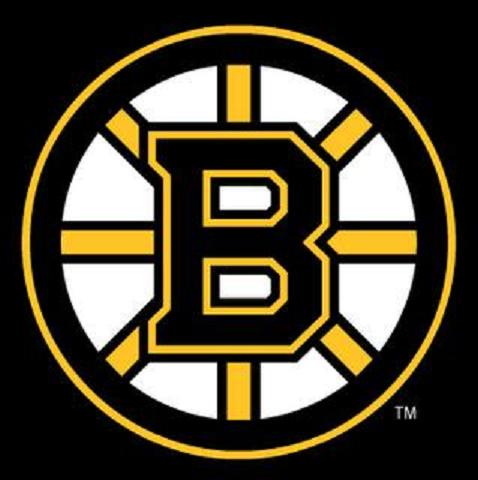 And now we wait for more…
And now a word from our sponsor:
Ad blocker interference detected!
Wikia is a free-to-use site that makes money from advertising. We have a modified experience for viewers using ad blockers

Wikia is not accessible if you've made further modifications. Remove the custom ad blocker rule(s) and the page will load as expected.