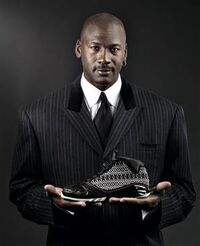 One of, if not the, biggest drafting mess up in NBA history belongs to the Portland Trailblazers. They selected the 7′1 Sam Bowie out of Kentucky ahead of Michael Jordan. Ok, everyone knows that already. I find it a little tough to write about this because I am one of the biggest MJ fans imaginable. It is amazing to me how much crap gets thrown at Thomas and the job he is doing(or not doing) for the Knicks. I agree 100% that he should have been fired 3 years ago, however it got me thinking on why Jordan has went kind of under the radar with the job he has done as a GM. He has had a number one pick and a number 3 pick and he has Kywame Brown and Adam Morrison to show for it....here is a list of players he could have chosen:
Brandon Roy, Rudy Gay, Pau Gasol, Joe Johnson, Tony Parker, Zach Randolph, Tyson Chandler, Eddy Curry, Richard Jefferson, Jason Richardson, Gerrald Wallace
And there are plenty more that would have been a lot better choices. I know there are always busts in the draft and there are the surprise players but what good has he done a team.....the only positive he did in Washington was play and sell out every game. So far in Charlotte he has drafted Morrison and Dudley....He had a solid big guy with talent in Brandon Wright but then traded him for an aging Richardson. The Bobcats have young talent but that was in place before he got there and yet you never hear of his job being in jeopardy. I hope it never gets as bad as Thomas in NY because MJ is the greatest player ever but remember when Thomas was considered one of the best point guards ever.....its rarely even mentioned anymore.
Ad blocker interference detected!
Wikia is a free-to-use site that makes money from advertising. We have a modified experience for viewers using ad blockers

Wikia is not accessible if you've made further modifications. Remove the custom ad blocker rule(s) and the page will load as expected.