As if merely being Manny Stiles isn't conflicting enough just by definition, here I am staring at what would seem to be the most interesting World Series in my life. And I am elated and torn.
There are no two professional sports teams that I have had a closer relationship in my life. I've been to more Phillies games than any other team in baseball. Hell, I've even seen them play on the road in four different away stadiums! In college (before I dropped out for personal and financial reasons) I had an internship with the Phillies lined up for my senior year. I had met many of the Phillies players over the years and had three different baseball coaches that were friends with several of the coaches and scouts in the organization - including John Vukovich, Ruben Amaro Jr., and Paul Owens among others - and got me personal instruction and tutelage during my pitching days. Plus, former Phillies Jeff Manto and Robbie Wine. were Temple U. alum that would come to work out with our squad in the fall and winter.
I've had a lot of pro baseball exposure thanks to the Phillies organization.
And with special thanks to being Matt Silverman's personal internet bitch for charity, there's no team's press box, dugout or locker room that I've spent more time in than Tampa Bay's. I certainly have met more players, management, beat reporters, employees and long-time fans of the Rays than any other professional sports organization. I even know the Rays' minor league players more than any other organization's. I mean, I still follow the exploits of players who aren't with the team since I started being their "fan for charity". I cannot express how awesome the experience I've had with the Rays has been!
And clearly I have been as good a fan as one could hope for for $1,535 dollars to charity!
So there's the history and knowledge of the Phillies I gained from living in and around Philly for 26 years and there's my two seasons of deep, emotional connection and deep, investigative knowledge I've obtained following the Rays.
There's so much for me to be torn about I almost want to go hide in a cave until it's over...
Let me break it down into a mere 26 points.
Exhibit A: Growing up as a small child in the Philadelphia suburbs, I was heavily fertilized in the realm of baseball with the soothing sound of Harry Kalas and the powder blue Phitin' Phils. One of my first and longest lasting sports memories is and forever will be the 1980 World Series. I distinctly remember being very sick and laying on my couch wrapped in blankets struggling to stay awake long enough to see the Phillies win. Tug McGraw struck out Willie Wilson, jumped into Bob Boone's arms and I rolled over, smiled and passed out for the next couple days.
But don't get me wrong - I have enjoyed the Phillies, cheered them on occasionally but NEVER would or could have called myself a Phillies "fan". They were just the team I happened to grow up geographically close to... I never had a favorite player that was a Phillie and always teased my friends growing up that they were brainwashed into being Phillies fans.
One thing I've always enjoyed about "Phillies Fans"... they KNOW the game and they are passionate about their sports knowledge. Phillies fans know their opponents almost as well as their home team. They know who to "boo" and when the right time to "boo" them will come.
Say what you will about "class" or "rudeness" or whatever term you want to lump Philly fans together - I know different - a.k.a. the truth - about Philly sports fans... the DON'T WANT TO BE Title-less ANY MORE!!! They are starving for the schneid to end. It will boost the morale and economy of the entire city to blow up a huge party down Broad St. so the misery can end.
Remember, Rocky Balboa might have been a loser for a long time but he went on to win the title... several times.

Exhibit B: Yeah, I'm that "Rays Fan/Blogger for Charity guy". Before 2007, I was simply a fan of the game and I had teams that I liked and teams I didn't like. Many of those teams stayed on the "non-love" side of the ledger (Yankees, Cardinals), others stayed on the "like, not love" side (Braves, Angels) while other teams flailed about my good graces seemingly every other year (Giants, Mariners, Padres).
I didn't root for logos I liked, I rooted for people I liked (players, management, etc.) and it seemed I always rooted for the underdog (So, yeah... I even spent a GOOD amount of time in the 80's and 90's rooting for the Red Sox).
But Philly and Tampa Bay??? Two downtrodden franchises with whom I have a past and current emotional ties?? This is unreal. This is how all of my Playstation-based baseball seasons turn out!
It always seemed I had a team to root against in the World Series - the 90's Yankees, the '88-'90 A's, the '07 Red Sox. Only one time I can recall that I was not clearly in favor of one team over the other... the '95 Series (Braves - Indians) and if not for my allegiances with the Rays - I WOULD have been all over the bandwagon this year anyway because I LOVE what they are doing and I would have been torn over who to root for in only the second World Series I can recall.

Exhibit C: Philly needs a championship. Partly so everyone can get over this "Curse of Billy Penn" nonsense and focus on what the REAL Curse was... "The Curse of Jim O'Brien". The über-popular weatherman at WPVI in Philadelphia, Jim O'Brien died on September 25, 1983 in a skydiving accident.
A statue of William Penn on top of City Hall (a beautiful and remarkable building in it's own right) does NOT care that someone built a building taller than him. Why? Because he was put on BACKWARDS to begin with! He was supposed to face south so his face would light up but they put him on facing north despite the blueprints. To say it has anything to do with a s heap of bronze is ludicrous. If it cared, the Phillies, Eagles, Flyers and Sixers would have NEVER won a championship!!!
But Jim O'Brien WAS Philadelphia! He was the city's most beloved man! And he died a hero, saving someone else's life.
If it's not Jim O'Brien, it's the USFL or the Blue Route or MOVE or anything logical besides architects bypassing "gentleman's agreement" to not build higher than William Penn in the City... to the point where they had to build the Comcast center just so they could weld a tiny William Penn on top of it? Wouldn't that piss off the original statue MORE??? It's stupid and for EVERYONE's sake - it needs to end.
Why not the "Curse of Manny Stiles"? After all, the first Pro Sports game I ever saw in Philadelphia was in the 1983 NLCS in October 1983... No team in Philly has won a title since!
If anything - THIS was the decade to end a "curse" for several teams - the Diamondbacks (1st Pro Sports Title in Arizona), Angels (Anaheim Stadium built on Indian Burial grounds), Red Sox (Bambino), and White Sox (Black Sox).

Exhibit D: The Buccaneers and Lightning. People think the Rays are either the '69 Mets or the '07 Rockies or the 1888 Louisville Colonels... Guess what? They're the Tampa Bay Rays... let them be who they are without having to convolute the past to make things lazier for everyone. It's ok the Rays are doing they're own thing - every day it's something that has happened "For the First Time Ever" - all season has been like that!
But get a grip with history: this "expansion team with losing tradition turning into a winner" thing has been done before RIGHT THERE IN TAMPA BAY! Twice!
The Buccaneers were doormats/punchlines/sadsacks of the NFL for nearly three decades. They changed their colors, changed their attitudes and bingo! Won a Super Bowl with fundamentals. From 1976 to 1996 they had THREE seasons with more than 6 wins!
The Lightning went to the playoffs ONE time in their first ten years of existence and 11 years before winning a playoff series. In hockey, that's damned near impossible! In their 12th year, they won a Stanley Cup.

Exhibit E: Much like the last World Series I didn't have a clear rooting interest - 1995 Braves - Indians, the TV ratings are going to suck. And it's a shame. People are SO mindfacked these days that all anyone needs to be successful in the mediasphere is to be popular. Popularity breeds success on TV and entertainment. Not talent, not skill, not the two BEST TEAMS... everyone was rooting for Goliath again. they wanted the familiar the comfortable and now they're ALL bitching that this isn't the story they wanted.
Media members that bitch about this - or any title matchup are FOOLS. THESE ARE the two BEST teams. They've proven they belong here and they were meant to be here - no one else!
To the masses: Get over your irrational fears! Step out of your comfort zone and enjoy a battle of the two finest teams in baseball. The Rays are going to be around for many years to come and the Phillies very well may be back again soon. Get USED to these teams!!!

Exhibit F: Phillies Red vs. Rays Blue. How fitting, in an election year... Red vs. Blue and both Pennsylvania and Florida are "battleground" states. Anyone else find it disturbing that our political pundits view some of our UNITED states as "battleground" states???

Exhibit G: I'm not going to break down each position and compare the players like I did for the ALCS - for one simple reason: The numbers are skewed. The Phillies play in a bandbox in the BL and the Rays play in a dome in the AL. None of the numbers will correlate to make sensible arguments that are clear.
For instance: Carlos Pena's power might actually be superior to Ryan Howard's in reality because Pena missed time and played with a broken hand (diminishing his numbers) and didn't play in one of the easiest parks (I don't care what the numbers say, listen to the PLAYERS talk about the fields) in baseball in which to go yard. Pena is miles above Howard with the glove...
And don't get me started on the pitching differences or the people who want to say Shane Victorino is just as good a centerfielder as B.J. Upton... sorry.
Anyway, the Rays broke an AL record for most Home Runs in a playoff series against the Red Sox pitching staff with three games at Fenway - where it's tougher to hit HRs than most parks! What are they going to do with the Phillies pitchers in one of the smallest parks to hit HRs???

Exhibit H: Two baseball lifer managers in Joe Maddon and Charlie Manuel that are very upbeat and likeable in their own respects. Good for them, they both deserve more credit.

Exhibit I: Season Attendance...
One thing that will keep getting regurgitated is Tampa Bay's attendance figures. The Phillies averaged nearly 20,000 more attendees per home game than the Rays did this season. The Phillies averaged less than 3,000 fans more than the Rays for road games.
Clearly (to me at least), people don't understand the demographic difficulties the Rays face. It has less to do with a "tradition of sucking" than it does with fan support getting derailed by something as basic as "Location, Location, Location". The stadium is in a bad place for residents of Tampa to travel. It's detached from the metropolitan area by water and bridges. It has little to do with the stadium or the team's performance and much more to do with inconvenience.
People will still overlook the fact that attendance AND record has improved each year since Joe Maddon was hired.
The stadium might be unique but it's a great playing surface - not like traditional "astroturf" - and the accommodations are better than the older stadiums and even more amenable in it's inner workings than some of the newer parks (I'm looking at you, Chase Field).
And DON'T be confused!!! Tampa has a RICH baseball history that goes back LONG before the Rays. Spring training started in Tampa. The Yankees have long dominated the area with their offices and players living there. The area has been littered with all-time greats spending their offseasons and post-careers in the area (Ted Williams and Joe DiMaggio for instance) and many prominent major leaguers grew up in the Tampa area (Wade Boggs, Fred McGriff, Gary Sheffield, Dwight Gooden, Steve Garvey, Al Lopez, Tino Martinez and Luis Gonzalez)

Exhibit J: Eagles vs. Buccaneers, Flyers vs. Lightning... there's no love lost between these two sports-loving cities at all.
Although, oddly enough you can get Yuengling Lager in these two Major League parks and no others!!! Template:Yuengling Fan It's the "Yuengling Series"!!!

Exhibit K: My best friend growing up has Phillies season tickets and has been keeping me up to date on lots of those "little things" and I have seen the Phillies play as much as any NL team that doesn't play here in Phoenix. Of course, I've also been keeping my buddy updated on the Rays all season, too.
My wife and kids also adopted the Phillies as their favorite NL team a few years ago when wifey got a Phillies hat. But they are all still primarily Rays fans.
Unfortunately, I am unable to fly to Philly OR Tampa this year... which just plain sucks for me but at least I'll get to share this special World Series with my family.

Exhibit L: So much for the Phillies' "Curse of the Blue Hats"... when they first re-introduced the blue lids as a Sunday home game "thing", the team reeked profusely and the players said those hats were cursed. Meanwhile, in breaking news, the Rays dropped the whole "Devil" thing and switched to Blue hats.

Exhibit M: Harry and Todd Kalas.
Harry is the voice of the Phillies and is simply the best announcing voice in the history of the art form - No, you can't argue this with me. He took the torch from John Facenda as the voice of NFL films and to hear Harry's voice on the radio or TV during Phillies games in the summers of my youth helped instill the love of baseball I have today.
Todd is Harry's son, works for the Rays TV and radio coverage and is perhaps the ONLY son of a legendary broadcaster that also became a broadcaster that doesn't suck. Todd is witty, insightful, pleasant and damn it - he was just simply cool with me personally and to my kids. He is genuine and definitely loves and respects the game as much as anyone.

Exhibit N: The Rays can't win 3 championships in a row if they don't win the first one first.

Exhibit O: Remember the All-Star game? The game that a Rays player got the victory (Scott Kazmir) and a Phillies player blew his only save all season (Brad Lidge).
Now the Rays have home field advantage.

Exhibit P: Rays' clichés... Catwalks, "First time in Franchise history", "9=8", and the opening of the "blue seats", rays tank (they're cownose rays, not manta), Joe Maddon from Hazleton, PA...

Exhibit Q: Phillies' clichés... One title in franchise history, bandbox, cheesesteaks, Curse of Billy Penn, 3 MVP-type players, Charlie Manuel's Mom passing away, Snowballs at Santa Claus, "Boobirds", "Blue Collar town".
Want a fun drinking game? Every time Tim McCarver (or any other talking bobblehead) says any of those clichés, take a drink!!!

Exhibit R: Every year from 2001 until last year, I picked the Phillies to go to the World Series. For the last two seasons, I've picked the Rays to win the World Series... something HAS to give...

Exhibit S: I really won't mind if the Phillies win. I will LOVE it if the Rays win! I really won't mind if the Rays or Phillies lose.

Exhibit T: Although the two teams haven't played each since 2006 - and that was for the first time since 2001 - the Rays and Phillies have met in interleague play a mere 15 times. The Rays are 10-5 in those games and have won 4 of the 5 series including a sweep in 2001. 4-2 in St. Pete and 6-3 in Philly. Go figure... James Shields and Scott Kazmir have both won games in Philadelphia. The Rays are 7-2 against the Phillies since Y2K.

Exhibit U: Clearwater, Florida. The long-time Spring Training sit of the Phillies is minutes down the road from St. Petersburg, Florida - HOME of the Tampa Bay Rays. In the heart of Raysmania.
The fans know each other, the teams know each other from Spring Training.

Exhibit V: Bullpens: The Rays 'pen - despite a "lockdown closer" is just as good, nee... better than the Phillies vaunted corps. Some people might be surprised to learn that Brad Lidge's former pitching coach in Houston (Jim Hickey) and his best friend from that Astros team (Dan Wheeler) are both in Tampa. The Rays certainly have more depth in the 'pen and more versatility as well as guys who can chow down on innings.
Another thing people fail to notice is that David Price, the Rays' "Ace of the Future" is their current shutdown arm out the 'pen of now. Brad Lidge might have more impressive numbers and experience over Price, but DP has two distinct advantages – NONE of the Phillies have ever seen how nastfilthy he is and he is as supremely talented as any pitcher alive right now. He's a lefty with a serious fastball with movement, a wicked slider three other pretty decent pitches and a ferocious competitiveness with a sick calmness about him.
My wife likened him to Tim Duncan because of his demeanor and quiet, cool competitiveness. I kinda agree.
This series will likely be decided by either a few dominant starters or the bullpens as many World Series seem to...

Exhibit W: A useless point: I have a brother that lives in Tampa and a brother that lives in the Philly burbs. I don't really like either one of them.
Oddly enough, my brother Dru who died of AIDS and led to events that inspired me to sell my fan soul in the first place...? He was a Phillies fan! In fact, my first game at the Vet in 1983 was because these three brothers dragged me -the little twerp - along!

Exhibit X: Common Players between the teams:
Kevin Stocker. The former Phillies shortstop was the first player the Tampa Bay Devil Rays ever traded for. After drafting Bobby Abreu from Houston as their third pick in the 1997 expansion draft, Tampa Bay traded him for Kevin Stocker... straight up!!!
Travis Lee: Yup, "T.L. the wunderkind" donned the Green Rays jersey as well as the Red Pinstripes. Though he had two of his finest seasons with the Rays and the Phillies, to no one's surprise he also sucked for both teams, playing 69% of his "illustrious" career with these two franchises.
Julio Franco - Yup, he started his career with the Phillies in 1982 and seemed to have ended his career with one measly at bat with the Devil Rays in 1999 at age 41. Somehow he came back in 2001 and played another 7 seasons.
Roberto Hernandez - There are some players that give nightmares to fans of every team they played for...

Exhibit Y: Come on... using logic this series shouldn't even be close.
The Phillies limped into first place in a division with the 'Chokes, Braves and Nationals... and don't try to convince me that the Marlins are "tough".
The Rays won the AL East against the two richest, deepest teams in baseball and the Blue Jays who have a solid team and is only getting better. The Blue Jays and the Orioles have some of the game's best prospects coming really soon - so the AL East is only going to get better!
The Phillies (92 wins) beat a floundering Brewers (90 wins) club and another backed-into-the-playoffs team in the Dodgers (84 wins). Come on - LOOK at the NL West!!! Sure the Dodgers beat the Lay-Down Cubs but WHO honestly thought the Dodgers were worthy of representing the NL?
The Rays (97 wins) beat the White Sox (89 wins) and Red Sox (95 wins) who just happen to be 3 of the last 4 World Series Champs...
So the Rays have played in the tougher league, tougher division and had a more difficult path to the World Series after spending the entire season proving everyone wrong... maybe they're tired? The logical Phils fans are hoping so.
But let's face it... the Rays have two good luck charms - Me and Johnny Gomes

Exhibit Z: Of course, I am rooting for the Rays and everything I see on paper says they should win this series easily, but still there's an eery feeling I am having about this (eery feeling = something Sports Shaman said to me in a reading BEFORE the playoffs). It seems too simple to be this simple...
Regardless, simply put the Phillies have ALL the pressure on them. They backed into the playoffs. They NEED a title. The City NEEDS a title. The fans NEED a title and all the signs are there to end the misery - yet there are signs to prolong the misery in Philly, as well...
If the Rays lose, so what? They weren't supposed to be here yet. They are a year ahead of schedule and will be heavy favorites to return to the playoffs and make several more runs at a World Series title. A World Series loss would not be anything to fret over at this point.
No matter what, I'll enjoy it.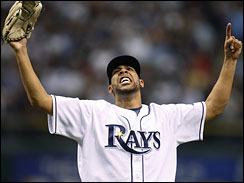 My heart says Rays in 5, my brain says Rays in 4, I'll hope for a Game Seven that goes 15 innings or more and for no stupid shit to make the difference to give false memeories to the mindless (ex. - Bill Buckner's error DID NOT LOSE THE WORLD SERIES FOR THE '86 RED SOX! Steve Bartman didn't lose ANYTHING for the Cubs, and Derek Jeter's "flip" didn't win a World Series for the Yankees) And my fear (and hope for things that irritate me - such as imaginary curses - to go away) says Phillies will win this series.
Let's just have a classic, long Series and let the idiots who don't watch because the Red Sox and Dodgers aren't playing turn their channels and miss out on the two best TEAMS in baseball duking it out in October.
Ad blocker interference detected!
Wikia is a free-to-use site that makes money from advertising. We have a modified experience for viewers using ad blockers

Wikia is not accessible if you've made further modifications. Remove the custom ad blocker rule(s) and the page will load as expected.