David Eckstein and his two World Series rings are on the move to Phoenix. Despite going to a team with a worse record than the Blue Jays have, he has found himself back in the hunt for another ring. He was claimed through waivers by the Diamondbacks (it helps to have a crappy record AND be a division leader at waiver-wire time) who made the deal with the Blue Jays to shore up their infield but also to add an infusion of scraptitude.
Eckstein is the posterchild for the word "Scrappy". His physical stature and abilities scream at you as the resume as one of Santa's elves, not as a key element on a championship team. You've heard them all: He is so short, his Mom has to cuff his underwear. His arm is so weak, he needs a cutoff man on his throws to first base. His Starting Lineup figurine is life-sized. Etc. and so forth.
If you were creating your personal baseball "dream team" guys like David Eckstein would be far from your thoughts. "Scrappy" guys - who for some reason must be Caucasian in order to be labeled "scrappy" - aren't sexy. They don't rack up stats or put your fantasy team over the top. If you looked David Eckstein up and down you wouldn't even want him as a ringer on your beer-league softball team.
One thing you cannot deny: The man simply wins when he's wearing red! (see: 2002, 2005) It seems the D-Backs are banking on an 'every-three-years' trend and their Sedona Red uniforms meeting the previously defined criteria.
Even more importantly, if you think your team will stand a chance of winning the World Series, you will NEED a player or several players just like David Eckstein! You NEED the scrappy guy, you need the cast-offs and you need scrubs if you are going to stand a chance in the ultimate showdown. History DEMANDS it be so!

Why? Because these guys are baseball lifers. They play with 210% of their ability and 100% of their heart at all times. They keep your stars on their toes. No Star Player is going to get shown up by a scrub. It keeps your clubhouse cohesiveness sticky. When the littlest guy is grinding day in and day out, you better show up to do work, too. And for some reason, these castoffs and lunchpail guys always seem to play beyond logic when the big moments shine.

Maybe it's as simple as the powers of human determination, will and sheer effort? Maybe scrappy guys have been told "No", "You're not good enough" and "You suck" so often they refuse to believe anyone else's talent can defeat their fundamentals and ceaseless effort. Maybe opposing teams ease up thinking they can get by the scrubs more easily? Maybe the Baseball gods just are that damned funny...?

Let's take a stroll down Postseason Lane - Just the past 11 World Series winners:

2007 Red Sox: 5 foot-nothing scrappy guy Dustin Pedroia has 10 RBI in 14 postseason games while castoff/scrub Bobby Kielty makes his only W.S. AB count with a HR. Also on the roster to keep the stars in line: Castoff Eric Hinske and Scrub Alex Cora.

2006 Cardinals: Obviously, David Eckstein. Also Scrub So Taguchi had as many post season HR as regular season HR that season. The Cardinals were chock-full of castoffs and scrubs including Scott Spiezio, Jose Vizcaino, Timo Perez and "he-was-really-an-All-Star?" Ron Belliard.

2005 White Sox: Scrub Scott Podsednik was a surprise slugging hero. Geoff Blum had as many HR in his one W.S. AB - a 14th inning game winner - as he had all season in a White Sox uniform. Scrapper Aaron Rowand was a keystone. Castoff and paleontology buff Carl Everett was a lynchpin. Even Timo Perez was on the roster, though he saw no postseason action... he was still there to keep people working hard for fear of getting replaced by his scrub ass.

2004 Red Sox: Mark Bellhorn, Trot Nixon, Pokey Reese, Gabe Kapler, Doug Mientkiewicz, Dave Roberts - The roster was a veritable smorgasbord of scrap, castoff and scrub.

2003 Marlins: Castoffs Todd Hollandsworth, Andy Fox, Mike Mordecai, Lenny Harris and Jeff Conine. All guys who know a lot about baseball, but would YOU want them on your team? Perhaps Luis Castillo can fall into the "scrappy" definition despite his non-Caucasian-ness?

2002 Angels: There's that Eckstein guy again. And that Spiezio guy, too. Darin Erstad might be the most over-rated "Scrappy" guy in baseball history. Adam Kennedy hit 3 HR in the ALCS clincher like he had a candy bar named after him or something. Awww... Chone Figgins!! Maybe "scrappy" isn't ethnically defined after all!!! Castoffs Orlando Palmeiro, Alex Ochoa and Shawn "where did I go?" Wooten chipped in.

2001 Diamondbacks: A team of scrappers led by Eckstein's protégé, Craig Counsell. Scrub/Castoff Tony Blomack was an essential contributor for some miraculous reason while castoffs David Dellucci, Reggie Sanders, Danny Bautista, Midre Cummings and Damian Miller all added vital bestowals to aid victory.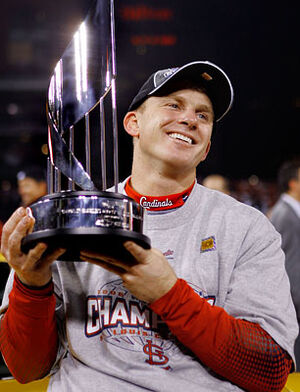 1998- 2000 Yankees: the Yankees had the highest payroll in baseball, a star-packed lineup and a wide assortment of scrap pile rejects such as in 2000; Clay Bellinger, Jose Canseco, Luis Polonia, Luis Sojo, Jose Vizcaino. In 1999; Chad Curtis, Ricky Ledee and on the downslope Chili Davis and Darryl Strawberry. In 1998; Homer Bush and Shane Spencer. And let's face it, Scott Brosius will be remembered far too kindly compared to reality. And Jim Leyritz would have been too if not for his drunk driving manslaughter.

1997 Marlins: Craig Counsell first carved his legend. John Cangelosi added more scrappiness. Kurt Abbott, Alex Arias, and castoff Jim Eisenreich and many downside veterans made it all possible.

Go even further back and you'll see history dotted with the Ed Spragues ('92 Blue Jays), Billy Hatchers and Joe Olivers ('90 Reds), Mickey Hatchers ('88 Dodgers), and Rusty Kuntzes ('84 Tigers) of the world. Guys you wouldn't think you'd need but then you do.

Now, obviously you can say that these teams all won with characteristics like superior pitching and airtight defensive play - which would be very, very, very true. But look at your favorite team's roster again and if you see a lot of guys that suck and you can't figure how they made it to the majors, you might be looking at the next World Series champions!
Ad blocker interference detected!
Wikia is a free-to-use site that makes money from advertising. We have a modified experience for viewers using ad blockers

Wikia is not accessible if you've made further modifications. Remove the custom ad blocker rule(s) and the page will load as expected.