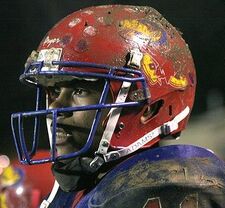 Standing at 6'6" Terrelle Pryor of Jeannette, Pennsylvania, is the nation's top quarterback prospect, but unlike many of the top high school players, Pryor is uncommitted. Many top programs, LSU, Oregon, Ohio State, and Michigan, are all trying to woo the Western Pennsylvania quarterback to their campus. While all four schools would be good fits for Pryor, Michigan is far and away the best choice. Here are three reasons why:
1. Family connection:
One of the reasons people feel that Pryor should head to Ohio State is due to the fact that he is friends with several Buckeye commits, while he isn't too close with many Wolverine recruits yet. However, his cousin Toney Clemons is a wide receiver for the team and led him on the official visit last weekend.
2. He's Needed Badly
If Pryor does end up going to Michigan, he'll probably start right away. With the graduation of Chad Henne and the transfer of Ryan Mallett, the Wolverines' have an opening at the quarterback. At Ohio State he would likely sit behind Todd Boeckman. If he went to LSU, he'd likely be behind Ryan Perrilloux. If he heads west to Oregon he'd battle Justin Roper for the starting job. However, at Michigan, Pryor will play right away and be the guy who brings the Wolverines back to national prominence.
3. Rich Rodriguez and the Spread
Pryor has a strong bond with Rodriguez, the former West Virginia coach. When Rodriguez resigned from West Virginia in December, Pryor was one of the first people he notified. According to some people, Rodriguez told Pryor about his departure before he even told his own team. Rodriguez's spread offense also caters perfectly to a dual-threat quarterback like Pryor. Over the past three years, Pat White has become one of the top quarters in the country while playing under Rich Rod.
A word of advice to Pryor: Sign with Michigan on February 2nd
Ad blocker interference detected!
Wikia is a free-to-use site that makes money from advertising. We have a modified experience for viewers using ad blockers

Wikia is not accessible if you've made further modifications. Remove the custom ad blocker rule(s) and the page will load as expected.