OK... so ANY conscious sports fan can appreciate the accomplishment, the feat, and the VALUE of winning 22 games in a row. It is a BIG DEAL... in any sport! You cannot take that away from them. No outcome of the season - as dismal as it may turn out in the playoffs for the Rockets - will EVER take away that they have won TWENTY TWO straight NBA games (and counting). Very impressive. 
So, in case you don't know me... I'm a true Suns fanatic. A fanatic; with orange and purple blood that dates me (unfortunately) back to the glory days of high school where a pride and fanship were birthed. Grown out of a small, Northern Michigan community where the seeds of stardom were sown... Traverse City was not just a cold, snow-blanketed land where snowmobiles roamed like bison and opening day of deer hunting season was a state holiday, it was a land that cultivated greats such as All-American Mark Brammer, Kenny Olson (cause 'I wanna be a Cowboy Bay-bee') and Thunder Dan Majerle. 
I slept with my basketball nightly and (as the best a 16-year old could do) mirrored my game after KJ. It was my first true-love NBA fanship and I had all the Barkley, Majerle and KJ posters to back it. The point is, I am not-a-fairweathered-happen-to-live-in-PHX-therefore-I'll-support-the-Suns kind of fan. I realize we all have our childhood sports gods, but then I guess you can understand how the Suns are truly mine. 
That being said... I am frustrated. I am frustrated and maybe a little antsy that over the past few years. The Suns have had such an AMAZING team that - make no excuses - have just not stood the test of time (or should I say, the Playoffs). I am pretty sure I put my unborn child's safety at risk during the 2003 first round playoff Game 1 against the Spurs when (then) rookie Amare banked a three to put the game into overtime and Starbury won the game with one of the most stabbing threes EVER... you have never seen a preggo out-jump her 6'6" husband... not a pretty sight. I actually shed a tear when I heard Amare would be out a season and his return would be under the black cloud of the dreaded post-microfracture surgery condition that others have shamefully played out. I am a SUNS FAN and will be for life, and G.D. it -I want to see a Championship!
This is why I root for the Rockets and hope they get to 25.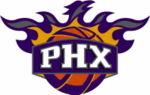 GO ROCKETS!  GO McGRADY! Keep shooting those lights out, Alston!!!!! Live it up! Beat those 52-13 Celtics... The way you're playing, take your easy #24 and #25 against the Hornets and the Warriors!!!   Because... there are few games that will rank with watching the Suns - in their finally-figured-it-out Shaq-era - STOP the streak dead at 25. 
So let the Celtics fold, let the Hornets be squashed and let the Warriors be blasted. The Suns have cultivated a chemistry and rhythym that is encouraging to me and dangerous to any bench that doesn't clear when Shaq chases down a loose ball. For the next five days, I declare myself a Rockets fan because if the three teams before Saturday fail to stop the Crazy Train, Saturday will join the list of my most memorable Suns moments - much like Starbury's three, Bell's clothesline to Kobe and Amare's sick dunk over Olowakandi - when Shaq, Nash, Stat and my boys killed "The Streak" at 25. 
GO ROCKETS (until Saturday)....
Ad blocker interference detected!
Wikia is a free-to-use site that makes money from advertising. We have a modified experience for viewers using ad blockers

Wikia is not accessible if you've made further modifications. Remove the custom ad blocker rule(s) and the page will load as expected.