The Seattle Mariners outfielder is talented and funny.
The future Hall of Famer--he's actually already a lock for the HOF in my book--was quoted in the most recent Sports Illustrated (Year in Review issue):
"Chicks who dig home runs aren't the ones who appeal to me. I think there's sexiness in infield hits because they require technique. I'd rather impress the chicks with my technique than with my brute strength. Every now and then, just to show I can do that too, I might flirt a little by hitting one out."  -from September 7, 2009.
Any baseball fan who doesn't think that's even a little bit humorous, especially when hearing it from a guy like Ichiro Suzuki, isn't a big enough fan of the game of baseball or, more importantly Ichiro's style of play.
Yes, you've guessed it: Ichiro is not a home run hitter whatsoever.  But, he is a true athlete and a very good all-around player.  In fact, hitting homers is just about the only thing he doesn't do well.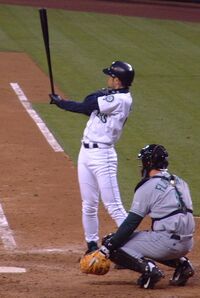 The nine-time All-Star, nine-time Gold Glove winner, one-time MVP and the 2001 Rookie of the Year winner came in to the league at age 27 after spending the first nine seasons in Japan, giving him 18 years of professional baseball experience.
In Japan, Ichiro is considered one of the best to play the game, accumulating three MVP awards ('94-'96), seven All-Star selections ('94-'00), seven Gold Gloves ('94-'00) and Seven league batting championships ('94-'00).
Hitting for average is probably Ichiro's biggest upside as a player.  In fact, Ichiro has hit over .300 for 16 straight years going back to his days in Japan.  His first two seasons in Japan, at age 19 and 20, were the lone two seasons he hit under .300.
Ichiro is a hitting machine and holds the single-season record for hits in both the Pacific League back home in Japan (210) and in Major League Baseball (262).  Had Ichiro started his career in the MLB he would already have well above 3,000 for his career (has 3,308 in his 18 baseball seasons combined).  In nine years in Seattle, Ichiro has never totaled under 200 hits in a season, giving him an astonishing pace.
His number three best  attribute?  Speed.  Some guys in the game of baseball say speed kills, and when referring to Suzuki, you are absolutely correct.  The combination of his hitting for average, with more hits than any other player in his past four seasons, and his amazing speed (25+ stolen bags every season since '01) makes for possibly the best lead-off hitter in baseball history.
It's amazing to me that people don't talk about this guy more.  If he hit 25 home runs every season then the media would be all over him, but I guess 200+ hits doesn't warrant a whole lot of attention in baseball these days.  Although I'm sure Ichiro, being the class act he is, doesn't mind going under the radar one bit.
I would like to wish Ichiro the best of luck this season and in his future in baseball.
Also posted here: http://talksportswithromdawgandbigben.blogspot.com/
Ad blocker interference detected!
Wikia is a free-to-use site that makes money from advertising. We have a modified experience for viewers using ad blockers

Wikia is not accessible if you've made further modifications. Remove the custom ad blocker rule(s) and the page will load as expected.