The St. Louis Rams have the 1st pick after a horrible season last year. So lets look at what they have to improve on. That is a lot so lets start with quarterbacks. Marc Bulger is aging and is always injured. Kyle Boller is a bust after being selected in the 1st round so he isn't going to start. Now on to the 2nd year player Keith Null. I attended the game that was his 1st start against the Tennessee Titans last December. He had a great arm but just made terrible decisions after throwing 5 interceptions. I know he is young but I don't think he is the quality of a starter. There are great QBs in the draft. The top 3 would be Sam Bradford, Jimmy Clausen, and Colt McCoy.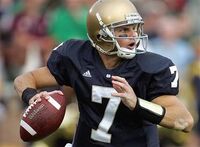 The Rams drastically need a QB. I don't think they'll draft Ndamukong Suh or Gerald McCoy because they just drafted Chris Long number 2 overall 2 years ago. Nor will they draft Russel Okung because they just drafted Jason Smith 2nd overall last year. They have no top 5 linebackers this year.
Defensive backs, its unlikely for Eric Berry to go number one.
They have Steven Jackson at RB so they have no need for Stanford RB Toby Gerhart. So look for either Jimmy Clausen or Sam Bradford to go number 1 this year. I am thinking more towards Jimmy Clausen because of Bradford's injury could be a concern to the Rams.
Ad blocker interference detected!
Wikia is a free-to-use site that makes money from advertising. We have a modified experience for viewers using ad blockers

Wikia is not accessible if you've made further modifications. Remove the custom ad blocker rule(s) and the page will load as expected.