After much poking and prodding from some user for the better part of almost two months, I finally broke down (found time) to create my second "Who's the Best Commenter" article, which is perfect as 2007 has recently ended and this article will encompass well over 8 months of change and many new users. I had originally gotten the data in early January (slow day at work), but a major issue was that I could not acquire all of the data needed to complete it (namely many users who had a lot of comments had less than 100 thumbs down and did not show up on the top 50), but since the expansion to 100 "Top Fans" I could gather most of what I needed, with the exception of five users, who were marked with an asterisk. Those users had less than 39 thumbs down on their comments, which is 100 th place on the thumbs down received category. So I estimated their thumbs down at 30 each.
For those of you who don't know, I had originally written a similar article last August. It contains the data at that date as well as an explanation of my methodology. On the whole, it's pretty simply and I'll explain to anyone as needed, just ask. I did make one change and that is that instead of giving each user a percentage they received a score per comment (i.e. 1.1 thumbs up per comment versus 110% comment score). Feel free to check out the link and so if you improved or were previously rated.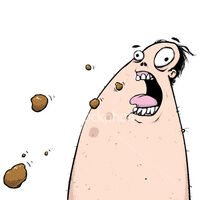 But there's more. Anyone who has at least 1,000 comments (that would be top 45) is on the list and then I selected those users who I have seen active recently in an attempt to keep most involved (plus anyone I liked or whoever was a Philly fan, you're welcome Crooked).
What I can tell you is the following:
The top commenters (by total) are close to the same. Manny Stiles, myself and False Prophet are still in the top 5 and while Alex Holowczak and Christof are not, they are still sixth and eighth respectively. Tyrone Briggs and Romiezzo have taken their spots in the top five.
Dan has been dethroned as the top founder commenter.
AGM is not without asterisks as Oneflydude is technically the top commenter with a score of 1.39 per comment, but his total 554 comments gives him an asterisk for the top spot.
Manny and I clearly don't know when to shut the hell up
Niteowl049 has retained his spot as least minused user.
Some of the minusing battles had little effect in changing the stats from the previous top commenter article, so don't complain. Additionally, I compared stats from my January data pull and didn't notice anything significant.
So let's get to the fun part:
Just the typical raw data list with the asterisked users as well. Nothing is surprising here other than some user having more than 15,000 comments (well over 6,000 ahead of his closest competitor).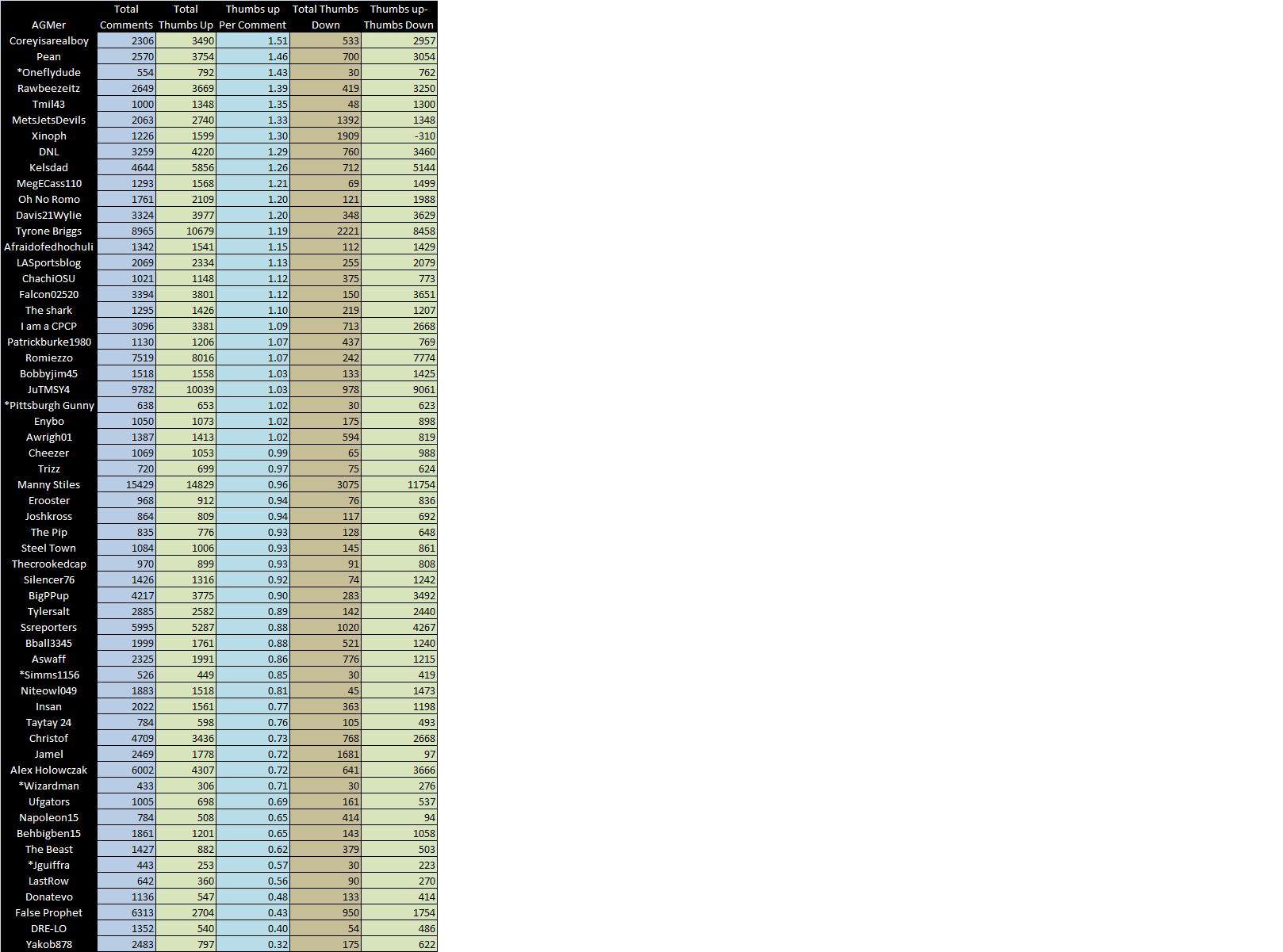 Coreyisarealboy takes the top billing here as he receives more than a thumbs up and a half per comment, pretty impressive considering a total of 26 members receiver at least one per comment. Moreover, resident programmer Pean takes the clear lead from Dan and second place in positive comments
So let's congratulate Tmil42 for being the best commenter on the site and give some clear props to Oneflydude for earning the top spot even with the asterisk (he didn't cheat though!). Tim and Byron receive over one and 1/3 positive ratings in each comment they make. Moreover Coreyisarealboy, Pean and Rawbeezeitz are among the top commenters based on their ability to be in the top 25 in comments and receive ratings of 1.28, 1.19 and 1.23 for their comments respectively.
And as I stated in my last top commenter piece:
"My point is, blowhards like myself, may garner tons of stats and comment themselves into oblivion, but those of you who measure your words carefully are the best"
Ad blocker interference detected!
Wikia is a free-to-use site that makes money from advertising. We have a modified experience for viewers using ad blockers

Wikia is not accessible if you've made further modifications. Remove the custom ad blocker rule(s) and the page will load as expected.