We're starting to get to the point where Ladainian Tomlinson is no longer the number pick in fantasy drafts.  Instead, fantasy owners have started to lean towards the Minnesota Vikings star running back, Adrian Peterson.  But, can you really go wrong when choosing a running back in your draft?  No, not really.  No matter where you are in your draft order—first, second, third or even the last pick—you're gonna get production (if you aren't dumb enough to wait until the third or fourth round to pick up a running back, of course).
Depending on the player, the production you receive may be a little different, but it's always gonna be good.  Take LT and AP for example, they tend to rack up the yards, which is one of the most important stat categories in the fantasy football world, but if you are looking for touchdowns you could probably look towards a guy like Michael Turner, who racked up 17 rushing touchdowns last season in Atlanta, and DeAngelo Williams who out-ran opposing defenses for a league-leading 18 TD's in Carolina.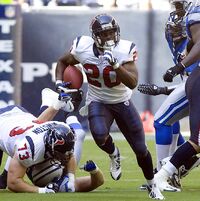 The cool thing with running backs these days is they are a very deep position.  So, even if you are one of the not-so-smart crowd and wait until the third round to pick your number one 'back up, Willie Parker or Frank Gore may still be available.  This season the depth of the position has grown even larger with the rookies such as Knowshon Moreno in Denver and Chris "Beanie" Wells in Arizona, who both very well could end up making an immediate impact given their respective team's running back situation.  But, what I was really referring to is the amount of solid RB's who entered the league just last year and are already considered solid fantasy running backs.  The guys like Matt Forte in Chicago (1,238 yards, 8 TD's), the speedy Chris Johnson in Tennessee (1,228 yards, 9 TD's) and Steve Slaton in Houston (1,282 yards, 9 TD's), who surprised everyone and some after his superb rookie campaign.  Houston will be AFC wild card contenders because of Slaton's ability out of the backfield.
Something else that may surprise some people is that, yes, even the league's 28 th -best rusher, LenDale White, who ran for 773 yards last year, can be a fantasy owner's second or third best running back.  White, thanks to one of the league's best rushing tandems, ran for 15 TD's last year.  Just think how much damage 15 TD's can do, especially coming from your third running back.
Sixteen different running backs ran for 1,000+ yards last year, which is enough for each team to have two 1,000 yard rushers in some fantasy leagues.
Eleven different running backs ran for double-digit touchdowns last year.  Five of those eleven hadn't even rushed for 1,000 yards.
The two above statements are insane when you really think about it.  So, yes, you can wait until the third round to pick up your running back and still win your league.  But, at the same time, why would you pass up the opportunity to have a 1,500+ yard, 15+ TD season??  Go figure.
Ad blocker interference detected!
Wikia is a free-to-use site that makes money from advertising. We have a modified experience for viewers using ad blockers

Wikia is not accessible if you've made further modifications. Remove the custom ad blocker rule(s) and the page will load as expected.