The following is from Wrestling International Newsmagazine. I write a column each issue for W.I.N.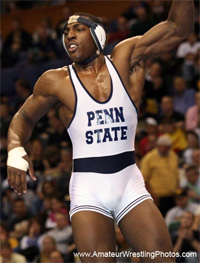 Is racism present in wrestling? If you were one of the fans who booed after Phil Davis' victory at 197 pounds at the Scottrade Center in St. Louis, you'd better examine your motives.
Following Davis' win over Central Michigan's Wynn Michalak in the NCAA finals, Davis celebrated by beating his chest and pointing to ESPN's overhead camera, his friend Jake Herbert and eventually to the Penn State faithful. He was overjoyed and for obvious reasons.
Then came the boos shortly before a fan, sitting behind the press table, uttered a racial slur loud enough to project down to the press table where at least one set of ears heard it clearly.
"This is completely intolerable," said CMU wrestling coach Tom Borrelli, regarding the racial slur. "I don't care what color your skin is or what race you originate from, we are all knuckleheads sometimes." Some fans might have thought Davis was taunting the CMU fans, who, coincidentally, were stationed in the section up and behind where the camera was positioned.
"I didn't even know where the Central Michigan fans were sitting, I was too caught up in the moment," said Davis. "I was too happy to care that there was booing.
Borrelli didn't see anything wrong with Davis' celebration.
"I think he was genuinely excited and not trying to show Wynn up, even if it appeared so," said Borrelli. "My athletes have been told that their opponent is another human being who has worked very hard to be where he is and deserve to be treated with dignity."
Sure, Davis started celebrating with six seconds left and nearly got taken down, which would have led to the proverbial "egg on the face." He might have waited until the match was officially over.
"I don't know if it was demeaning or not, but I hope that's not how Wynn took it," said Davis. "He was in on a single and I saw the clock behind him. Four seconds, five points, I got this."
So after someone places four times at the NCAA tournament and caps off a great career with an NCAA title, is the first thing people do is boo his celebration?"
Stanford head coach Kerry McCoy is one of three black head coaches in Division I wrestling. Carl Adams at Boston University and Reggie Wright at Delaware State are the other two.
"There are a lot of stupid, ignorant people," said McCoy. "It happens all over the place. You've got a black guy running for President right now and I'm sure you've got people out there saying the same thing about him."
"I tend to give people the benefit of the doubt with recognizing the fact there's a lot of non-rational people out there," said McCoy about why people boo certain wrestlers and not others for celebrating. "(With Davis), it could be the last time he was in the finals, he didn't put on the best show."
One of the happiest celebrations came from Coleman Scott of Oklahoma State after pinning Iowa's Joey Slaton in the 133-pound final. Would the boo birds have come calling if he was black?
There are plenty of cases where white wrestlers are booed for celebrations. For example, Johny Hendricks was booed after his championship celebration in 2006 and Ben Askren has been booed for some of his antics, but his personality is regarded by some as "good for the sport."
Former Oklahoma Sooner Teyon Ware was booed in the 2003 finals after executing a backflip.
Is it OK to be flamboyant if you're Askren, but not OK if you're Mo Lawal? Is it OK if you're Dennis Hall, but not OK if you're T.C. Dantzler? Is it fine if you're Rulon Gardner, but not fine if you're Daniel Cormier?
This isn't about gamesmanship, such as Mark Perry blowing kisses to the Missouri crowd. It's about a celebration.
As an athlete, McCoy won two NCAA titles at heavyweight and was a member of the 2004 and 2008 U.S. Olympic teams. Was he ever met with similar experiences?
"If it happened, I didn't notice," said McCoy. "I didn't pay much attention to it."
Lawal noticed, starting back in high school.
"I remember I beat this kid from West Texas. He was undefeated and I only had six matches. It was a big win for me," said Lawal. "I was running off the mat excited because it was a huge upset and his mother came down from the stands and (used a racial slur)."
Internationally, Lawal's celebration's aren't met with the chorus of boos he typically gets in the United States.
"People booed here when I beat Lee Fullhart," he said. "But overseas, they love the celebrations. They like you because you're good, not because you're black, white, or whatever. They don't see color overseas."
McCoy keeps an even keel on the subject, but doesn't think it's all based on the action of celebrating.
"I don't think it was 100 percent because (Davis) was black," said McCoy. "But I wouldn't think it's impossible either." "For me, it's been a long time coming," said Davis, a native of Harrisburg, Pa.. "I never made it to the state finals. I made it to the national finals (in 2006) and lost (to Oklahoma State's Jake Rosholt). I made it back and finally got the big win. I accomplished what I really wanted to. That was the expression coming out of me."
"It's hard to figure how someone can perceive you when you're winning," said Davis.
But Davis, infectious grin and all, has somewhat of a different theory.
"I think the crowd designates the good guy and a bad guy for every weight. Some people remember me in 2006 as the guy in the finals who punched (Jake) Rosholt'."
"Maybe that makes me inherently the bad guy," Davis said. "They didn't see me get poked in the eye then or this year when I had to get my eye super-glued shut."
Does Davis feel his "bad guy" perception is sometimes racially motivated?
"It does have a component to it, but I'm not sure how it manifests itself in how you get booed," said Davis.
While celebrations aren't limited to some racial questions, McCoy does notice discussions about black wrestlers being considered "athletic," whereas a white wrestler hitting the same move would be considered as having "great technique."
"Certain people fit a certain mold. If you're not over the top, you're not seen as black. You're just seen as another guy," said McCoy.
"It's a type of discrimination; not necessarily hurtful, but it's one of those things where a lot of times you get, 'You're not black,' or 'I wasn't talking about you, I was talking about other black people.' "
"I've heard that so much," said Lawal. "Oh, he's quick, fast and athletic.
"Lee Kemp is one of the most technical wrestlers I've ever worked with and all everyone talks about is how athletic he was or how strong he was. They didn't talk about Melvin Douglas' technique. They talked about how fast he was." Lawal feels he doesn't need to censor his emotions.
"When a white person celebrates, he deserves it, he worked hard," said Lawal. "If a black wrestler celebrates, he's classless and flamboyant.
"I've been told to be quiet and not do anything, but that's not me. Raise your hand, wave to the crowd and bow and walk off the stage? It's not that easy, it's emotional. I just do what I love doing."
If it's fine for one race, it should be fine for another.
(Jason Bryant is the lead writer/webmaster for InterMat and the 2007 W.I.N. Magazine Wrestling Journalist of the Year. The views expressed in his column are not necessarily the views of W.I.N. Magazine or Bryant's parent company, the National Wrestling Coaches Association. He can be reached at jbryant@intermatwrestle.com )
Ad blocker interference detected!
Wikia is a free-to-use site that makes money from advertising. We have a modified experience for viewers using ad blockers

Wikia is not accessible if you've made further modifications. Remove the custom ad blocker rule(s) and the page will load as expected.