Perhaps the injury to Green Bay Packers cornerback Al Harris is a blessing in disguise.  It may spare us all from watching as his body breaks down and he loses effectiveness.  If you watch the games over the last year, you will see a player that is repeatedly out of position and not nearly as effective as he once was.  He is still physical near the line of scrimmage, but he has lost a step and it has hurt his play.
I'm glad Harris finally received his lifetime achievement award with a Pro-bowl berth last season.


It's time for nickel-back
Tramon Williams
to make the most of this opportunity.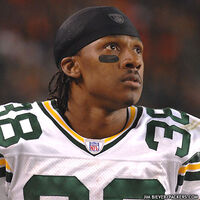 Williams will most definitely be targeted against the Buccaneers this weekend, but can you imagine a better team (not in the AFC West) to have your first NFL start against?  Maybe the Vikings or someone else equally as inept in the passing game.
Williams has some a long way.  He walked on at Louisiana Tech.  Was an undrafted free agent for the Houston Texans in 2006 before they cut him.  He sat until November 2006 before the Packers picked him for their practice squad.  After camp in 2007, he moved into the Nickel and Dime spots taking sole possession of the Nickel spot after camp 2008.  Now he is starting opposite pro-bowl, Heisman-trophy-winning CB Charles Woodson.  Williams definitely had to earn his way into this opportunity.
Mike McCarthy puts it, "Tramon has been a great surprise for us.  Just the way he developed from Year 1 to Year 2 in the off-season, he's a true testament to hard work, the off-season program. He had a good year last year, and we feel very comfortable letting him step in there and play. I'm excited for him, and we won't even blink with him in there."
"…and we won't even blink with him in there."  How's that for a vote of confidence from your head coach?
Williams has had some issues with positioning and footwork against both the Lions and the Cowboys, but overall he looked very good.  He was even matched up one-on-one with TO on several occasions.  I think he will take his lumps but will perform adequately as he learns his job.
UPDATE: Williams had two solo tackles, two passes defensed and 1 interceptions (with a 39 yard return) on 28Sept08 against the Tampa Bay Buccaneers in his first NFL start at Cornerback. He performed very well.
Sources:  JSOnline, Packers.com, NFL.com
Ad blocker interference detected!
Wikia is a free-to-use site that makes money from advertising. We have a modified experience for viewers using ad blockers

Wikia is not accessible if you've made further modifications. Remove the custom ad blocker rule(s) and the page will load as expected.