Another one day hiatus after coming home late. This was by far the most exciting week of football, as many of these games were not officially decided until the 4th quarter, in fact, 3 went into OT.
Notes:
1. Actual scores are in brackets.
2. Actual standings are in brackets.
Sunday
Tampa Bay Buccaneers 27 Arizona Cardinals 21 OT (17-10 TB) Earnest Graham put away the Cardinals with 1:56 left in OT on a 12 yard TD run.
Tennessee Titans 23 Carolina Panthers 0 (20-7 Ten)
Buffalo Bills 31 Cincinnati Bengals 23 (33-21 Buf)
Detroit Lions 13 Denver Broncos 7 (44-7 Det)
Green Bay Packers 21 Kansas City Chiefs 6 (33-22 GB)
New Orleans Saints 24 Jacksonville Jaguars 17 (41-27 NO)
San Diego Chargers 25 Minnesota Vikings 19 OT (35-17 Min) AP held to 97 yards in this game as opposed to his record breaking 296 yd performance. LT won the game on a 25 yard TD run.
Atlanta Falcons 34 San Francisco 49ers 33 (20-16 Atl) Alge Crumpler scored the winning TD with 33 seconds left to give the once winless Falcons a thrilling 34-33 win, their 2nd victory in a row.
Washington Redskins 27 New York Jets 0 (23-20 OT Wsh)
Cleveland Browns 48 Seattle Seahawks 34 (33-30 OT Cle) Seattle is brought their 2nd loss of the season.
Houston Texans 37 Oakland Raiders 20 (24-17 Hou)
New England Patriots @ Indianapolis Colts (Game of the Day, 24-20 NE)
Dallas Cowboys 34 Philadelphia Eagles 31 OT (38-17 Dal) the Cowboys rallied from 31-21 to score the final 13 points of the game, including a game winner by Nick Folk in OT to send the Eagles to another loss.
Monday
Pittsburgh Steelers 20 Baltimore Ravens 10 (35-7 Pit) With the score 13-10 Steelers late in the 4th, Ben Roethlisberger found Santonio Holmes on a 14 yard touchdown pass to ice the game with 1:25 left.
Game of the Day: Patriots @ Colts
The "Game of the Century" was here. Only this time, both teams came in with one loss on their record. Would the fact that it is a rivalry keep this up?
1st Quarter
A dream start for the Colts as it only took them 6 plays to get the opening touchdown, Kenton Keith ran it to the house from 26 yards out. 7-0 Colts. Ensuing possession, Tom Brady goes 5-5, but the running game let them down, and the Pats settled for 3. 7-3 Colts.Ensuing possession for the Colts, after a 10 yard run by Joseph Addai, Peyton Manning's pass was picked off by Asante Samuel, who returned it to the Indy 14. On a 3rd and 7, Brady fired the pass for Welker....TOUCHDOWN!! 10-7 Patriots. But with the first quarter coming to a close, Joseph Addai found some running room from his own 47 to the NE 13, good for 40 yards. But Manning was later sacked by Mike Vrabel as time expired in the quarter. 10-7 Patriots after 1, Colts ball, but facing 3rd and 16.
2nd Quarter
On 3rd and 16 at the Patriots 19, Manning looks, throws it for Aaron Moorehead...caught, breaks a tackle.....TOUCHDOWN!! 14-10 Colts. A rarity then occurred, as the Patriots went 3 and out. Colts ball, and after some 10 yard plays to the NE 22, Reggie Wayne caught the football...but he fumbles it!!! Recovered by Indianapolis though at the Patriots 14. So a huge break there on 2nd and 10. It's 3rd and 2, handoff to Addai, up the middle for the touchdown!! 21-10 Colts. The Pats would reply with a 13 play, 62 yard drive in 6:32, as Laurence Maroney scored on a draw play. 21-17 Colts at halftime.
3rd Quarter
The Patriots once again went 3 and out. Could the Colts capitalize? On a 3rd and 10, Manning...INTERCEPTED BY ROOSEVELT COLVIN AT THE COLTS 22!!! Maroney would get more paydirt, this time from 12 yards out as the Patriots regain the lead, 24-21. Manning was stunned, 2 INT's resulting in 14 points. Ensuing play, at their own 34 Manning to Dallas Clark for 29 yards to the NE 37! Three plays later, Manning, looks, finds Clark....TOUCHDOWN COLTS!! 28-24 Colts. New England would respond again, as Brady led them through most of their 9 play drive, and then Laurence Maroney would find his way to the end zone for a 3rd time...from 32 yards out. 31-28 Patriots after 3.
4th Quarter
With the Colts driving, the Patriots were looking for a huge stop to push momentum even further to their side. Instead, Joseph Addai ripped them apart for his 2nd touchdown of the game. 35-31 Colts. Next drive for New England, they ran 8 times, and got only 13 yards. But Brady threw 4 times, completing one to Randy Moss for 19, and to Ben Watson for 19. On a critical 3rd and 9 at the Colts 14 with 6:44 left, Brady looks for Welker...TOUCHDOWN!!! 38-35 Patriots with 6:37. The Colts offense proceeded to go absolutely dead, picking up one first down and then punting with 3:48 left. The Patriots just ate up the clock, forced the Colts to use all 3 timeouts, but still had to kick a FG. 41-35 Patriots with 1:13 left.
It was Manning time. At their own 13, Manning, looking, firing...PICKED OFF BY RANDALL GAY!!! AND THE PATRIOTS HAVE WON IT!!!! An instant classic game as the lead changed 8 times, and saw the punters take half the day off.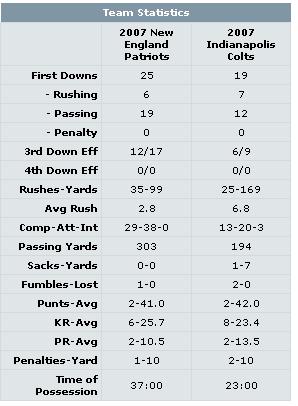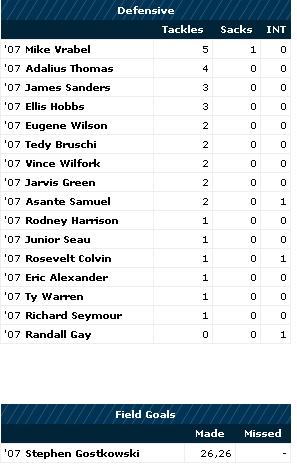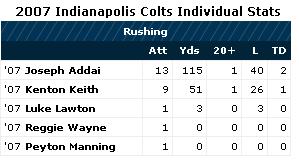 WIS Standings
AFC East
Patriots 8-1 (9-0)
Bills 5-3 (4-4)
Jets 3-6 (1-8)
Dolphins 0-8 (0-8)
AFC North
Steelers 7-1 (6-2)
Browns 6-2 (5-3)
Bengals 3-5 (2-6)
Ravens 3-5 (4-4)
AFC South
Colts 6-2 (7-1)
Texans 6-3 (4-5)
Jaguars 4-4 (5-3)
Titans 4-4 (6-2)
AFC West
Chargers 5-3 (4-4)
Broncos 3-5 (4-4)
Raiders 2-6 (2-6)
Chiefs 1-7 (3-5)
NFC East
Redskins 6-2 (5-3)
Cowboys 5-3 (7-1)
Giants 4-4 (6-2)
Eagles 3-5 (3-5)
NFC North
Lions 6-2 (6-2)
Packers 5-3 (7-1)
Bears 4-4 (3-5)
Vikings 4-4 (3-5)
NFC South
Buccaneers 7-2 (5-4)
Panthers 4-4 (4-4)
Saints 3-5 (4-4)
Falcons 2-6 (2-6)
NFC West
Seahawks 7-2 (4-4)
Cardinals 5-3 (3-5)
49ers 2-6 (2-6)
Rams 1-7 (0-8)
Kelsdad has week 10 ready for ya in a few minutes.
Ad blocker interference detected!
Wikia is a free-to-use site that makes money from advertising. We have a modified experience for viewers using ad blockers

Wikia is not accessible if you've made further modifications. Remove the custom ad blocker rule(s) and the page will load as expected.