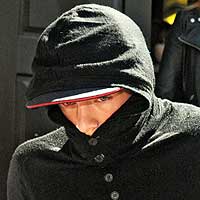 On saturday last week, two young brothers, Ben (8) and Arron Peak(10) were cruely snatched from this world at the hands of a footballer. Luke McCormick, former Youth English Keeper and current keeper for Plymouth Argyle. Luke was totally drunk and had a reading of 74 as compared to the legal allowance of 35 on the alcohol limit. The boys were on their way for a day out at the Silverstone Race Park with their father, Phillip Peak, when Luke rammed into their car. Phillip is currently in intensive care unit. Reports claim Luke had been swerving to and fro before hitting the car.Luke made his professional debut for Argyle in 2000-01 and has stayed there since. He has been granted bail and is expected in court on the 16th of June. Till then he has to stay in a house in Coventry and cannot leave the UK or travel to Manchester and Bolton and cannot drive a vehicle. He must report to the police station everyday from 10 to 12 pm. Luke is charged with dangerous driving under the influence of alcohol and for driving without insurance. I have absolutely no sympathy for him and he should be jailed for a long time. My heart goes out to the parents who have to face such a nightmare and Phil not only has to accept the death of his sons but is also battling with serious injuries. May their souls rest in peace.
Ad blocker interference detected!
Wikia is a free-to-use site that makes money from advertising. We have a modified experience for viewers using ad blockers

Wikia is not accessible if you've made further modifications. Remove the custom ad blocker rule(s) and the page will load as expected.