Babe Ruth founded the 500 homerun club in August of 1929. It was a club of one until 1940 when Jimmie "Why Haven't the Red Sox or A's Retired My Number" Foxx hit his 500th. Mel Ott was next to join in 1945. The 60s saw a veritable explosion in membership. Ted Williams joined in the summer of 1960, then Willie Mays in 1965. In 1967, both Mickey Mantle and Eddie Matthews got their membership cards. Hank Aaron hit his 500th in 1968. In a 9 year span, the 3 member club had nearly tripled to 8.
Despite the relative boom in the 1960s, the 500 homerun club was still a collection of the finest hitters ever. The 1970s saw Harmon Killebrew, Frank Robinson, Ernie Banks and Willie McCovey join. Things slowed down in the 80s as Reggie Jackson and Mike Schmidt were the only inductees of the decade. Eddie Murray was the 15th to join in 1996.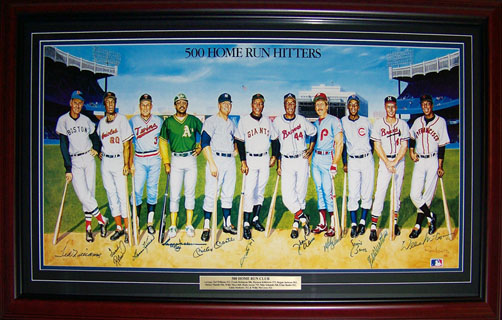 Then all hell broke loose.
In 1999, Mark McGwire reached the once magical number. Then Barry Bonds in 2001. By 2002, Bonds became the 4th member in the even more prestigious 600 HR Club. 2003 was the darkest year for 500, as Sammy Sosa and Rafael Palmeiro joined. Ken Griffey Jr. claimed his place in 2004. Last year, three players joined: Alex Rodriguez, Jim Thome, and Frank Thomas. And now, Manny Ramirez is the 24th to hit 500. In the last 10 years, 9 new players have reached this once hallowed plateau. And Gary Sheffield is only 17 away from being the 25th member.
"500 homeruns doesn't mean what it used to mean." That's a common phrase when discussing the current state of the club. With performance enhancing drugs, expansion, middle relievers, hitter friendly ballparks, and strength training; hitting homeruns simply isn't as amazing as it once was. But to be brutally honest, 500 homeruns never meant anything anyway.
What made the 500 homerun club special in the past wasn't the homeruns. It was the players who were in it. Ruth, Aaron, Mays, Williams, Foxx, Robinson, Mantle, Banks, et cetera. These guys weren't special because they hit 500 homeruns. They made 500 homeruns special because they were the ones who had hit them.
And how many great players aren't in the 500 homerun club? Lou Gehrig wound up with 493, but he's one of the best sluggers in the game's history. Ty Cobb, Honus Wagner, Rogers Hornsby, and Joe Jackson are nowhere near 500 (combined they have the same amount of HRs as Killebrew with 573). But they're some of the best hitters ever. Stan Musial, Carl Yastrzemski, Billy Williams, and Duke Snider all fell short of 500, but were all clear Hall of Famers, which is more than can be said for Palmeiro or Thome.
500 has always been just a number. When the best and only the best populated the 500 homerun club, the number seemed to be important. But now it's back to being just another number.
Photo Credit: hollywoodcollectibles.com, AP Photo/ Steve Ruark
Stats From: http://www.baseball-reference.com , http://www.espn.com , and http://en.wikipedia.org/wiki/500_home_run_club
Ad blocker interference detected!
Wikia is a free-to-use site that makes money from advertising. We have a modified experience for viewers using ad blockers

Wikia is not accessible if you've made further modifications. Remove the custom ad blocker rule(s) and the page will load as expected.