Article:What's with the Love Fest for Phil Mickelson?
Talk

0
Ad blocker interference detected!
Wikia is a free-to-use site that makes money from advertising. We have a modified experience for viewers using ad blockers

Wikia is not accessible if you've made further modifications. Remove the custom ad blocker rule(s) and the page will load as expected.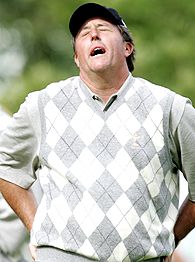 Accenture Match Play currently going on this weekend. Tiger advanced and Phil loses to Stuart Appleby
http://sports.espn.go.com/golf/news/story?id=3257450
I go to read about it. Is it about Tiger? No! It's about Phil. And he lost! So why the hell is the article about Phil?
http://www.clusterflock.org/PhilMickelson,%20clusterflock1.jpg
My question to a lot of people is always: "Why do you like Phil Mickelson?"
I hate Phil. Hate him. With his stupid grin, and stupid play, and stupid dough boy walk....yet, I seem to be in the select few who feel this way about the man.
http://www.espn.go.com/media/pg2/2006/0307/photo/a_mickelson_195.jpg
So I'm just curious and going to ask: Why do you (or people) like Phil?
When I ask I get: "Well he's a nice guy. Good family man".... WTF??!!! How the hell do you know that?
I great article I read (link below) has diffinately helped me deal with this.
http://golf.about.com/b/2006/01/26/phil-mickelson-a-hated-man.htm
Quoted from this article and to help prove my point:
Still, it's a surprise to see someone whose public persona is so cheerful, someone who is so loved by fans, show up on a list of " The Ten Most Hated Athletes ." But that's exactly where Mickelson shows up - at No. 8 - in the most recent issue of GQ magazine.
Here's what the magazine's article says about how Mickelson is viewed by his peers:
> Last August at the PGA Championship at Baltusrol, in New Jersey, a reporter turned to a golfer on the tour and said of Phil Mickelson, "Man, the fans here love Phil." The golfer replied, "They don't know him the way we do." It blew our minds a little when we heard this, since Mickelson ranks among the most admired golfers in America. But today the same reporter makes his case bluntly: "Phil Mickelson literally has no friends out there. He annoys everybody." > > Mickelson has earned many nicknames on the Tour, but our favorite is FIGJAM ... "There are a bunch of pros who think he and his whole smiley, happy face are a fraud," another reporter says. "They think he's preening and insincere." > > FIGJAM! I love it! In case you haven't figured it out it stands for 
"Fuck, I'm good—just ask me" > > http://men.style.com/gq/features/full?id=content_4103&pageNum=2 > > http://content-golf.live.advance.net/images/gw20060623/gw20060623_cover.jpg > > VJ is the most liked golfer from his peers but most hated man by the public. Why? I hate to say it but is it due to..... ugh...cough cough....(clear throat) race????? > > So if you love Phil (one Jay Mariotti loves the dough boy) I ask you why??? He has to be the dumbest player on the tour with the most talent. I hate him! Why do you love him? > >