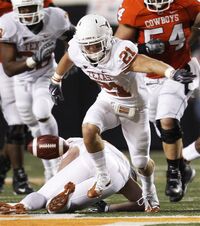 Saturday night, kids across America dressed in costumes and filled their bag with as much candy as they could. Elsewhere, college kids dressed in football pads to see what kind of goodies they could find on the gridiron. Some found their bags to be filled with treats, but others just got a whole lot of tricks.
Play-by-Play: The Haunting and the Haunted
The two biggest games this weekend were the matchups of two BCS Championship contenders on the road at ranked, conference opponents. One contender did the haunting, but the other became the haunted.
The No. 3 Texas Longhorns unsaddled the No. 13 Oklahoma State Cowboys. Texas scored the first 17 points of the game and went up 24-7 by halftime. It scored another 17 points in the third quarter to blow out OSU 41-14.
Trick or treat? The Longhorns forced five turnovers, and, as I said would happen in last week's Postgame, OSU QB Zac Robinson was rattled all day and threw four interceptions. Treat!
This game was considered by most to be the toughest remaining challenge for UT, who looks to have a clear road to the National Championship game. Only an unexpected and shocking stumble against an unranked opponent can stop the Longhorns from making it back to Pasadena, where they won their last National Championship four years ago.
Elsewhere, the No. 4 USC Trojans followed a spooky opposite path against the No. 10 Oregon Ducks.
In this instance, USC was the team that gave up the 24 first half points and fell behind 24-17 at the half, then coming out in the second half, it was Oregon that scored the 17 third quarter points.
Trick or treat? Despite losing eight starters last season, USC's defense started the season strong, against its first two ranked opponents it gave up just 18 points (15 to Ohio State and three to Cal). USC gave up 47 points and 613 total yards against Oregon. USC's defense? Trick!
As a USC fan, I didn't know what to do, no one did. Should I keep watching? Should I turn it off? I'd never turned off an SC game because they were losing by too much. Before Saturday, a Trojan team hadn't lost by more than a touchdown under Pete Carroll since a 27-16 loss to Notre Dame in 2001, Carroll's first season. The defense had never given up that many points under Carroll, and it was the most since USC gave up 48 to UCLA in 1996. It was also the worst loss since a 28-point loss to Arizona State in 1997.
Texas has a clear path to Pasadena, USC does not. The loss dropped the Trojans two games behind Oregon in the conference, which, considering Oregon (obviously) holds the head-to-head tiebreaker, all but officially eliminates the Trojans hope to win their eighth straight conference title and go to Rose Bowl yet again.
Still, USC fell to only 12th in both the BCS and the AP, and based on its long track record, if it can pick itself back up, the Trojans have a legitimate shot at one of the four at-large bids to a BCS bowl.
However, after this haunting, the aura and the dominance of the Trojan dynasty have officially been smashed like a rotting pumpkin.
Three Down Conversions
-Case Keenum for Heisman - Plain and simple, Case Keenum not only deserves to be mentioned in all Heisman discussions, he deserves to be the front runner for the trophy! Keenum passed for 559 yards and 5 touchdowns in Saturday's 50-43 win for No. 15 Houston over Southern Miss. Keenum went 44 for 54 in the game and leads the FBS in touchdown passes (25), passing yards (3,293), and completions (285). He's third in completion percentage (71.6%) and fifth in QB rating (159.3), while he's rushed for three touchdowns and only thrown five interceptions.
Keenum might be getting overlooked because he plays in Conference USA, but he's simply been the best so far and is the only reason that Houston is ranked with a 7-1 record. He couldn't have done much more about the one loss, a 58-41 disappointment to UTEP; he completed 51 passes for 536 yards, 5 TDs, and 0 INTs in that loss. If Case Keenum is not at least on your list of Heisman Trophy finalists, you haven't paid enough attention to college football this season.
-Putting the Duke Up - Let's not get carried away with the Duke Blue Devils, but please (!) get excited for them! When Duke beat Maryland a week ago, it became the first time that the Blue Devils had won consecutive ACC contests since (are you ready for this!?) 1994! They followed that up this weekend by going on the road to beat Virginia 28-17. The win garnered Duke three votes in the Coaches' Poll, which, I'd conjecture, is probably three more votes than its received since probably sometime around or before 1994.
Duke still controls its own destiny in the ACC Coastal Division, but the schedule will get much harder. The Blue Devils travel to archrival UNC this weekend, before hosting No. 10 Georgia Tech, going to No. 16 Miami, and closing out the season at home against in-state rival Wake Forest. Even if they lose a couple games, at 5-3, they're just one win away from being bowl eligible, so they'll have a lot to play for every week.
-Golden Bears - After climbing as high as #6 in the AP in Week 3, Cal suffered a few huge blows (42-3 at Oregon and 30-3 vs. USC) and seemed to be relegated to early hibernation. However, the Bears have woken back up and strung together three straight wins, including a 23-21 squeaker at Arizona State. That propelled Cal back into the AP at #23 this week, and with home games coming up against Oregon State (3-2 Pac-10) and No. 21 Arizona (3-1 Pac-10), it'll have a chance to prove itself as one of the better teams in conference with a couple wins.
Three-and-Outs
-The State of Virginia - It started last Thursday when No. 14 Virginia Tech was upset 20-17 at home by a UNC team that was previously winless in the conference. At #4 in Week 6, VA Tech had been in line for the BCS National Championship if "the big three" fell. However, after two straight losses, the Hokies are now just lucky to be ranked and, barring an unlikely slump from Georgia Tech, they are on their way to becoming just an also-ran in the ACC.
Friday night, No. 20 West Virginia was knocked out of control for the Big East with a 30-19 road loss at South Florida. Although they'd been 6-1, the Mountaineers hadn't been overly impressive and the loss answered a lot of questions (in a bad way) about them. They still have only one loss in the Big East, but they'll have to sweep back-to-back games against clearly more talented No. 4 Cincinnati and No. 14 Pittsburgh to win the conference.
Lastly, on Saturday, it was the University of Virginia's turn to disappoint. As previously mentioned, they were beat 28-17 at home by the perennial conference doormat, Duke. The loss dropped the Cavaliers to 3-5, and with two games left against ranked opponents (Miami and Virginia Tech) and the other two against Boston College and Clemson, a bowl bid looks bleak for them.
-The State of Michigan - If Virginia's woes look bad, it's nothing like the Halloween haunting that Michigan received on Saturday. -Central Michigan, who had been vying for a ranking and sat just outside the Top 25 in both the AP and Coaches' was blown out by 31-10 by Boston College. -Regular Michigan was embarrassed 38-13 by a (previously) 1-6 Illinois team. They've now lost four of five after starting 4-0. -To the east, Eastern Michigan gave up 63 points in a 63-27 loss to Arkansas and fell to 0-8. -To the west, Western Michigan lost 26-14 at Kent State. -And, to round out the evening, Michigan State lost a night game at Minnesota 42-34 to fall to 4-5.
If you're looking for a saving grace, not one of these games was played in the state of Michigan, but that's offset by the fact that not one of the losses came against an opponent that had so much as a single vote in the AP or Coaches' Polls last week.
-Dawg Pound - It's not a surprise that Georgia lost to No. 1 Florida, but they didn't just lose, they were embarrassed 41-17. Florida went up 24-10 at the half and blew the Bulldogs out in the second half, finishing the scoring with an interception returned for a touchdown. The pick was the final of four interceptions thrown by Georgia's subpar QB, Joe Cox, who has now thrown 12 interceptions to a mere 15 touchdowns this season. The Bulldogs were also penalized nine times for 87 yards. Despite being ranked #13 preseason, Georgia is just 4-4. It has an easy enough schedule remaining to make a bowl game, but that's about it for this lost season.
Extra Point
Iowa moved to 9-0 last week in a way that only Iowa could! Iowa QB Ricky Stanzi threw five interceptions in the game and Indiana held a 21-7 lead at halftime. The Hoosiers appeared ready to make the game 28-7 as it drove inside the red zone early in the third quarter. However, an oddly tipped pass ricocheted off a number of players before it landed in the hands of Iowa's Tyler Sash, who took it the other way for a pick-6. On the next drive, Indiana appeared to have a touchdown until replay officials overruled the TD and the Hoosiers missed a chip shot field goal. Trailing 24-14 going into the fourth quarter, the Hawkeyes ripped four touchdowns to win 42-24. However, to anyone that watched the game, it's surprising that the 18-point win hadn't gone in favor of the other team.
Last Week's Final Score
Week Record: 2-1 Season Record: 16-8
Prediction: USC 27, Oregon 23 Result: Oregon 47, USC 20
Prediction: Texas 44, Oklahoma State 28 Result: Texas 41, Oklahoma State 14
Prediction: Florida 20, Georgia 14 Result: Florida 41, Georgia 17
This Week's Gameplan
No. 9 LSU (7-1, 4-1 SEC) at No. 3 Alabama (8-0, 5-0 SEC), Sat 3:30 P.M. ET, CBS
After claiming the #1 spot in the AP in Week 7, Alabama has fallen in the rankings each of the last two weeks. The Tide fell to #2 after a 12-10 home win against Tennessee, and fell to #3 this past week during a bye in which Texas had a very convincing win over Oklahoma State to move up to #2. However, Bama fans shouldn't fret. This team is still in control of its destiny to the SEC Championship, which is widely expected to produce a team for the BCS Championship game.
That said, this weekend's game is the biggest challenge left for Alabama's quest for its second straight first-place finish in the SEC West and SEC Championship game berth. Every team in the West except the Tide and LSU has lost at least three conference games, so a win would clinch the Division for Alabama. However, a loss would drop them into second-place behind the Tigers.
Simply, the winner of this game will control its fate in the SEC West. Obviously, there's a big difference, however, in how much leeway the winner would have.
If Bama wins, LSU is two games back and with two conference games left (for both teams) couldn't finish better than a tie with Bama. Since every other team has at least three losses, it would just be a two-way tie, which Alabama would win by virtue of head-to-head.
If LSU wins, Alabama would be tied with them, and the Tide would only be one LSU loss (to Missisippi or Arkansas) left from taking back control.
Needless to say, this game means much more to LSU's hopes of making the SEC Championship than Alabama's. However, Alabama's aiming higher than the SEC Championship. Aside from the Crimson Tide, Florida, Texas, Iowa, Cincinnati, TCU, and Boise State are all still undefeated, and this is shaping up to be a season when you'll probably need to go undefeated to play in the National Championship.
All of the hypothetical talk aside, Alabama is the clear favorite in this one. Not only is it the better team, but it is also the home team. Furthermore, if Nick Saban had thought LSU was the better program he wouldn't have bolted for the Miami Dolphins and then bolted the Dolphins for Alabama, would he?
Alabama 23, LSU 14
No. 15 Ohio State (7-2, 4-1 Big 10) at No. 11 Penn State (8-1, 4-1 Big 10), Sat 3:30 P.M. ET, ABC
Although many people have written them off, Ohio State still controls its course in the Big 10. The next two games will go along way in determining just how much they can do with that control. The Buckeyes head to Happy Valley this weekend before hosting No. 8 Iowa next weekend. Two wins would put Ohio State in sole possession of first place with just a game left against struggling, archrival Michigan.
While Penn State looks to be the better team record-wise, it's in a much more difficult situation. It will need to win out and hope that erratic, albeit undefeated Iowa, loses two games to take the Big 10. The Nittany Lions only blemish came in a 21-10 loss to Hawkeyes, and they've cruised to five straight wins (none by less than 18 points) since.
The key player in this game will be Terrelle Pryor. Pryor has yet to prove himself in big games, and Jim Tressel's Buckeyes as a whole have let down against the better competition in recent years (two National Championship losses, two losses to USC, and a home loss to Penn State last year that cost them the conference).
Win or lose, this game will go a long way in determining the future direction of the Buckeyes program and the role that Pryor can play in that future. I still believe that if Ohio State can put it together and step up in the big game, it's the better team. But, after recent years, I certainly have my reservations and definitely feel like I'm out on a limb.
Ohio State 20, Penn State 16
Navy (6-3) at No. 19 Notre Dame (6-2), Sat 2:30 P.M. ET, NBC
It's kind of down week in terms of big matchups. It was this one or No. 13 Houston at Tulsa (in which Tulsa in inexplicably a one-point favorite [as of Wednesday]), so like I did with Florida-Georgia last week, I'll defer to the rivalry.
This is the famous matchup between the two "gold domers" in football, which means that if you're looking for this game on Saturday, stop when you find the game that looks like a practice because both teams are wearing the same color helmets and white or dark jerseys with a similar color combination.
Notre Dame won 43 straight in this rivalry, but Navy snapped that streak with a 46-44 win in South Bend in 2007. That loss was the bottoming out for Charlie Weis' Irish, who fell to 1-8 after that game. Even the most faithful fans had to give up that year, as most of them had just hoped the team could keep its winning streak against the Midshipmen going.
Two years later, Notre Dame is much improved. It's gone 15-9 since that loss, including a 27-21 win at Navy last year, and QB Jimmy Clausen is putting up some of the best stats in college football. The only thing Notre Dame needs to do to be considered officially "back" in the national spotlight? End it's one-game home losing "streak" to the Naval Academy.
Notre Dame 38, Navy 27
My Top 25
1. Texas (Last week: 1) 2. Alabama (2) 3. Florida (3) 4. TCU (6) 5. Cincinnati (4) 6. Oregon (10) 7. Boise State (7) 8. LSU (9) 9. Iowa (8) 10. Georgia Tech (12) 11. USC (5) 12. Penn State (12) 13. Ohio State (14) 14. Pittsburgh (16) 15. Oklahoma (18) 16. Houston (20) 17. Notre Dame (19) 18. Virginia Tech (15) 19. Miami (17) 20. Utah (24) 21. Oklahoma State (13) 22. Arizona (22) 23. Clemson (23) 24. Cal (NR) 25. Wisconsin (NR)
OUT - West Virginia (21), Central Michigan (25)
Ad blocker interference detected!
Wikia is a free-to-use site that makes money from advertising. We have a modified experience for viewers using ad blockers

Wikia is not accessible if you've made further modifications. Remove the custom ad blocker rule(s) and the page will load as expected.