*Just a friendly reminder that I post up on here to share my thoughts, but I copy/paste from my blog and the formatting is often lost.  Check out my blog page for proper formatting, and the opportunity to vote on my weekly poll!**
'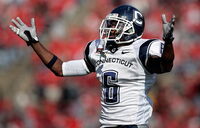 A few weeks ago when USC's Stafon Johnson suffered a significant injury in the weight room, I commented that we should feel fortunate that the injury, which doctors said could have been fatal, didn't claim his life.
Unfortunately, this weekend in Connecticut, the college football world did lose one of its players.
I often receive many ESPN text updates on Sunday morning because I'm signed up for (among other things) Fantasy Football News. So, when I opened my phone up late Sunday morning and saw an ESPN text, I was prepared for late breaking news about a player's status, I certainly wasn't prepared for the actual content of the text: " UConn CB Jasper Howard, 20, died on Sunday after an on-campus stabbing."
Obviously, I didn't know Howard the way I know Johnson, so I can't shed the same depth on his personality, but I can guarantee he meant just as much to the Huskies, not only on the field, but also off, as Johnson does for the Trojans.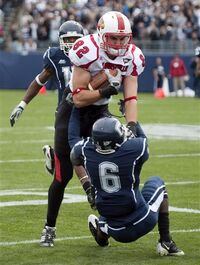 Howard (No. 6 left) died just hours after UConn's 38-25 Homecoming win against Louisville. He played a big roll in the win, forcing and then recovering a fumble in the third quarter. At the time, Louisville was trailing by just eight and was driving inside the 10 until Howard came up with the turnover. Aside from that game changing play, he was a force throughout the game, recording a career-high eleven tackles (including seven solo).
According the reports, Howard and some of his teammates had attended a school-sanctioned party and dance at UConn's student center. When the fire alarm went off, all the attendees were forced to evacuate and an altercation broke out between two groups. Howard and teammate Brian Parker were both stabbed during the fight.
Parker has been released from the hospital and was able to identify one of the men involved in the incident. Police have yet to file a warrant for the arrest of the assailant, but they have arrested the man Parker identified, Brian Hood, in association with the murder, and it's expected that more arrests are imminent. Reports state that both students and non-students were present, so it's not yet known if the assailant was a UConn student.
Howard was beloved by his teammates and two of them were there with him in his last moments, trying to help save his life.
In the aftermath, the Huskies have stressed their focus on being a family, and that now, more than ever, they will come together to honor their late brother. UConn has chosen to continue playing and will travel to West Virginia this Saturday. Head Coach Randy Edsall, who has served as an outspoken father-figure, said that Howard was a competitor and it would have been his firm desire to have the team play this weekend.

Howard exemplified the family values of the UConn football team.
All his teammates speak of him with the utmost respect
, and view him as a brother that had their back no matter what happened in life. "Jazz," as they call him, was the first in his family to go to college and had put an emphasis not only in dominating the football field, but succeeding in the classroom. At the time of his death, he was also an expectant father.
Through tears, team captain Desi Cullen said that Howard's child-to-be would always have "105 uncles for the rest of it's life."
Jasper Howard, 1989-2009.
Play-by-Play: Halfway There, Living on Prayer
It's hard to follow up such a significant off-field occurrence, with the insignificance of what takes place on the field.
This week marked the seventh week in college football, and with most teams having at least one bye so far, it means that most are roughly halfway through their 12-game regular season.
There are still seven undefeated teams in the country, but, in the classic half full-half empty scenario, those teams have to be worried that they're only halfway through the season, more so than that they're still undefeated.
(Note: Rank is based on the AP rank before this past weekend's games, unless stated as "current.")
-Playing at home, No. 1 Florida needed a few phantom calls from a poor reffing crew (see "Extra Point") to comeback and beat unranked Arkansas 23-20. The win was so unimpressive, that Florida lost its stranglehold on the #1 rank and fell to #2 in the AP.
-No. 2 Alabama handled No. 22 South Carolina easily 20-6 and is the only team that truly hasn't been challenged yet. The Tide moved up to #1 in the AP this week, but with current-No. 9 LSU in two weeks and a final week trip to rival Auburn, Bama shouldn't get too comfortable. Oh! And, of course, if they win out they'll still have to take their 12-0 record to the SEC Championship game against, what for all intensive purposes appears to be, Florida. They did the same thing last year, it didn't end well.
-No. 3 Texas barely got through what was expected to be its toughest game of the year, a 16-13 win over No. 20 Oklahoma. The Longhorns high powered offense looked nothing like what it had been, and Heisman Finalist QB Colt McCoy managed just 127 passing yards. Texas also beat the Sooners last year, but lost a few weeks later. With road games against Missouri this week and current-No. 14 Oklahoma State the following week, Texas can't let down after its big win.
-No. 5 Boise State played its "hardest" non-conference road game, a trip to Conference USA's Tulsa, and won by a mere touchdown, 28-21. It's worth noting that Tulsa lost to Oklahoma 45-0 earlier this year. Sure, the Broncos have the best chance of anyone to run the table, but there's zero strength of schedule here, and they aren't fooling anyone! Both USC and Cincinnati jumped BSU in the AP despite their win.
-North of Alabama, No. 8 Cincinnati has been the most convincing team in the country, but it hasn't played the talent that some of the other teams have. The Bearcats have played well on the road, beating Rutgers, Oregon State, and last week undefeated, No. 21 South Florida 34-17. Cincinnati is clearly the team to beat in the Big East right now, but with a game left against current-No. 22 West Virginia and a December trip to current-No. 20 Pittsburgh, Cincy has its work cut out. In such a weak conference, just one loss will knock it out of BCS Championship contention.
-No. 11 Iowa has been far from "convincing," but managed to grind out wins in every game. It almost lost it's first game of the season to FCS opponent Northern Iowa, who it beat 17-16 thanks to two blocked field goals with time expiring; it also managed to beat Arkansas State by just a field goal; both games were at home. However, at the same time, the Hawkeyes dominated big conference schools Iowa State, (then-No. 5) Penn State, and Wisconsin on the road, so go figure! Iowa goes to Michigan State this week and Ohio State in mid-Novemeber. The jury's still out on this team, but sooner or later, expect a loss.
-No. 12 TCU hasn't really been getting its due and lost a lot of hype with a three-point win at Air Force two weeks ago. I could have told you that Air Force would have been a hard game, though. The Horned Frogs will definitely have a chance to prove if they're for real or not, they have to go to current-No. 16 BYU this week and then play last year's BCS-buster, current-No. 19 Utah in mid November.
Among other National Title contenders:
-No. 4 Virginia Tech saw its hopes dashed in a 28-23 loss to No. 19 Georgia Tech. The Hokies fell despite Georgia Tech going just 1 for 7 in the passing game (that's not a typo, take a minute to absorb that). In any case, in the mediocre ACC, VA Tech has little chance at making it into the BCS Championship with its current two losses.
-No. 6 USC was uncharacteristically soft against No. 25 Notre Dame. The Trojans held a 13-7 advantage at the half, before opening up a 34-14 lead early in the fourth quarter. However, SC, known for strong fourth quarters, collapsed down the stretch, letting the Irish back into the game at 34-27, and needed stands on three plays inside the 10 as time expired. The Trojans took inopportune penalties and might not be so lucky on the road in Oregon in two weeks if they play poorly again.
Three Down Conversions
-Eagles Take Flight - Boston College has received little hype, but at 5-2 the Eagles don't look half bad. They beat former coach Tom O'Brien this weekend in a 52-20 blowout over NC State. It's NC State, so let's not get too excited, but BC is currently on top the ACC's weaker Atlantic Division. Clemson (2-2 ACC) still holds tiebreak over BC (3-2 ACC), thanks to a 25-7 win earlier this season, but the Tigers need to go to current-No. 8 Miami this weekend. Boston College heads to Notre Dame, which will be a challenge but not a conference game, so win or lose, it will take control of its ACC (and thus BCS bowl) destiny if Clemson loses.
-Cowboy Up - It's yet to be seen if No. 16 Oklahoma State can overcome the loss of nationally recognized WR Dez Bryant, who was suspended by the NCAA after illegal contact with professional athletes. However, early returns on the Cowboys are encouraging. They handily took care of Missouri this weekend 33-17 and forced four turnovers. Quarterback Zac Robinson hasn't put up the raw stats he did last year, but he's also cut down on the negatives. He's thrown just three interceptions and been sacked just twice (he was sacked fifteen times last season), and he continues to be a dual threat, having rushed for four TDs so far.
-Wildcat Offense - I don't mean that overused, ineffective, goofy, direct snap thing that really only Arkansas' Darren McFadden was any good at (and Ronnie Brown for the Miami Dolphins every once in a while). I mean the Arizona Wildcats' offense that outlasted Stanford 43-38. Quarterback Nick Foles completed 40 of 51 passes for 415 yards and 3 touchdowns. In the running game, UA only attempted 14 rushes, but averaged 9.9 yards/carry. The Wildcats are getting no love from the voters, but thanks to the computer rankings, Arizona made the first BCS Standings ranked 22. Here are the higher (BCS) ranked teams that Arizona ranked above in computer polling: Penn State, Oklahoma State, BYU, Houston, Ohio State, and Pittsburgh.
Three-and-Outs
-OU-t - I stood by Oklahoma for as long as I could (and I don't even like them), but there's a time when you need to accept that the bandwagon is lost in the prairie with a broken axle. Ok, so No. 20 Oklahoma only lost to No. 3 Texas 16-13, and has now lost three games to ranked opponents to a combined total of five points this season. What makes the latest one the most significant? Not only did Heisman Winning QB Sam Bradford re-injure his shoulder, but the Sooners have officially lost control of the Big 12. The first two losses were non-conference, but this one knocks OU out of the immediate running for the Big 12. Sure, Oklahoma lost to Texas last year and came back to win the Big 12, but not even a perfect run to the finish line will put this team back in the National Championship picture. You don't go to the BCS Championship game with three losses, that's indisputable!
-Oh-no State - I found an irony as Purdue put the finshing touches on No. 7 Ohio State 26-18 for just their second win of the season (2-5). A friend of mine at Ohio State had criticized my assessment of Oregon because they had "barely beat Purdue" last year (and this year, but that hadn't happened yet when we were debating). Needless to say, I reminded my friend of his statement as time winded down Saturday. His response, which matched those of other Ohio State fans that I talked to, simply frowned upon QB Terrelle Pryor. Pryor turned the ball over four times (two INTs, two fumbles) and certainly deserved to shoulder the blame. At this point, Pryor has yet to fill any of the expectations that surrounded him when he joined the Buckeyes last year, and, on Saturday, he single-handedly knocked his own team out of any National Championship discussion.
-Jayhawk Down - There was nothing impressive about the No. 17 Kansas football team despite its 5-0 start. Early wins against Northern Colorado, UTEP, and Duke provided no barometer on which to judge the team. Then, the Jayhawks struggled to beat Southern Miss and Iowa State at home. Trailing at Colorado 27-10 early in the fourth quarter, Kansas scored four straight times to take a 30-27 lead, but the Buffs scored midway through the fourth quarter to take a 34-30 lead and held on for the win. It's not surprise that we're waiving goodbye to Kansas, but it's worth noting since it had managed to creep up into the Top 20 and was undefeated. The biggest question for the Jayhawks now: when does basketball season tip off?
Extra Point
I've never been a conspiracy theorist. However, as I mentioned in the Play-by-Play, the refereeing for the Florida-Arkansas game was atrocious. With Florida trailing 20-13 and driving toward field goal range, Florida QB Tim Tebow attempted a deep pass which fell short and inside of his receiver. The CBS commentators, with whom, I agreed pointed out that it was a poorly thrown ball and that the Arkansas cornerback turned back to play the ball. The refs didn't agree, though, they determined that somewhere in the well played defense was a pass interference call.
On the following play, Tebow threw a screen to Brandon James. As Arkansas defenders pursued James, a Florida lineman looked for the opportunity to take off an Arkansas lineman's head with a blind side hit. The Arkansas lineman, who was trying to chase James, looked up in time to get the better of the attempted blind side, and continue his pursuit. The refs didn't see it this way. Somehow, despite the aggression shown by the Florida player, they thought he was the victim and flagged the Arkansas player for a personal foul.
Again, I don't buy into sports conspiracies. However, I would like to point out that SEC higher ups that oversee the officiating understand that it's best for the conference if its best team keeps winning, because it's best for the conference to send a team to the BCS Championship game. Interesting that Florida plays such a paltry non-conference schedule and then seems to get the benefit from inexplicable calls when it plays in the conference. I previously laid into SEC officiating two weeks ago when they hand delivered the game to the higher ranked LSU against Georgia. I'm not accusing the SEC of foul play or anything. I'm simply pointing out the coincidences and letting you pass your own judgement.
Last Week's Final Score
Week Record: 2-1 Season Record: 12-6
Prediction: Oklahoma 38, Texas 34 Result: Texas 16, Oklahoma 13
Prediction: Cincinnati 41, South Florida 17 Result: Cincinnati 34, South Florida 17
Prediction: USC 34, Notre Dame 23 Result: USC 34, Notre Dame 27
This Week's Gameplan
No. 10 TCU at No. 16 BYU (preview below) and No. 25 Oklahoma at No. 24 Kansas (3:30 PM ET) are the only two games between two ranked opponents, but here's a whole list of other games I consider matchups worth paying attention to:
South Florida at No. 20 Pittsburgh (12 PM) UConn at No. 23 West Virginia (12 PM) Arkansas at Ole Miss (12:20 PM) Tennessee at No. 1 Alabama (3:30 PM) Clemson at No. 8 Miami (3:30 PM) No. 12 Oregon at Washington (3:30 PM) Boston College at Notre Dame (3:30) No. 7 Iowa at Michigan State (preview below) Auburn at No. 9 LSU (7:30 PM) Oregon State at No. 4 USC (8 PM)
No. 10 TCU (6-0, 2-0 MWC) at No. 16 BYU (6-1, 3-0 MWC), Sat 7:30 P.M. ET
TCU was mentioned during the Play-by-Play as a team that could still prove itself as a top team in the country. This weekend is its biggest opportunity to make its statement for the BCS Championship game. That's right, I said "BCS Championship" game.
Last year, everyone realized too late that the Mountain West's Utah, who went a perfect 13-0 deserved a chance to play for the National Championship. Only after Utah's 31-17 dousing of Alabama, did the MWC team begin to get the credit it deserved.
You'd hope the same mistake wouldn't be made this year and that TCU would get the chance to play for the Championship, if it can run the table.
The Horned Frogs have already beat ACC opponenets Virginia and Clemson on the road, but this weekend will be a much tougher road challenge for them. BYU plays in the same conference, so it is well aware of TCU's tendencies, and unlike the ACC teams, BYU is ranked in the Top 20 and has already pulled off a mammoth win against Oklahoma.
If it weren't for a stunning 54-28 home loss to Florida State, this matchup would truly be for a berth into a BCS bowl. BYU has as much to gain as TCU does to lose in this game. If the Cougars can pull off another upset against a Top 10 team, they can get back into the discussion for a BCS bowl bid. It also bears noting that the only current non-BCS conference team (Notre Dame is considered a part of the BCS) to win the National Championship since Army did in 1945 is the 1984 BYU team. That only adds to the intrigue of this game.
The matchup to watch will be the prolific BYU offense against the stout TCU defense. Yes, TCU has to travel on the road, but defenses aren't as affected by road crowds as offenses. I'll take the TCU defense in a great battle.
TCU 16, BYU 13
No. 7 Iowa (7-0, 3-0 Big 10) at Michigan State (4-3, 3-1 Big 10), Sat 7 P.M. ET, Big 10 Network
Iowa has had a great start to season, but they have history against them for a few reasons. The first being that the Hawkeyes have never won eight straight games in a season, the second being that they've lost four straight in East Lansing.
I'm starting to buy that the Hawkeyes are for real, but I'm also thoroughly convinced that they will lose at some point during the regular season.
Michigan State started slowly and lost three straight early in the year. However, they used an overtime victory over rival Michigan to get back on track and have since beat both Illinois and Northwestern by 24-14 scores. Neither of those schools are any good, but the Spartans have some momentum headed into this weekend.
Also worth noting that with only one conference loss, Michigan State is still well in the hunt for a Big 10 championship, so it has everything to play for this weekend.
As stated in the Play-by-Play, Iowa has been an enigma. Playing a great road game one week and struggling at home the following week. This is a road game, so maybe that's actually a good thing for the Hawkeyes, but I think that they are ripe for an upset.
Michigan State 31, Iowa 27
Columbia (2-3, 1-1 Ivy) at Dartmouth (0-5, 0-2 Ivy), Sat 1:30 P.M. ET [FCS Matchup]
Hmm...well, this probably wasn't the game you expected to see listed here, and make no mistake about it, this is absolutely not a "must watch." However, for those of you that know me well, you know that I grew up and currently live in Hanover, NH, where Dartmouth is located. If it makes your decision any easier on whether to follow this game, know that I live 10 minutes from the stadium and have no intention of attending.
Dartmouth hasn't won a game in nearly two years and is currently in the middle of a seventeen game losing streak. The talk around town is that if it's going to win one this year, it's going to be against Columbia. Columbia is historically the worst program in the Ivy, but Dartmouth has worked hard to take that title from the Lions lately.
These two hapless programs have battled it out for last place in the Ivy League for the better part of the decade. One of the two teams has finished with at least a share of last place in each of the last five seasons, and with the Big Green looking as awful as they have, it'll probably extend to six. Twice in that time these two teams have tied for last.
-In 2004, Columbia beat Dartmouth 9-6 and both teams finished the Ivy season with 1-6 records.
-In 2005, Dartmouth won their only Ivy game 17-6 over Columbia (who went 0-7 in the Ivy).
-In 2006, both teams had "not that shabby" (2-5!!!) records, but still shared last place along with Brown. Dartmouth won 20-7.
-In 2007, the Big Green beat the Lions 37-28 and finished with a 3-4 record (good for a tie for fourth, or by Dartmouth logic, sixth). Columbia went 0-7 in the Ivy.
-Last year, Columbia snapped Dartmouth's winning streak against them with a 21-13 win and finished with a tie of sixth (or seventh) with a 2-5 record. The Green went 0-7.
Not since 2003 has either team finished above .500 in the Ivy League. That year, Dartmouth won the matchup 26-21 and went on to finish in a four-way tie for second at 4-3. For their part, the Lions went 3-4 that year. Needless to say, the 2003 season was an anomoly. In 2002, Dartmouth tied for sixth with a 2-5 record, Columbia went 0-7. Figures that the Green won the big game 24-23!
At some point it seems that Dartmouth will break its losing streak, or so the odds state. Columbia, however, beat Princeton 38-0 earlier this year, so it looks like something's up with the Lions, either that or Princeton is just bad (they're only 1-4 this season).
Dartmouth gets Princeton at home to close out the season, but I think it's about time to snap this losing streak. After all, if they can beat Columbia and Princeton, they could be on their way to a solid 2-5 Ivy League finish.
Despite its struggles for nearly a decade, the Green have a much better tradition than Columbia, they've also won five of the last seven against the Lions and three straight in Hanover.
If just for the principle of it, I'll take my hometown boys.
Dartmouth 20, Columbia 16
My Top 25
1. Alabama (Last week: 1) 2. Texas (3) 3. Florida (2) 4. USC (4) 5. Cincinnati (8) 6. TCU (7) 7. LSU (11) 8. Boise State (9) 9. Miami (10) 10. Iowa (16) 11. Oregon (13) 12. Penn State (12) 13. Virginia Tech (6) 14. Oklahoma State (18) 15. BYU (19) 16. Georgia Tech (17) 17. Ohio State (5) 18. Oklahoma (14) 19. Houston (24) 20. Texas Tech (NR) 21. Notre Dame (21) 22. Pittsburgh (NR) 23. Utah (NR) 24. South Carolina (20) 25. Arkansas (NR)
OUT - Nebraska (15), Kansas (22), South Florida (23), West Virginia (25)
Ad blocker interference detected!
Wikia is a free-to-use site that makes money from advertising. We have a modified experience for viewers using ad blockers

Wikia is not accessible if you've made further modifications. Remove the custom ad blocker rule(s) and the page will load as expected.