**Just a friendly reminder that I post up on here to share my thoughts, but I copy/paste from my blog and the formatting is often lost.  Check out my blog page for proper formatting, and the latest college football poll**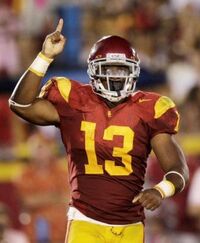 Before we get into this week's wrap, let's take a moment for USC running back Stafon Johnson.
While bench pressing on Monday morning, the bar and the 275 pounds of weight it was holding slipped out of Johnson's right hand and fell on his neck. Johnson was quickly rushed to hospital where he underwent seven hours of intense surgery to repair his neck and larynx, which had been partially crushed in the fall. Doctors expect Johnson to make a full recovery and continue to play football, but it's doubtful that the senior will be able suit up in the cardinal and gold again this season, effectively ending his Trojan career.
Coach Pete Carroll said Johnson was conscious and able to communicate today when visited at the hospital. However, Johnson could not talk, and doctors say it could be weeks before they even ask him to try to speak (again, his larynx was severely injured in the accident). According to ESPN, Dr. Gudata Hinika was also blunt in saying that a man of lesser stature probably would have died and that the strength of Johnson's neck muscles saved his life.
Too often we see similar tragedies claim the lives of bright young stars like Johnson. Whether you're a Trojan fan or not, take a minute and be thankful that the staff at California Hospital did such a great job and that Johnson is now in stable condition.
Fight On, Stafon!
Play-by-Play: Beware of Hungry, Furry Creatures
[1] Hawkeyes, Ducks, Gamecocks, Huskies, Cougars, (more Cougars). What do all these animals have in common with a creature like Gizmo the Gremlin (or technically "Mogwai")? In a college football metaphor, these furry creatures with small stature don't seem of too much danger. But break the three sacred rules for their caretaking and they'll run you all over town.
The three rules according to the a Chinese store owner from the 1984 film Gremlins (in case you haven't figured out what I'm referring to):
1. Keep them away from bright light.
2. Don't get any water on them.
3. Never, never ever, feed them after midnight.
Clearly, this message has been lost on college football's elite teams. In 2009, once the bright lights turn on and the unranked team gets a little water to get the adrenaline flowing, they've been feeding on the elite until well after midnight.
And, unfortunately for the elite, this isn't a Cinderella story, the slipper doesn't fall off when the clock strikes twelve!
The uprising started in Week 1, when then-No. 20 BYU knocked out Heisman Trophy winner Sam Bradford and proceeded to take down then-No. 3 Oklahoma. While the upset seemed monumental at the time, it has since been dwarfed in the three following weeks by upsets of Top 6 teams against unranked opponents.
In Week 2, the upset magnitude increased when Houston upset then-No. 5 Oklahoma State 45-35. Houston, a third place team in the Conference USA West with an 8-5 record in 2008, had received little-to-no hype. Unlike the BYU upset, nobody saw this one coming.
People, including myself, saw the Week 3 upset coming, but, again, it's considered an increase in significance. This time the upset victim was USC, who has finished seven straight seasons ranked in the Top 4, but fell to a Washington team that went 0-12 in 2008. It wasn't an unproven Oklahoma State team scraping for respect, it was the Trojans!
Aside from a fall of Tim Tebow (Hercules himself) and the Florida Gators, what could possibly top the Trojans shocking upset? How about the loss of three Top 6 teams to unranked opponents in the same week!?
Sure! That'll do!
It was a tale of three very different upsets that spanned more than three days and featured all different kinds of weather. But, at the end of the game, the result was always the same: the Gremlins attacked!
On Thursday night, playing at home, unranked South Carolina dominated No. 4 Mississippi for three quarters of the game, limiting Ole Miss to just 88 yards and a field goal. However, despite the statistical dominance, the Gamecocks failed to bury the Rebels, settling for field goals on three drives in which the offense got inside the 10 and only scoring 16 points.
The upset looked to be in serious jeopardy when Ole Miss finally found its offense on an eight-play, 83-yard drive near the beginning of the fourth quarter. The drive resulted in a touchdown for the Rebels, who closed to deficit to just 16-10.
After South Carolina went 3-and-out on two more possesssions, the Rebels were only a touchdown away from winning the game on an extra point when they got the ball with four minutes left and 61 yards to drive. Ole Miss immediately took the ball to the South Carolina 32 on the first three plays and looked unstoppable. But, then...not so much.
Ole Miss rusehd the ball twice for a gain of one and then a loss of three. On third down, QB Jevan Snead took a two yard sack, and the Rebels burned their last timeout. Coming out of the timeout, Ole Miss inexplicably had 12 players in the huddle (a 5-yard penalty for a substitution infraction). Finally, backed all the way up to 4th and 19, Snead was forced to throw a ball downfield that ultimately had more chance of being picked off then finding its intended receiver. The Rebels lost 16-10.
Two days later, on Saturday afternoon, No. 6 Cal kicked off against unranked Oregon. And, after that kick off, Cal seemed well on its way to taking control of its northern conference rival. KR Walter Thurmond fumbled the ball for Oregon, Cal recovered at the 22, and before a play was even run, a frantic Ducks defense was forced to call timeout.
Now, if your a Cal fan, this was about the only thing that would go right all day. QB Kevin Riley was promptly sacked for eight yards and fumbled. The Bears were able to recover, but Riley threw two more incomplete passes, and Cal settled for a field goal.
Good news for Cal: it took a 3-0 lead just one minute into the contest, and it had kicked off!
Bad news for Cal: those would be the only three points it would score all day.
After the teams traded possessions, Oregon drove for a field goal midway through the first quarter. Then opened up the second quarter with a 26-yard touchdown pass from QB Jeremiah Masoli to Ed Dickson on the first play of the frame. The Ducks, being the Ducks, went for two and took an 11-3 lead.
Cal missed a field goal on the next drive, but caught a break when Masoli fumbled on Oregon's second play on the ensuing drive. However, when Jahvid Best fumbled on the ensuing play, it was Oregon that took advantage of the turnover, driving down the field for a touchdown and an 18-3 lead.
Two drives later, Oregon used runs of 16 and 24 yards on a 5-play touchdown drive to take a 25-3 lead into halftime, and the rout was on!
Masoli found Dickson twice for touchdowns in the third quarter, and the Ducks tacked on a field goal in the fourth to close out the scoring and battered the Bears 42-3.
On Sunday night, it was a case of déjà vu in Not-So Happy Valley: Penn State went 11-1 in the regular season last year; the only mark, a 24-23 loss on a last-second field goal to Iowa that kept the Nittany Lions out of being a shoe-in to the National Championship game.
As the rain fell Saturday night, this year was going to be different. This year, the Nittany Lions had the Hawkeyes at home and in the crosshairs and would not be surprised by the black and gold.
Penn State made that perfectly clear from the beginning. After forcing Iowa to go three-and-out, PSU QB Daryll Clark found Chaz Powell for a 79-yard score on the first play from scrimmage.
However, like Cal earlier in the day, the best came at the beginning for PSU; that would be the Nittany Lions only touchdown of the day.
Penn State picked off Iowa on the following possession, and this time, Clark and his offense chiseled away at the Hawkeyes defense, using 20 plays to drive 68 yards before settling for a field goal from the Iowa 11.
Leading 10-0, things looked bright for Penn State as the rain fell in Happy Valley. But, remember the Rules of the Gremlins: never expose them to bright light and never get water on them!
On their third drive, the Nittany Lions were backed up to their own two when Clark dropped the ball in the end zone and a lineman was helplessly forced to fall on the ball on for a safety (to avoid giving up a touchdown if a Hawkeye recovered). It might have been only two points, but the momentum was gone from the Penn State sideline and their monster that has been the Iowa Hawkeye began to take form.
Iowa managed to get a field goal before the end of the half, but the true monster wouldn't come out until the clock got much closer to midnight.
Penn State entered the fourth quarter with a 10-5 lead and the ball, and it looked like they might have finally gotten the demons off their back. But, when a Penn State drive fizzled at the Iowa 47, it was the special teams unit that started the midnight feeding for the Hawkeyes.
Iowa's Adrian Clayborn blocked the Penn State punt, picked it up, and took it all the way to pay dirt for an 11-10 lead, the Hawkeyes' first of the night.
The Nittany Lions seemed to recover on the following drive, getting two first downs and into Iowa territory before Clark through a costly interception that was returned 38 yards to the Penn State 24. Three Adam Robinson runs later and Iowa went up 18-10.
With eight and a half minutes left, Penn State was still in a one-score ballgame. A great return gave them the ball on the Iowa 36, and RB Evan Royster promptly took the rock for 18 yards on the first snap, but fumbled it away before he went to the ground, and Iowa recovered. After an Iowa punt, Penn State again had a chance, until yet another Clark turnover (an interception) gave the ball back to Iowa.
With less than four minutes left, the Hawkeyes used up all but eight seconds of the clock and put three more points on the board, effectively ending the game and dropping the Nittany Lions 21-10.
Three Down Conversions
Bull-ying - Last week, we talked about the beauty of beating a lower-level, intra-state team completely senseless. I guess Florida State missed the "lower-level" part of that memo, as the Big East (I know Bobby Bowden, it surprises me too) is still a BCS Conference. In any case, No. 18 Florida State was shown up by the unranked Bulls of South Florida 17-7.
What's worse? USF Quarterback B.J. Daniels was making his first ever start after four-year starter Matt Grothe had season ending knee surgery last week. Let's not get overly excited about the Bulls on a national level (on a Big East level, they're now a favorite behind Cincinnati); let's more just realize that after losses to Miami and South Florida and sneaking by Jacksonville State, Florida State's dominance at BYU was probably more of an anomaly than a sign of a team deserving Top 20 consideration.
Christening - If you want a recipe for making your BCS case, please take notes. (Boise State, considering this is the same program that dumped you in the Poinsettia Bowl last season, I recommend you take out your pencil!)
No. 15 Texas Christian went on the road last weekend and beat a formidable Clemson team from the ACC 14-10. Earlier this year, the Horned Frogs travelled to another ACC school, Virginia, and beat them 30-14. I'm not saying its right that these non-BCS conference contenders always have to go on the road to show they belong in BCS talks. I'm just saying that in today's world, that's what needs to be done.
If TCU can go undefeated, which is far from a guarantee in a challenging Mountain West Conference, they have the resumé to get into a BCS Bowl game. And, if it comes down to the Horned Frogs or Boise State, TCU can point to both these road games as signs of trying to schedule the toughest possible schedule, can you do that Boise State!? No! A road game against Tulsa doesn't qualify!
Michi-Win - Seriously, there's nothing at all remarkable about No. 23 Michigan's 36-33 home win against a no-name Indiana team. However, they deserve a mention because the win, which puts them at 4-0, now gives them more wins than they had all last season (when they went 3-9), and it's still September!
Three-and-Outs
Dammed Beavers - I'm still curious who the "Anonymous" poster was that chastised me that Oregon State was going to be a Top 15 team by year's end. Admittedly, I had been bothered about keeping them out of the Top 25 early in the year. But, after barely sneaking by UNLV and dropping two straight at home, the latest a 37-32 loss to a middle-of-road Arizona team, the Beavers will be lucky to be in the Top 25 at any point for the rest of the season!
Just a Little Rain Storm - First of all, let me apologize to Virginia Tech for not putting them in "Three Down Conversions." They deserved the lead spot there, but I figured I could talk about more games and teams this way, and I had a surplus of positives this week, so unfortunately, they just get acknowledged as the team that stormed the Hurricanes.
Miami must have fallen curse to being put in the lead of my Postgame. USC fell in Week 3 after being featured in Week 2, and, likewise, Miami fell in Week 4 after a Week 3 feature. There was nothing good looking about No. 9 Miami's 31-7 loss to No. 11 Virginia Tech. It rained the whole game, but, ironically, it was the Hurricanes that couldn't play through the weather. The Hokies went up 21-0 before Miami scored, and then VA Tech closed out the game with the final 10 points. Miami QB Jacory Harris completed just 9 of 25 passes, and Hurricanes proved they still have gain a lot of force to be considered with the elite of the ACC, let alone the nation.
Tamed Huskies - Look, I gave Washington a token #25 place vote last week, and they probably could have kept that with any kind of win this week, but this was just embarrassing. UW looked strong early in the season with a good performance in a loss to then-No. 11 LSU, a dominating performance of Idaho, and a shocking upset of No. 3 USC. We all forgot something, though. This team did all its damage in its own barn at Husky Stadium!
What could they do on the road in the quietest and most civil stadium in the Pac-10? A whole lot of nothing! Playing against a not-very-noteworthy Stanford team, the Huskies surrendered the last 17 points and failed to score a single second half point, losing 34-14. The road gets a lot tougher with a trip to South Bend to play Notre Dame this weekend, so it's unlikely we'll hear from this crew again anytime soon.
Extra Point
The week's an easy one. We were all appalled by the Week One incident in Boise when Oregon's LeGarrette Blount punched a Boise State and needed to be restrained from attacking fans on the way off the field. Oregon alum and season ticket holder Tony Seminary attended the game and was so appalled that he actually sent Oregon's Coach Chip Kelly an email stating his disappointment with the team and enclosed an invoice for the $439 he spent on his trip to Boise, saying he deserved his money back. Kelly promptly responded to the email by asking Seminary for his address and cutting him a personal check for $439.
Seminary chose not to cash the check and simply thanked Kelly for the kind gesture, saying that he put him in the utmost regard. Now, I'm not saying that just because you don't like a team's performance you should be able to send an email to the coach and expect a refund, but I also put Kelly in the utmost regard. (And coming from a Trojan about a Duck, that's a pretty big thing.)
Last Week's Final Score
It figures I pick the two big upsets right and completely botch the game between the two ranked teams!
Week Record: 2-1 Season Record: 7-2
Prediction: Miami 24, Virginia Tech 17 Result: Virginia Tech 31, Miami 7
Prediction: Oregon 34, Cal 28 Result: Oregon 42, Cal 3
Prediction: South Carolina 27, Ole Miss 24 Result: South Carolina 16, Ole Miss 10
This Week's Gameplan
No. 7 USC (3-1, 1-1 Pac-10) at No. 24 Cal (3-1, 0-1 Pac-10), Sat 8 P.M. ET, ABC
This game pretty much is the Pac-10 season for these two programs! For the Trojans, they bring a string of seven consecutive conference titles to the table. Even in some of those years when the title has been split, the Trojans have always gotten the nod over the competition due to tiebreakers, and, thus, have always gone to the Rose Bowl (or, in 2002 and for the 2004 National Championship, the Orange Bowl).
USC put itself in a tough spot last year, losing the Pac-10 opener to Oregon State before running the table and getting a final week loss of Oregon State (to Oregon) to give the Trojans the Pac-10 and put them back in the Rose Bowl. USC will likely have to run the table again the rest of the way to win the Pac-10 and it can ill afford a loss to Cal at this point, especially considering that Cal should be one of the teams lurking near the top of the Pac-10 standings come December.
For the Bears, let's just write off last week's loss as an embarassing wake up call. Nobody that follows the Pac-10 is surprised that Cal isn't as good as their #6 ranking had suggested (they never are!). However, nobody that follows the Pac-10 is gonna be surprised when Cal gives USC a game this weekend, either.
The Bears need this! Before last week's debacle, it looked like their best chance to make the Rose Bowl since 1958, especially after USC's loss at UW. Now? Simply put, there's absolutely no way for Cal to win the Pac-10 if they lose this weekend; it would require three conference losses from both Oregon and USC, and that just won't happen!
Unlike the rest of the conference, Cal rarely ever gets embarrassed against the Trojans, but they haven't beat them since a triple-overtime thiller in 2003. It's simple really. Pete Carroll's Trojans play big in big games, and Jeff Tedford's Bears fall apart in them.
USC 27, Cal 20
No. 8 Oklahoma (2-1) at No. 17 Miami (3-1), Sat 8 P.M. ET, ABC
My, what a scheduling dilemma ABC has put itself in on this one, especially in the Northeast (a "neutral" region), where any certain group of fans will be mad that their Trojans/Bears or their Sooners/Hurricanes aren't on! At least I get to give both games coverage!
Yes, they're my Trojans, but (block your ears SC faithful), I think the Sooners, with a healthy Sam Bradford, are the best one-loss team in the country right now. This weekend's showdown in Miami will be their opportunity to prove that. The burning question, however, will Sam Bradford play?
Better question: does it matter?
His replacement, Landry Jones, has been superb, throwing nine touchdowns in his two starts (given those came against lowly Idaho State and Tulsa). As his coaching staff has pointed out, Jones came to Oklahoma to play, not just to sit on the bench! And, he's looked good with his opportunities.
Miami collapsed last week against Virginia Tech after two excellent games against ranked opponents, and this will be their fourth consecutive game against a Top 20 team to open the season. The Hurricanes have certainly given themselves a path back to the national limelight, but a rough loss could put up some pretty big roadblocks in that path.
Despite all the talk about Bradford, I don't think he's the big deal. The X-factor in this game is an Oklahoma defense that has posted two straight shutouts (again, as with Jones, it was Idaho State and Tulsa, but still!) and has only given up only 14 points on the season. If this unit can continue to dominate, you can bring back the former Heisman winning (which still raises questions) clumsy-man Jason White if you want and have him quarterback the Sooners again! It won't matter, they'll win with anyone!
Oklahoma 34, Miami 14
No. 4 LSU (4-0, 2-0 SEC) at No. 18 Georgia (3-1, 2-0 SEC), Sat 3:30 P.M. ET, CBS
LSU is probably the quietest #4 in the country, probably because of how they've gotten there. The Tigers have slowly crept up the rankings as the teams in front of them have fallen and are now in a position to pounce on the top ranking in the country if they can avoid the upset Gremlin this weekend.
Don't believe they could jump over Florida!?...They get the Gators at home next weekend!
But first, they'll have to take on the every cagey Georgia Bulldogs. Georgia has been far from superb. They were trounced by Oklahoma State in Week 1, managed to score more than South Carolina and Arkansas in respective 41-37 and 52-41 wins in Weeks 2 and 3, and kicked a field goal with no time left to beat Arizona State at home last week.
Still, what's lost in those ugly wins?
Unlike a lot of teams getting upset these days, Georgia is still finding ways to win these games.
LSU has looked very vulnerable on the road, so that makes them the heavy favorite to be the next Top 6 team to fall. The Tigers struggled in a 31-23 win at Washington in Week 1 and needed to hold off Mississippi State on a 1st-and-Goal from the 2 in the waining moments of last week's game (a 30-26 win for LSU).
I don't really have that much confidence in Georgia, but I'm gonna ride this upset train until it runs out of track.
Georgia 20, LSU 17
My Top 25
1. Florida (Last week: 1) 2. Texas (2) 3. Alabama (3) 4. Oklahoma (8) 5. LSU (5) 6. USC (12) 7. Ohio State (9) 8. Virginia Tech (15) 9. TCU (14) 10. Boise State (10) 11. Cincinnati (13) 12. Penn State (4) 13. Oklahoma State (16) 14. Iowa (NR) 15. Miami (7) 16. Georgia (19) 17. Oregon (NR) 18. Houston (20) 19. Nebraska (21) 20. Cal (6) 21. Ole Miss (11) 22. BYU (18) 23. Auburn (NR) 24. Michigan (17) 25. Missouri (NR)
OUT - Kansas (22), Florida State (23), UNC (24), UW (25)
Ad blocker interference detected!
Wikia is a free-to-use site that makes money from advertising. We have a modified experience for viewers using ad blockers

Wikia is not accessible if you've made further modifications. Remove the custom ad blocker rule(s) and the page will load as expected.