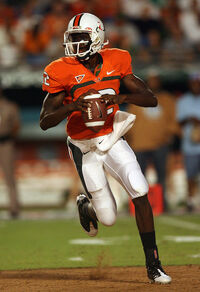 I'm sure you're looking for the die-hard Trojan's take on the UW debacle. Don't worry, we'll get there in Three-and-Outs, but this is a college football report, not a "We Are SC" report, and there's more important stories than a USC Week 3 loss in the big scheme of college football.
Play-by-Play: Hurricanes Return to Shore
Three years ago, the Miami Hurricanes officially got lost at sea. After falling out of the polls during the 2006 season for the first time in 107 weeks, Miami put on one of the most appalling displays in the last decade of college football, clearing their entire bench to fight the hapless Florida International University. After the brawl, "The U" took little disciplinary actions in hopes of putting together a winning season.
It worked, barely. Miami beat winless Duke the following week, but then dropped four straight, before pulling out a 17-14 win against Boston College to finish at an even 6-6. Bowl eligible, barely. Miami headed to the MPC Computers Bowl, where they pulled off a 21-20 win against the Wolf Pack of Nevada, barely.
Head Coach Larry Coker, who had led The U to a national championship in 2001 and the BCS Championship Game in 2002, was fired after the season, and Randy Shannon was hired to fill his big shoes.
Shannon's tenure started slowly; between the brawl and the .500 season, The U had taken a big publicity hit the season before. In 2007, the Canes started 5-3 but lost their last four games to finish at 5-7 and miss their first bowl game in a decade.
Last season, Shannon improved, if only slightly. This time, the team started at 7-3, and even cracked the rankings at #23. But again, Miami finished poorly, losing its last two regular season games. The 7-5 record was enough to get the Canes into the Emerald Bowl, where they lost to Cal 24-17, to finish the season at 7-6.
It might have been a subpar season by Miami standards, but with little fanfare, a star was being born. Miami started almost all games with quarterback Robert Marve under center, but true freshman Jacory Harris appeared in every single game for The U, often getting many snaps in the second half. At season's end, Harris had the better statline, having completed 60.8% of his passes for 12 TDs and 7 INTs for a 125.77 QB passer rating. Marve, on the otherhand, only completed 54.5% for 9 TDs and 13 INTs for a 107.19 QB passer rating, despite being the starter.
Marve has since transferred to Purdue, and Harris is the guy this season. And, he certainly has been the guy so far!
In the first game of the season, the Canes travelled to then-No. 18 Florida State to take on their in-state conference rival. In a back-and-forth battle, Harris threw for 386 yards and 2 TDs, while rushing for another score.
Three times, the Seminoles led in the fourth quarter, and three times, Harris drove his team for a touchdown. The Canes finally prevailed 38-34.
However, as I said in my Week 1 Postgame, only time will tell if it was a sign of things to come for the historic program, or if it was just a great matchup between two marginally Top 25 teams.
This past Thursday, the No. 20 Hurricanes stormed No. 14 Georgia Tech, taking a 33-10 lead by the end of the third quarter and winning 33-17. Harris again put up impressive stats, completing 20 of 25 passes for 270 yards and 3 TDs. More importantly, he didn't throw a pick all day (he'd thrown two against Florida State).
With the win, Miami confirmed that this team means business, and it wasn't just a rivalry win against Florida State in Week 1. The U is now 2-0 with both wins coming against higher ranked ACC competition.
Still despite the impressive win, Miami has some issues it needs to work on if it truly expects to be a contender for the National Championship. Miami has struggled finishing seasons under Randy Shannon, and last Thursday's game was not a good omen for the Canes.
Up 33-10, Miami appeared to be driving for another touchdown early in the fourth quarter. However, on 3rd-and-Goal from the 4, Miami was flagged for a false start (always an inexcusable play at home). After a 5-yard gain, it was flagged again for a delay of game while setting up for the field goal, and the usually reliable, Matt Bosher, shanked an easy 26-yard field goal attempt.
Georgia Tech took over the ball on its own 20, and Miami jumped offsides on first down before giving up a 19-yard rush on the following snap. Three plays later on 3rd-and-10, Yellowjacket QB, Josh Nesbitt, hit Demaryius Thomas for a 56-yard touchdown. What was close to being a 40-10 laugher was now down to a two possession, 33-17 game with eight and half minutes left.
Miami recovered the ensuing onside kick and ran nearly five minutes off the clock to set up Bosher for another chip shot field goal. Bosher again botched the kick, this time from 31 yards out, and it remained a two possession game.
The Canes defense posted two consecutive sacks and appeared ready to force Georgia Tech into 4th-and-18. However, they took a stupid roughing the passer penalty on an incomplete third down pass to give the Yellowjackets some fresh wings.
On the ensuing second down play, Miami almost got caught napping as Nesbitt again found Thomas open downfield, but Thomas couldn't hold onto the ball and the Canes were spared.
Two incomplete passes later, Miami took over the ball on downs and Harris knelt out the clock for the 33-17 win. It was an impressive win, but after a lackadaisical fourth quarter, the Canes certainly must have felt it could have been bigger.
The U must eliminate these errors in the future if it plans on turning the program around. The road doesn't get any easier. Wins against the #18 and #14 teams were impressive enough to get Miami all the was to #9 this week, but it'll have to go on the road against current-No. 11 Virginia Tech this weekend. Then, the following weekend, it'll host current-No. 10 Oklahoma, who could have Heisman Trophy winner, Sam Bradford, back from injury.
As I hinted at in Week 1, it's too early to really tell just how good Miami is this season, but after the first two games, Jacory Harris appears to leading Randy Shannon's group back into the national spotlight.
Three Down Conversions
The "Best" Running Back - Let's not give too much credit to No. 8 Cal's 35-21 win over unranked Minnesota. Cal struggled on the road all last season, and with the game tied at 21 a piece midway through the fourth quarter, the Bears still looked uncomfortable on the road. If there was one Bear that looked very at home, however, it was Jahvid Best.
Let's just take a few minutes to admire this kid's statline, and (hush, hush) Heisman campaign. Best scored all of Cal's 5 touchdowns and amassed 131 rushing yards while catching for another 17. Best who ran for 1,580 yards last season, now has 412 in the first three games. He's averaging 7.8 yards/carry, which is actually down from the 8.1 he averaged last season (he averaged 7.6 as a freshman in 2007). What's more, he still has yet to fumble the ball in his college career! It's a little early to book the plane tickets, but Best could definitely be making an appearance in New York in early December at the Heisman Ceremony.
Defense is a Bruin - For anybody that knows anything about USC, you'll know this is killing me! First I have to compliment Cal, now this! Especially since I inevitably have to face USC's loss a little later on. But, the issue must be addressed. UCLA's defense was all the talk in LA in 2006, after it limited USC's high powered offense to just nine points and knocked the Trojans out of the BCS National Championship game.
With Rick Neuheisel coming in to coach in 2008, it was expected the Bruins would become more known for their offense. If, by that standard, it meant UCLA lost something defensively, it certainly was evident in the second game of the season last year, a 59-0 loss to BYU. The Bruins went on to surrender more than 30 points six more times (31, 36, 31, 41, 34, 34) during the season and lost each of those games, finishing at a lousy 4-8.
This year, UCLA has taken a different approach. The Bruins beat Kansas State 23-9 last week and have now surrendered just 38 total points on the season. It's made a big difference in the win column; the Bruins have started 3-0, and after a bye week this coming weekend, they'll head north to Stanford for a winnable game. If they win that, they'll already have matched their win total from last season. I'm not yet hailing UCLA as a top team in the Pac-10, let alone in the nation, but it's no longer the doormat it served as last year for the conference.
Intra-State Beatdowns - For every guy as a kid that loved nothing more than taking on his little brother in 1-on-1 basketball, or wiffleball, or street hockey, or whatever, and beating him soundly into submission, this one's for you. There's nothing like taking on a guy is all gung-ho to try and beat you and just demolishing him! I never had a little brother, but I do have a friend that I've played wiffleball against for about 6-8 years: he's beat me about 6-8 times (if that) in that time; I once hit 10 home runs against him...in one inning; and, another time after he scored the first run of the game, I proceeded to embarrass him 31-1.
This past weekend, it was the specialty for college football: ranked, BCS conference teams taking on non-BCS conference opponents from their own state and annihilating them:
No. 9 LSU 35, Louisiana-Lafayette 3 No. 11 Ohio State 38, Toledo 0 No. 12 Oklahoma 45, Tulsa 0 No. 15 TCU 56, Texas State 21 No. 24 UNC 31, East Carolina 17 No. 25 Michigan 45, Eastern Michigan 17
Three-And-Outs
USC Quarterbacks - The writing was on the wall for the USC loss. Seriously, if you look at my Postgame from last week, you'll notice a few cautions. The first being that I picked the Trojans to beat a 2008-winless team by just three points. The second being that despite beating Ohio State on the road, I dropped USC from #2 to #4 in my rankings from Week 1 to Week 2. I'll take the Trojans over anyone just about anytime, so when you see me get down on them after beating a Top 10 team on the road, it's best to heed some caution.
With freshman phenom, Matt Barkley, out with a shoulder injury, No. 3 USC sent Aaron Corp out to face the Huskies in his first career start, and they just tore him apart like a pack of wild dogs. It was a humbling experience for USC fans. I had seen Corp on the practice field for two years when I still attended USC (and worked for the Trojans). It was no surprise to me when he won the job in the spring, and I was fully confident there would be no drop off on Saturday when he stepped under center for the Trojans. In fact, I went as far to criticize Oklahoma when Sam Bradford went down, pointing to USC and claiming that USC wouldn't have such problems if they lost their starter. I guess I was wrong, huh!?
Corp looked absolutely dismal on Saturday, completing just 13 of 22 passes for a mere 110 yards without a touchdown and a costly interception in the red zone. The most fitting part of Saturday's 16-13 loss at Washington (that can be attributed directly to poor leadership on the offensive side of the ball): UW's Head Coach Steve Sarkisian was the USC Quarterback's Coach last season. Coincidence!? I think not!
The Mountain West Conference's Quest for the BCS - The MWC has been considered the best non-BCS conference in college football, and many speculated that it might even be better than some of the BCS conference themselves.
The conference started off on the right path again this season to crash the BCS, but took a huge hit Saturday. Any talk of the MWC being better than a conference like the ACC was put to rest when unranked Florida State marched into No.7 BYU and mauled the Cougars 54-28. FSU went up 30-14 by the half and opened that lead up to 44-14 with just over five minutes left in the third quarter. I said after BYU upset Oklahoma earlier this season that it could lose one game and still stand a chance at cracking into the BCS, I hadn't accounted for such a lopsided loss. You can go ahead and cross this team off the BCS Buster list!
Elsewhere in the conference, two-time BCS Buster No. 18 Utah saw their BCS hopes dashed and their nation's best 16-game winning streak snapped. Playing an underachieving Oregon team, Utah also fell behind early, going down 21-7 at half and 28-10 midway into the third quarter. Still, in the Utes defense, they did battle back closing the gap to 28-24 by the end of the third quarter, but were shut down in the fourth and lost 31-24. Oregon was the preseason #16 team in the country and has long been considered a very tough team to beat at home, but without a signature non-conference win for Utah (like BYU had over OU), it's hard to see Utah standing a chance at making a BCS Bowl this season, especially since Boise State holds a win over the same Oregon Ducks.
SEC Trash Talk - When in Columbus last week, I experienced something new: people that trash talk after they lose. Seriously, who talks trash after a loss!? Aside from OSU fans? Who else but Lane Kiffin, of course!
Kiffin, who became the Head Coach at Tennessee last winter, had said that he looked forward to singing "Rocky Top" in Gainesville after Tennessee beat Florida this season. He went on to publicly accuse Florida Head Coach Urban Meyer of a recruiting violation, a statement for which he was reprimanded and later apologized for having made.
After Kiffin's remarks, it was expected that the No. 1 Gators would tear apart Tennessee this weekend. That didn't happen, Florida beat Tennessee just 23-13, which should be considered a disappointment by Florida standards. Still, despite the subpar performance from Meyer's team, a loss from Kiffin's team, and a statement during the offseason from the SEC Commissioner this offseason that he didn't want coaches ripping each other's teams in the media, both coaches took the liberty of trash talking one another anyway.
Meyer claimed Kiffin wasn't playing to win the game, more so, just not lose it by too much. He thought the play calling in the fourth quarter was too conservative and targeted to run time off the clock instead of win. That statement might have had more teeth if Tennessee hadn't found success by efficiently running the ball on its first full drive of the fourth quarter. In fact, on a scoring drive that resulted in a touchdown, Tennessee burned only 3:26 off the clock, while whipping out rushes of 13, 3, and 17 on their last three plays to score the touchdown. (On their only other drive of the quarter, the Vols elected to pass on 6 of 9 plays). Furthermore, in Lane Kiffin's defense for running the ball, why throw the ball when your quarterback, Jonathan Crompton, is one of the worst QBs in the conference (he's already thrown seven interceptions in just three games)!?
On the flipside, Kiffin responded to Meyer's statement by saying that Meyer clearly didn't feel obligated to listen to the Commissioner's request and ripped Meyer's claim that most of the Gators had the flu. That statement might have had more teeth if either a) Kiffin showed any adherence to the Commissioner's request at any point and time, and b) if Tennessee had won the game. Again, who trash talks after a loss!?
In the end, Florida underachieved, Tennessee lost, and both these coaches should shut up and worry more about what went wrong on Saturday with their own team than with the other guy's team.
Extra Points
With Utah and BYU out of the mix, No. 10 Boise State maintained its position for a BCS Bowl with a wild 51-34 over Fresno State on Friday night. BSU took an early lead going up 17-0 and 24-3 in the second quarter, but Fresno battled back. Bulldog running back Ryan Mathews reeled off touchdown runs of 69 and 60 yards to close the score to 24-17 at the half. He again got lose for a 68-yard touchdown run early in the fourth quarter that, at the time, closed the deficit to 41-34. In the end, BSU ended up winning handily and held the lead the entire game, but this should be a cause of concern for the Bronocos.
At some point, Boise State will run into a team that can stop its offense, and when that happens, it's in a lot of trouble if it's defense gives up 320 rushing yards again. After a 19-8 Week 1 win against Oregon, it appeared that BSU had changed into a defensive-minded team, which is all the better for the Broncos. However, while the game was exciting to watch and displayed how great Boise State can be on the offensive side of the ball, the defense took a huge step back and will need to play a lot stronger if BSU plans on running the table and making a BCS Bowl game.
Last Week's Final Score
Week Record: 2-1 Season Record: 5-1
Prediction: USC 23, UW 20 Result: UW 16, USC 13
Prediction: Miami 27, Georgia Tech 22 Result: Miami 33, Georgia Tech 17
Prediction: Florida 48, Tennessee 23 Result: Florida 23, Tennessee 13
This Week's Gameplan
No. 9 Miami at No. 11 Virginia Tech, Sat 3:30 ET, ABC
Miami was the headliner for this week's Postgame, so there's not much more to say on that end. A win would not only put the Canes in the driver's seat of the ACC Coastal Division with a 3-0 conference record (and divisional wins over both Georgia Tech and Virginia Tech), it would also vault them into National Championship contention.
On the other side, there's no reason to think that Virginia Tech can't be the favorite in the ACC. A win here would put them well in front of Miami in the ACC Coastal Division, and give them the inside track to Conference Championship. However, this team hasn't looked as good as expected (which isn't something new for VA Tech). The Hokies were a step behind Alabama in a 34-24 loss earlier this season and needed a last minute touchdown to defeat No. 19 Nebraska 16-15 last Saturday at home.
Miami has, rightfully so, gotten a lot more press than Nebraska, and if the Hokies could barely beat the Huskers at home, I don't see them pulling off the same magic against a revived Canes team.
Miami 24, Virginia Tech 17
No. 6 Cal at Oregon, Sat 3:30 ET, ABC
This Pac-10 opener has huge implications for both these teams. Behind USC, Cal and Oregon were to favorites to compete for the conference this season and end the Trojans' long reign. With USC's loss last weekend, the door is open for whichever team wins this one, especially since USC makes trips to both Berkeley (CA) and Eugene (OR) later this season.
Oregon started off the season very slow, with an ugly loss at Boise State and a two-point win at home over Purdue. However, the Ducks recovered by snapping Utah's nation-leading 16-game winning streak last weekend and are always a force to contend with at home in Autzen Stadium.
On paper, Cal is the better team, especially with Jahvid Best at running back, but the Bears are probably over ranked at #6 and were just 5-10 on the road from 2006-2008. Even so, one of those wins was a 31-24 victory in Eugene in 2007.
Cal's the favorite here, but I just don't see it panning out that way.
Oregon 34, Cal 28
No. 4 Mississippi at South Carolina, THURS 7:30 ET, ESPN
If you paid attention to me this fall, you'll know that I just don't think Ole Miss is as good as everybody else does! I think Houston Nutt is a rather lousy coach, and I think that Ole Miss is that team in the SEC that starts with big expectations and falls woefully short.
Headed into Columbia on Thursday night to take on Steve Spurrier's bunch, Ole Miss' demise could be near! Although Spurrier might tell you differently, he's the one that accidentally voted Ole Miss QB Jevan Snead to the SEC Preseason First Team over Tim Tebow. But, weird things happen on Thursday night games when teams have less time to prepare for their opponent, and in football, that usually favors the underdog.
Also, while South Carolina hasn't truly impressed, it showed it can compete in a 41-37 loss to current No. 21 Georgia.
I could look like a real dope picking two Top 10 teams to lose road games to unranked opponents, but what the heck, go big or go home!
South Carolina 27, Ole Miss 24
My Top 25
1. Florida (Last week: 1) 2. Texas (3) 3. Alabama (2) 4. Penn State (5) 5. LSU (13) 6. Cal (6) 7. Miami (FL) (16) 8. Oklahoma (11) 9. Ohio State (8) 10. Boise State (9) 11. Ole Miss (10) 12. USC (4) 13. Cincinnati (14) 14. TCU (12) 15. Virginia Tech (15) 16. Oklahoma State (17) 17. Michigan (19) 18. BYU (7) 19. Georgia (21) 20. Houston (20) 21. Nebraska (22) 22. Kansas (NR) 23. Florida State (NR) 24. UNC (NR) 25. UW (NR)
OUT - Georgia Tech (18), Utah (23), Oregon State (24), Texas Tech (25)
--Originally posted at http://jtstally.blogspot.com --
Ad blocker interference detected!
Wikia is a free-to-use site that makes money from advertising. We have a modified experience for viewers using ad blockers

Wikia is not accessible if you've made further modifications. Remove the custom ad blocker rule(s) and the page will load as expected.