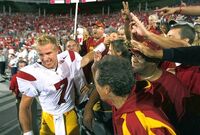 I might be a little late on the postgame report, but I didn't get back from Columbus until Monday, and I'll have plenty to talk about from that game!
Play-by-Play: Matt Barkley Drives Trojans' Offense (Once) to Victory
This wasn't the Trojan team I watched last season, and for much of last Saturday's game, I had questions whether or not No. 3 USC could actually pull out the win against No. 8 Ohio State.
I could tell from the first play that this Ohio State-USC matchup would be far from the 35-3 beatdown the Trojans gave the Buckeyes last fall. Quarterback Terrell Pryor completed a 23-yard pass to DeVier Posey that put Ohio State in Trojan Territory after just one play from scrimmage.
However, two plays later, USC calmed my nerves as Chris Gallipo intercepted Pryor and returned the ball to the 3-yard line. Still, with the ball at the 3, USC took it to fourth down, before Coach Pete Carroll made the call to go for it and Stafon Johnson punched in a touchdown to give USC the early 7-0 lead.
Despite the early touchdown for SC, the first quarter belonged to Ohio State, who outgained the Trojans 138 yard to an even zero in the quarter. OSU also responded with a touchdown of their own, before driving to the 1-yard line as time expired in the first quarter.
Entering the second quarter on fourth down, Coach Jim Tressel made the call to kick a field goal from the 1, instead of going for the touchdown (as Carroll had done in the first quarter). In Tressel's defense, his team had just dominated the first quarter but failed to take a lead, and he wanted to take a lead now that he had the chance and hope the second quarter kept rolling in his favor.
The field goal was good and OSU went up 10-7, but the second quarter did not continue to go the Buckeyes way, in fact, the Trojans completely turned the table. USC outgained Ohio State 179-16 in the quarter, but threw an interception in Buckeye Territory and clanked a field goal off the upright and out and still trailed Ohio State as the half wound down.
After the missed Trojan field goal, Ohio State got the ball with just under two minutes remaining hoping to pad the lead, but Pryor missed Posey on a first down pass attempt, and with the Trojans out of timeouts, it appeared OSU was ready to run the clock out, handing the ball off to Dan Herron for a 7-yard gain on second down.
With the clock ticking down to a minute, it would have made sense for OSU to run the ball on third down. Three yards or more would give the Buckeyes a fresh clock and the ball near their own forty, which would put them only a few 10-15 yard plays out of field goal range. Less than three yards, and the clock would tick down to about 20 seconds before the Buckeyes had to punt deep into Trojan Territory, at which point, USC likely would have knelt on the ball and headed to halftime.
If you're looking to point to the game changing play, it took place on this third down play when Tressel called for a pass (which went incomplete from Pryor to Posey) instead of the run. This forced the Buckeyes to punt and gave USC the ball with nearly a full minute left on the clock.
On their own 20, the Trojans gave the ball to Stafon Johnson on first down, and he trucked for 29 yards immediately putting the Trojans in business. Matt Barkley then rushed for 6 yards and completed three consecutive passes for 42 yards to put the Trojans at the Ohio State 3.
After spiking the ball to stop the clock, Barkley threw an incomplete pass to David Ausberry that would have given USC the lead, and the Trojans had to settle for a field goal. Still, the damage was done to the home team, and USC was able to carry a 10-10 tie into halftime.
After being thoroughly outplayed in the first quarter and blundering away the second quarter, the Trojans had to be confident about taking a tie into the half, especially considering they've always been considered a "Second-Half" team.
If USC was confident, it didn't show. The Trojans got the ball to start the second half and were immediately flagged for a first down holding penalty, after a 5-yard rush, Barkley was sacked on second down, and another holding penalty was called on third down (although it was declined with USC facing a 4th and 11 on its own 19).
The ensuing punt left Ohio State the ball on the USC 49, and after gaining 9 yards on three plays, the Buckeyes had 4th and 1 on the USC 40. As a Trojan and Pac-10 follower, the 4th down play was a no-brainer, go for it! But, as one of my Buckeye friends pointed out as I questioned the call: "Calm down! Tresselball!" OSU punted and pinned the Trojans deep.
Losing field position, USC started its second drive of the half on its own 10 and gained just one yard before an errant long snap sailed over punter Billy O'Malley's head and through the end zone for an Ohio State safety.
Taking advantage of the safety, which allowed the Buckeyes to start their drive at the USC 42, Ohio State took the ball all the way to the 5 before settling for a field goal and a 15-10 lead.
The teams traded possessions into offensive territory, but both ended with punts out of field goal range. After Ohio State's punt, its defense stood strong and forced a three-and-out from USC at its own 15.
Ohio State got the ball at the USC 45 and two rushes later gained a first down at the USC 35. A three-yard rush on first down left OSU at the 32, but an incomplete pass and a sack backed them up to the 36. At this point, with a five-point lead, Tressel had a big decision to make: send the kicker out for what would have been about a 53 yard field attempt (which most Buckeye fans believe he could have made) and take a lead that USC can only tie (and can't defeat) in one drive; or, punt and gain about 20-25 yards in field position and hope your defense holds up.
If you know anything about Tressel, or if you've been paying the slightest attention to this article, you know he punted.
At 11:10 P.M. with 7:29 left in the game, USC took the field on its own 14. Its only touchdown of the night had come on a three yard drive, thanks to the defense. And, its only true "drive" of the night had ended in a field goal at the end of the first half. Still, as a Trojan fan, I knew this was USC's time. "We're putting it in on this drive," I texted my mom and two of my friends.
That was it! Plain and simple. USC was going to take the ball the length of the field, score a touchdown, and win the game, and it was going to happen now!
The drive didn't start in promising fashion, Barkley was sacked on first down before taking a delay of game penalty on second down that put the Trojans in a 2nd and 19 from their own 5. Joe McKnight rushed the ball on that down for 11 yards to give USC a manageable 3rd and 8, and Barkley then found McKnight for 21 yards and a Trojans' first down. They're going to score on this drive!
Next play, Barkley found Anthony McCoy for 26 yards and the Trojans were well into Buckeye Territory. The drive faltered a little there, and the Trojans were forced into a 4th and 1, but Barkley followed his O-Line to the first down on the 27 (the Trojans went 3 for 4 on fourth down conversions). This is going to be the game-winning drive!
McKnight then rushed three times for 21 yards and Barkley picked up a first down with a 4-yard rush on 3rd and 2 from the 6. That rush gave the Trojans a 1st and goal from the 2 with 1:11 remaining.
Stafon Johnson took the first down handoff and rushed to a wide open right side of the end zone to give the Trojans the 16-15 lead with just over a minute left to play. I told you: they were going to score on that drive!
USC then converted the two-point conversion to go up 18-15.
Pryor could get nothing going for the Buckeyes in the final drive, taking an intentional grounding call on first down to back OSU up to its own 18 on 2nd and 28, before finishing by throwing an incomplete pass downfield on 4th and 10.
USC knelt on the ball with 28 seconds, and left Columbus with the win.
Statistically, the Trojans had more first downs, gained more yards, more passing yards, more rushing yards, took fewer penalties, and had more time of possession, but almost all of that came thanks to the game-winning last drive.
To most people in the stadium, it felt as though Ohio State had failed to capitalize on their opportunities to win the game.
For me, as I cheered "We Are S-C!" it felt like the Trojans had capitalized on their opportunity.
Barkley finished the day at an unimpressive 15 for 31 for 195 yards with no TDs and an INT. The kid has yet to truly take control of USC's Lamborghini of an offense, but he proved that he's learning how to steer and, when he really needs to, he knows how to drive to victory.
Three Down Conversions
Michigan's Conditioning - Maybe it's too soon to be making cracks about the allegations that the Wolverines were required to more than the maximum hours during the offseason, but it's undeniable that Rich Rodriguez's strategies paid off with a 38-34 upset over No. 18 Notre Dame in which Michigan drove to score the game-winning touchdown with just 11 seconds left.
High Flying Rockets - After a 54-38 win over Colorado, Toledo has scored 85 points in two games, and Quarterback Aaron Opelt has completed 56 passes for 742 yards, 7 TDs, and just 2 INTs. Next up, the Rockets will face the current No. 11 Ohio State. If they have any intention of winning, though, they'll have to shore up a defense that has given up 90 points in two games! (Their first game was a 52-31 loss to Purdue).
Cougar Attacks - Houston took down No. 5 Oklahoma State with a 45-35 win. Houston jumped to a 24-7 lead at halftime, but gave up four touchdowns to OSU in the first 20 minutes of the second half, falling behind 35-31. Still, the Cougars bounced back with 14 unanswered points late to seal the game and ruin the Cowboys title dreams. With the win, Houston cracked the AP Top 25 at number 21 and are the only Conference USA team currently ranked.
Three-and-Outs
The Men of Sparta - Headed into last weekend's intrastate rivalry trying to crack the Top 25, Michigan State fell to Central Michigan 29-27. I had considered MSU a darkhorse to win the Big 10, and while this was not a conference game, I'd be lying to you if I said I still upheld that prediction.
Tresselball - Today's "Pay-by-Play" pointed to many instances where Jim Tressel made costly decisions for No. 8 Ohio State in its 18-15 loss to No. 3 USC. All due respect to the Trojans late comeback, but better coaching would have locked this game up for the Buckeyes.
Notre D - After posting an opening week shutout against Nevada, the Irish gave up 38 points and 430 yards. What's worse? Michigan started freshman Tate Forcier, who went 23 for 33 with 240 yards, including three second half TDs in Michigan's 38-34 comeback win.
Extra Point
Good ole' No. 13 Oklahoma and Head Coach Bob Stoops followed Sooner protocol by bringing in a no-name school (Idaho State) and proceeding to drub them 64-0. Stoops has always been a coach that has focused on excessively demolishing opponents for the sake of trying to gain attention in the polls. After falling out of the title picture and losing Heisman Trophy winner, Sam Bradford, last week, I get that Stoops wants to regain some public credibility, but beating on an FCS team from the Big Sky Conference that lost 50-3 to the Pac 10's mediocre Arizona State the week before is not the way to do it. I'm not impressed.
Last Week's Final Score
Week Record: 3-0 Season Record: 3-0
Prediction: USC 28, Ohio State 18 Result: USC 18, Ohio State 15
Prediction: Michigan 31, Notre Dame 28 Result: Michigan 38, Notre Dame 34
Prediction: Georgia Tech 30, Clemson 18 Result: Georgia Tech 30, Clemson 27
This Week's Game Plan
No. 3 USC at Washington, Sat 3:30 ET, ABC
Sure, you probably expected this, me being a Trojan and all. But, seriously, this is a big game to pay attention to. UW gave current No. 9 LSU about all it could handle in Seattle two weeks ago, and Jake Locker is one of the better quarterbacks in the country. Furthermore, last year after USC beat Ohio State, it let down in a Pac-10 road game the following week and suffered its only loss of the season, 27-21, to Oregon State, which was enough to keep the Trojans out of the National Championship.
However, where this matchup really gets interesting is the connections between the two programs. UW Head Coach Steve Sarkisian navigated the Trojans offense for two seasons before coming to UW this spring, so he's well-aware of the tendencies of all the Trojans, save Quarberback Matt Barkley, but Barkley could be out with a shoulder injury, which means that backup Aaron Corp would have to go against a coach that mentored him since he arrived in Troy.
On the other side of the ball, UW Defensive Coordinator Nick Holt also left USC with Sark this past spring, so he also knows the tendencies of all the Trojans on that side of the ball.
All in all, this is a very dangerous matchup for the Trojans, and while I'm too loyal to USC to toss them under the bus, I also wouldn't give any points on this game if I was in Vegas.
USC 23, UW 20
No. 14 Georgia Tech at No. 20 Miami (FL), Thurs 7:30 ET, ESPN
I've said it many times now, the ACC is wide open for the taking. Georgia Tech barely squeaked by Clemson last week in its ACC opener, but it does have the advantage of the experience playing in a Thursday night game, and the Yellowjackets have had a full week of preparation this time.
The Hurricanes didn't play last week, however, so they've had more than a week to prepare for this game. Their first game was a thrilling win on the road against Florida State, a game in which Quarterback Jacory Harris emerged as a star.
I buy the Miami renaissance more so than the Georgia Tech renaissance (if you can really call it that for this program), especially after Georgia Tech barely won the game I expected them to cruise in last week.
Miami 27, Georgia Tech 22
Tennessee at No. 1 Florida, Sat 3:30 ET, CBS
First-Year Tennessee Head Coach Lane Kiffin has pulled a lot of teeth in the short time he's been in Knoxville. He's taken many shots at the programs around the SEC, especially the Gators of Florida, claiming publicly to have stolen one of their recruits this past offseason.
Kiffin talks a good game, but is he willing to volunteer to wrestle the Gators in The Swamp!? He'll tell you, "Of course," but I don't think the Volunteers have the quality team to compete with Florida quite yet. If you're looking for a good game at 3:30 ET, the better bet is the USC-UW battle, but Kiffin is another one of Carroll's disciples, and the theater that he should provide as he enters (and exits) The Swamp is worth watching for a few minutes, at least until Florida ends the game somewhere in the second quarter, but continues to feast on Kiffin's team.
Florida 48, Tennessee 23
My Top 25
1. Florida (Last week: 1) 2. Alabama (4) 3. Texas (3) 4. USC (2) 5. Penn State (5) 6. Cal (7) 7. BYU (8) 8. Ohio State (11) 9. Boise State (9) 10. Ole Miss (10) 11. Oklahoma (13) 12. TCU (14) 13. LSU (12) 14. Cincinnati (20) 15. Virginia Tech (15) 16. Miami (FL) (16) 17. Oklahoma State (6) 18. Georgia Tech (18) 19. Michigan (NR) 20. Houston (NR) 21. Georgia (19) 22. Nebraska (NR) 23. Utah (17) 24. Oregon State (NR) 25. Texas Tech (NR)
OUT - UNC (21), Missouri (22), Florida State (23), Oregon (24), Michigan State (25)
--Originally posted at http://jtstally.blogspot.com --
Ad blocker interference detected!
Wikia is a free-to-use site that makes money from advertising. We have a modified experience for viewers using ad blockers

Wikia is not accessible if you've made further modifications. Remove the custom ad blocker rule(s) and the page will load as expected.