Hopefully everyone, including their football team, enjoyed their holiday weekend as much as I did.  Now that it's over, sadly enough, I think it's time to reflect on the slate of big games that took place while the Nation sat on their couch eating turkey and potato chips.
The division matchup betweeen the, now 11-1 New York Giants, and Washington Redskins was anticipated as the 'game of the week.'  But the three Thanksgiving games came first.
Turkey Day Blowouts?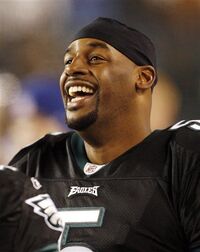 The 11-1 Tennessee Titans--the juggernauts of the AFC--sure did get a treat on Thursday.  Every matchup possible was a clear mismatch, therefore resulting in a 47-10 blowout.  Both Tennessee RB's, including rookie speedster Chris Johnson, ran for 100+ yards and two TD's.  The crazy stat of the game...Tennessee's nine penalties.  Kicker Rob Bironas helped the cause by going 4 for 4 from beyond 40-yards in Detroit's Ford Field.  Tennessee's total domination under the time of possession category was the icing on the cake.
A quick start for Tony Romo's Cowboys is what won them their eighth game of the season.  Rookie RB, Tashard Choice out of Georgia Tech, ran for a career-high 57 rushing yards.  Choice's 5.2 YPC and Romo's 311 passing yards and 3 TD tosses lifted the 'Boys over the struggling Seattle Seahawks, 34-9.
The night cap was, supposedly, going to be an evenly-matched and maybe even a nail-biter.  "When birds attack," as the NFL Network described the game.  Arizona Cardinals at Philadelphia Eagles.  This game had Cardinals written all over it, but Donovan McNabb proved (to most people, at least) that he still deserves to be under center in Philly.  McNabb threw for 260 yards and 4 TD's while putting up 48 points on the scoreboard.  Running back Brian Westbrook had a career day with 110 rushing yards and 4 total TD's (2 rushing, 2 receiving).
Sunday Excitement
Headlines:
DeAngelo Williams' four rushing TD's carries 9-3 Panthers
Denver snaps Jets' five-game win streak with 34-17 victory
Flacco, Ravens stampede weak Bengals D
Pittsburgh defense shocks Belichicks' Pats
Colts, 8-4, slip by puzzled Browns; Cleveland loses another QB to injury
Jackson returns; STL loses tenth game of season regardless
Manning, Giants keep win streak alive, now at 7
Bucs tied atop the NFC South with 23-20 victory
Rookie Matt Ryan continues to surpris; Leads Falcons to 8th win of season
Mistake-free Edwards, unable to lead Buffalo to victory
Chiefs win run-heavy game in Oakland
Minnesota, AP run all over CHI Bears
Top game recaps:
Carolina Panthers 35, Green Bay Packers 31
If anything, this game was going to be a shootout. The Pack, led by young QB Aaron Rodgers, needed a win to stay in the hunt for the NFC North title. Rodgers needed all the help he could get come kickoff, as Carolina's running game quickly set the tempo of the game.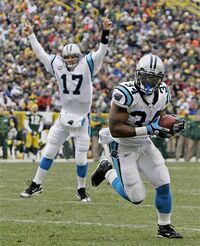 Halfway through the first quarter RB DeAngelo Williams scored from one yard out. The TD gave Carolina the 7-0 lead and after a Mason Crosby FG, Carolina QB Jake Delhomme ran for a one yard TD to extend their lead, 14-3. Rodgers kept the Pack alive with a TD of his own (6-yard pass to WR Donald Driver), but Williams ran in for his second TD with under a minute left in the half. Carolina held a 21-10 lead at the half.
The third quarter belonged to Rodgers, who helped Green Bay outscore Carolina 10-0. The ten points tied the game up (thanks to a nifty two-point conversion), but two more TD runs for Williams in the fourth quarter allowed Carolina to tie the game up and then finally take the lead back for good. Williams ran for just 74 yards on 21 carries and all four of his TD runs were from one-yard out.
There's no way Carolina would be standing at 9-3 right now without the running game. Next week's matchup: v.s. TB @ 8:30 PM ET on Monday December 8th.
New York Giants 23, Washington Redskins 7
Eli Manning threw for 305 yards and a TD in New York's big win over their division rivals, the Washington Redskins.
Veteran WR Amani Toomer stepped in nicely for Plaxico Burress who will be charged for gun possession after accidentally shooting himself in the thigh, although he was already ruled out for the game with a hamstring injury. Toomer caught five passes for 85 yards and the only passing TD of the game, which went for 40 yards early in the opening quarter.
The Giants took the early 13-0 lead after the Toomer TD and two John Carney field goals. But, the Skins cut the lead in half after rookie WR Devin Thomas, out of Michigan State, ran for a 29-yard TD halfway through the second quarter. Brandon Jacobs lone TD run of the game, also his 11th of the season, broke the game open, 20-7, early in the third.
As they say, the rest...is history. Washington's QB Jason Campbell was sacked four times, twice by DE Justin Tuck, who has now recorded 9.5 on the season. Washington's next game is a very big, and important date with the 8-4 Baltimore Ravens, on the road.
Pittsburgh Steelers 33, New England Patriots 10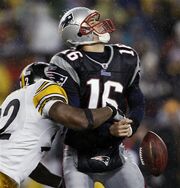 This game could have potentially been a shoot-out between BIG Ben Roethlisberger and young Matt Cassel of New England. But, Pittsburgh proved they have the number one defense by forcing five turnovers and dominating the time of possession.
Most important thing for Pittsburgh...Roethlisberger was sacked just once and he threw more TD's then INT's (2 to 1). Cassel, who is obviously not very experienced in big games like this one, threw two INT's and lost two fumbles back to back (both were forced by LB James Harrison of Pittsburgh). The only mistake for Pittsburgh came early. Starting with a 19-yard TD pass from Roethlisberger to WR Santonio Holmes, the Steelers scored 30 unanswered points to cruise to a 33-10 victory after going into the half with a tie game.
Cassel may not produce many more 400+ passing yard games this season, especially when you add in the fact that he has zero experience in the December/January games, which are always very important in the NFL. In order to make the playoffs, the Pats may have to win the rest of their four remaining games.
Season Awards (through first 13 weeks):
MVP
Kurt Warner, ARI, QB- Warner has turned this Cardinal offense into a top tier passing attack, with the help of the dynamic duo of Anquan Boldin and Larry Fitzgerald, of course!
Drew Brees, NO, QB- Brees' New Orleans Saints offense is ranked number one in the NFL right now with 411 total yards per game (319.5 PYG). He isn't first because his team is only 6-6, last in the NFC South.
Clinton Portis, WAS, RB- Portis is responsible for all the success Washington has had on offense. His 1,206 rushing yards are most in the NFL. Portis has seven rushing TD's this season, and has made an impact in the passing game as well.
Just Missed: Tony Romo
Defensive Player of the Year
Albert Haynesworth, DE, TEN- Haynesworth is having a career year (8.5 sacks, 3 FF), and is the anchor of this Titans defense, which, by the way, is third in the NFL against the run.
James Harrison, LB, PIT- Harrison has done it all this season. He has recorded 70 total tackles (47 solo, 23 assists) and 12 sacks, which is tied for the third most in the NFL. He is also tied for third in the League in forced fumbles with four.
DeMarcus Ware, LB, DAL- This big guy is one of the few bright spots in Dallas' defense this year. His 15 sacks is most in the League and he has recorded 62 total tackles (52 solo, 10 assists).
Just Missed: Joey Porter, Patrick Willis
Rookie of the Year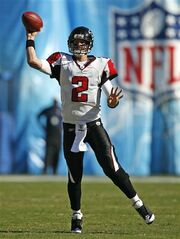 Matt Ryan, QB, ATL- Without a doubt in my mind, Ryan has performed the best out of any rookie so far. Ryan has turned around the sorry Falcons to an 8-4 record through 12 games this year. Ryan's 60.0 comp % and 88.3 QB rating has shocked me almost as much as his 11 TD passes (compared to six INT's) in Atlanta's run-first offense.
Matt Forte, RB, CHI- Entering Sunday night's game against Minnesota, Forte--out of Tulane--had 916 rushing yards with 6 TD's. His 916 yards was good enough for sixth in the League, and his knack for the end zone has allowed him to find a spot on many fantasy teams.
Joe Flacco, QB, BAL- Like Ryan, Flacco has certainly turned this team around--and quick, at that. Flacco's numbers may not look quite as good, but either way Flacco has gotten into a groove in Baltimore and has really looked comfortable in the pocket.
Just Missed: Chris Johnson, Steve Slaton, Jonathan Stewart
Comeback Player of the Year
Jake Delhomme, QB, CAR- Delhomme had Tommy John surgery just last season. It's unbelievable he's in there now. "Jake the Snake" as I like to call him, seems to be the only true candidate for 'comeback player of the year'...to me anyways.
Just Missed: None
Coach of the Year
Jeff Fisher, TEN- Who would've thought that Fisher's Titans would only have one loss through 13 weeks?!?!
John Fox, CAR- I'll give the credit for the Panthers 9-3 season to the head coach, even though Williams, Stewart and the O-line have done all the dirty work.
Tom Coughlin, NYG- You're obviously doing something right if you're 11-1 (like Fisher's Titans). They look to be the favorites in the NFC, at least.
Just Missed: Jon Gruden, Tony Sparano
Monday Night Preview:
It's not exactly the most eye-popping match up out there, but tonight's Jaguars/ Texans game will be a great game nonetheless.
David Garrard v.s. Sage Rosenfels (and Andre Johnson).
Yes, both teams are 4-7, but they are fighting for their season at this point. That statement alone should make this a good game. Rookie RB Steve Slaton will have a big night against this Jaguars defense, so all you fantasy owners be sure you don't leave him on the bench.
Prediction: Jaguars 14, Texans 24
Ad blocker interference detected!
Wikia is a free-to-use site that makes money from advertising. We have a modified experience for viewers using ad blockers

Wikia is not accessible if you've made further modifications. Remove the custom ad blocker rule(s) and the page will load as expected.