Article:Week 13: Bobby Bowden's Last Play
Talk

0
Ad blocker interference detected!
Wikia is a free-to-use site that makes money from advertising. We have a modified experience for viewers using ad blockers

Wikia is not accessible if you've made further modifications. Remove the custom ad blocker rule(s) and the page will load as expected.
**Just a friendly reminder that I post up on here to share my thoughts, but I copy/paste from my blog and the formatting is often lost.  Check out my blog page for proper formatting, and the opportunity to vote on my weekly poll!**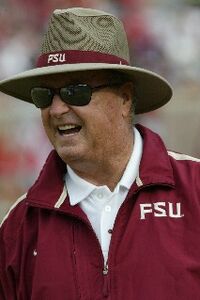 I apologize for being brief in this post.  I have a cross country flight to LA tomorrow, but don't want that to prevent me from getting something out for this week's Postgame.  However, as the clock winds down on the regular season, it's almost fitting, that I speed along as if I'm running the two-minute drill at the end of the game.
Play-by-Play: A Legend's Final Encore Honestly, Bobby Bowden deserves more than the brief that I'm sticking him with.  Considering I devoted so much of last week's article talking about a coach, Charlie Weis, who accomplished basically nothing, Bowden accomplished a whole lot more but gets a whole lot less ink. Earlier today, Bowden announced that after 34 years as the Head Coach of Florida State, he will coach his last game in FSU's upcoming bowl game later this month (or early next month).
Straw hats off to Bowden for being one of the most legendary coaches of all-time in college football.  His name deserves to be mentioned right up there with Bear Bryant, Woody Hayes, and Joe Paterno.  With just one game left to coach, Bowden has 388 career victories, second only to Paterno, who is still on the Penn State sideline. Bowden won two championships in his tenure, and while that might seem small for 34 years, he once had a string of 14 consecutive top five finishes in the AP Poll.  For us Trojan fans, that certainly makes our run which is at seven (and will certainly end this season) look pedestrian.
Like an aging person, Bowden was past his prime at the time of his retirement.  This season, Florida State had a frustrating 6-6 season, the fifth straight season in which the Seminoles lost at least four games.  Fittingly, the regular season ended in a 37-10 drubbing from No. 1 Florida, evidence to all, and most importantly Bowden himself, that he no longer possessed what it took to compete with the nation's elite. However, Bowden should be remembered for how great he was, not how much he'd fallen by the end of his career. In winning nine straight ACC titles from 1992-2000, Bowden's teams went 70-2 and won Bowden's two National Championships (1993 and 1999).
Ironically, Bowden's final trip to a BCS Bowl was a thriller against Paterno's Nittany Lions in the 2006 (2005 season) Orange Bowl; a game which Penn State pulled out 26-23 in triple overtime. Bowden's retirement officially ends the race between the two coaches to become the winningest coach in the history of college football (Paterno will take that title).  However, while the book is closed on Bowden's career, it should never close on his legacy. Bobby Bowden should always be remembered as one of the best coaches the game of football has ever seen.
Three Down Conversions
- Bucking Broncos - After No. 6 Boise State's 44-33 win over WAC-undefeated Nevada, the Broncos might be referring to it as the "Bucking FCS."  Barring an Armageddon-like collapse at home against 3-9 New Mexico State (Tuesday's betting spread was BSU by 47.5!), Boise State will finish a perfect 13-0 this year.  It will be the third time in four years that the Broncos will finish the regular season undefeated, yet, as usual, they won't even receive consideration for the BCS Championship.  In fact, there's talk that they won't even make a BCS Bowl!  That's absurd.  This team is one of most under appreciated in the country, and it deserves a BCS Bowl.  I could tell them, as I did at the beginning of the year, to schedule tougher teams, but just ask TCU, that doesn't get you into the Championship either.
- Biggest Longhorn - I was a believer in Colt McCoy from the start of the season.  In fact, in the preseason preview, I even put McCoy on the cover and predicted he'd lead his team to the National Championship.  While I still think that McCoy will fulfill that prediction, I certainly wasn't buying his Heisman hype in the middle of the season.  Honestly, it was hard to agree with any of that talk considering that against the two toughest opponents (Oklahoma and Oklahoma State), McCoy failed to break the 200-yard passing mark or throw more than a single touchdown in either game. However, McCoy has always done what he needed to do for his team to win, which is why it's 12-0, and this past weekend, it was his job to win the game.  As No. 3 Texas' defense struggled to stop Texas A+M, McCoy passed for 304 yards and four touchdowns, while amassing a whopping 175 rushing yards and a rushing TD in a 49-39 win.  I still am not arguing that McCoy should win the Heisman, but I'm willing to include him in the discussion.
- Sooner Too Late - I was on the Oklahoma bandwagon for longer than most, but even I had to jump off after a 10-3 loss to Nebraska and 41-13 lambasting to Texas Tech.  However, while Oklahoma finishes a miserable 7-5 season in which it once has aspirations of a return trip to the BCS Championship game, it can still stand tall in its home state.  The Sooners made No. 11 Oklahoma State feel like its perennial little brother yet again as they knocked the Cowboys out of their saddles with a 27-0 performance.  The old Native American adage is that they don't own land, so I guess, despite a rough season, OU is still the only one to lay claim to the state of Oklahoma.
Three-and-Out
- ACC "Champions" - While Georgia Tech and Clemson will face for the conference championship this coming weekend, each lost their state championship this past weekend.  In a glaring disparity between conferences, the cream of the ACC was swallowed by the middle of the SEC. Early in the day, No. 15 Clemson was embarrassed 34-17 by South Carolina.  Then, in the evening, No. 7 Georgia Tech was taken out by Georgia 30-24.  Both South Carolina and Georgia finish the regular seasons at 7-5; both Georgia Tech and Clemson have a chance for an automatic BCS Bowl bid this weekend.  Go figure!
- Pitt of Despair - I really should spice up my three picks in the Gameplan and throw in an upset alert each week.  Last week, if you saw my Yahoo College Pick 'Em, you would have seen I actually took unranked West Virginia over No. 8 Pittsburgh in the coin flip.  Needless to say, when WVU beat Pitt 19-16 on Friday night, I wasn't surprised.  The win hurts Pitt's national credibility, but it doesn't change the outlook for the Panthers season.  The loss was the first conference loss for them, and a home win this weekend against undefeated Cincinnati will still send Pitt to a BCS Bowl over Cincy (see Gameplan below for the preview).
- Irish Rebellion - As I discussed in detail last week, the end was near for Charlie Weis.  Weis was officially fired by Notre Dame today, days after Notre Dame collapsed 45-38 at Stanford.  The Irish lost their final four games of the year and finished at just 6-6.  While Notre Dame is still bowl eligible, it appears that Weis' last game on the sideline was this past Saturday.  There was hope for Notre Dame, who led 31-20 after an early third quarter touchdown, but the Irish were outscored 25-7 down the stretch and Weis' fate was sealed.
Extra Point
There's rarely an extra point on a two-minute drill, you either have won or you've lost.  Let me simply point out that while Bowden has retired, I still don't see Paterno retiring any time soon. '
Last Week's Final Score Week Record: 1-2 Season Record: 24-12 Prediction: Boise State 48, Nevada 42 Result: Boise State 44, Nevada 33 Prediction: Temple 31, Ohio 21 Result: Ohio 35, Temple 17 Prediction: Utah 34, BYU 28 Result: BYU 26, Utah 23 (OT)
This Week's Gameplan SEC Championship Game (Georgia Dome; Atlanta, GA) No. 1 Florida (12-0, 8-0 SEC) vs. No. 2 Alabama (12-0, 8-0 SEC), Sat 4 P.M. ET, CBS
My, what a game this has been cracked up to be!  As I said almost a month ago, this matchup has been known for quite sometime.  This is also a rematch of last year's SEC Championship game, which Florida won 31-20. Credit Nick Saban with having the heads-up to schedule then-No. 7 Virginia Tech in the opening game of the season at the Georgia Dome.  Alabama has the experience playing an elite team in this very building. However, after last year, Florida has the experience beating Alabama in this very building!  I don't think much has changed from last year to this year, and any thoughts that Alabama is the better team were dispelled by a near-loss to Auburn last week. Same matchup, same result. Florida 34, Alabama 23
Unofficial Pac-10 Championship Game No. 13 Oregon State (8-3, 6-2 Pac-10) at No. 7 Oregon (9-2, 7-1 Pac-10), Thurs 9 P.M. ET, ESPN
In the interest of time, let me copy and paste from last week 's Three Down Conversion : "The Ducks have been near the top of the conference for quite sometime, but haven't gone to the Rose Bowl since 1995.  They haven't won a Rose Bowl since 1917 (their only R.B. win in history).  They'll go to it this year with a win...in the "Civil War" against Oregon State. "Which brings us to No. 20 Oregon State...The Beavers haven't been to the Rose Bowl since 1965 and haven't won it since 1942.  However, they'll get go if they can take out Oregon on the road.  Either way, the state of Oregon will send a school to the Rose Bowl this season." This is a huge Thursday night for this state.  After this game, USC's run on the Pac-10 and the Rose Bowl will officially be over, and the winner of this game will head to Pasadena. Oregon State might be the quietest Top 15 team in the country.  Touche to the anonymous poster in Week 1 who I scoffed when s/he said the Beavers would be Top 15 by the end of the season.  Here they are! That said, Autzen Stadium is always a tough place to play, and now that the fans can see roses in front of them, this place will be nuts!  Combine that with Oregon's clear advantage in overall skill and I can hear the mighty Ducks quacking. Oregon 45, Oregon State 34
Unofficial Big East Championship No. 5 Cincinnati (11-0, 6-0 Big East) at No. 14 Pittsburgh (9-2, 5-1 Big East), Sat 12 Noon, ABC
Like the Pac-10 "championship," this game will determine the winner of the Big East and send the winner to a BCS Bowl, even if it's not an official "championship." Cincinnati enters the game with a perfect record, and Pittsburgh certainly lost momentum with a loss against rival West Virginia last weekend.  However, don't overlook the fact that a few weeks ago, Cincinnati beat WVU by just three points themselves, and it was at home, whereas Pitt was on the road. Believe me.  As a player that played for a lot of teams that carried undefeated years late into the season, it gets harder and harder every game to keep winning because the pressure builds up.  And, while Pittsburgh might be disappointed in its loss, it also served as a wake up call.  I also know how much a timely regular season loss can help you refocus for a stretch run.  (After our first conference loss in hockey my senior year of high school, my team won for two months straight and avenged that loss against the same foe in the State Championship.) Basically what I'm saying, Cincinnati is primed for a loss, Pittsburgh is refocused, and this game is in the Steel City. Pittsburgh 34, Cincinnati 31
My Top 25 1. Florida (Last week: 3) 2. TCU (2) 3. Texas (1) 4. Boise State (4) 5. Alabama (5) 6. Cincinnati (6) 7. Ohio State (7) 8. Oregon (8) 9. Virginia Tech (13) 10. Penn State (12) 11. Georgia Tech (9) 12. Oregon State (14) 13. Pittsburgh (10) 14. Iowa (17) 15. LSU (15) 16. Houston (23) 17.Clemson (11) 18. Stanford (21) 19. Miami (22) 20. USC (25) 21. BYU (NR) 22. Oklahoma State (16) 23. West Virginia (NR) 24. Nevada (18) 25. Utah (20) OUT - UNC (19), Navy (24)
Heisman Ballot 1. Case Keenum, QB, Houston (Last week: 1) 2. Toby Gerhart, RB, Stanford (3) 3. Kellen Moore, QB, Boise State (2) 4. Tim Tebow, QB, Florida (4) 5. Colt McCoy, QB, Texas (7) -- NOTABLES: 6. Mark Ingram, RB, Alabama (5) 7. C.J. Spiller, RB, Clemson (NR) 8. Freddie Barnes, WR, Bowling Green (NR)