**Just a friendly reminder that I post up on here to share my thoughts, but I copy/paste from my blog and the formatting is often lost.  Check out my blog page for proper formatting, and the opportunity to vote on my weekly poll!**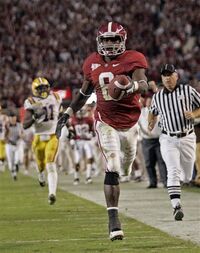 "No, no, no, no drama!"
Aside from being that guy that wants to get that horrible song stuck in your head all night (don't worry it'll be stuck in mine too), I'd like to highlight the parody (and I don't mean "parity") of college football.
Over the past two seasons, fans across the nation have demanded the NCAA create a football playoff system. In 2008, it was the fans of Texas, Southern California, Penn State, and Utah that all made legitimate cases for their teams' opportunity to play for the National Championship. So far in 2009, it's the fans of TCU, Cincinnati, and Boise State, whose teams all stand a reasonable shot at finishing the season undefeated, yet without an opportunity to play for the National Championship.
While the nation has been boisterous, two states have kept noticeably mum about the issue of a playoff system: Florida and Alabama. Funny? Perhaps that's because they already have one!
Play-by-Play: S-E-C, "Same Exact Championship"
Depending on the conference and schedule, there are still up to four important weeks of the season left.
-The Big 10 is up for grabs with conference leaders Iowa and Ohio State facing off this weekend for all the marbles. -The Big East could come down to the final week when current conference undefeateds Cincinnati and Pittsburgh clash. -The Pac-10 is significantly muddled (see Extra Point). Arizona and Oregon each have only one loss and play next week. If Arizona wins, it might have to beat USC on the road the last week of the season to win the conference. Both USC and Stanford are still in the mix with two losses, they play each other this weekend. -The ACC Coastal Division is wide open and ex-doormat Duke still has a legitimate shot with a huge game against Division leading Georgia Tech this weekend. -The Big 12 is more or less a countdown to when Texas destroys "whoever wins the Big 12 North." -The Mountain West Conference pits conference undefeateds TCU and Utah this weekend. -The WAC could be on the line in a few weeks when Nevada goes to Boise State, both teams are currently undefeated in the conference. -Conference-USA, the MAC, and the Sun Belt are all similarly still up for grabs.
However, the SEC officially closed its doors to competition on Saturday, and surprise, surprise, it's the same two teams that will play for the Conference Championship a little less than a month from now.
The drama is gone. The show is over. Thanks for playing LSU, and Georgia, and the rest of you also-rans that, for the most part, are toiling somewhere below .500 in SEC play.
Isn't it ironic, almost humorous, that despite being considered the most "competitive" of all conference's in college football, the fate of the Conference Championship game was sealed 28 days before the actual game is to be played!? What's even more frustrating for the rest of the conferences across the nation is that while their team tussles and fights, the winner of this Conference Championship is almost guaranteed one of the two spots in the National Championship.
However, while the debate rages on about the necessity to create a playoff system, there can't really be any argument in the SEC this season.
Florida clinched the SEC East by beating Georgia (currently second in the division) a week ago, and this past weekend, Alabama beat the SEC West's second place team, LSU, to clinch its division.
What's more? Assuming there aren't any unlikely slip ups by one of these two teams (neither has a ranked opponent left on the schedule), Florida and Alabama will essentially have a "playoff" game for the National Championship. It will be the second year in a row that these two have met in a pseudo "semifinal," Florida won last year's game 31-20 and went on to win the National Championship.
Let's take a moment to enjoy the little bit of bracketology we get to see in college football. Quarterfinal: Florida vs. Georgia (Florida wins to clinch division), Alabama vs. LSU (Bama wins to clinch division); Semifinal: Florida vs. Alabama (winner likely to get BCS Championship Game berth).
Plain, simple, even boring, but very effective (that sounds like a motto for the overall style of SEC football!)
Obviously, this disregards every other conference in the Division 1 FBS. It's not quite as simple for the Pac-10, Big 10, or Big East, which don't even have championship games to use as semifinals. And, it's much more complicated for the likes of the MWC or WAC, who get little consideration even if they have a team go undefeated!
However, at least in the SEC, there is no drama, at least when it comes to the catastrophe known as "the Bowl Championship Series."
Sure, there's drama between the coaches, who rip each other in the media; and the referees, who can't make the correct call if you dial the phone number for them; and the coaches who criticize the referees in the media (Florida Coach Urban Meyer actually had the gall to criticize the officials last week despite them hand delivering him two wins on a platter in previous weeks); and the Commissioner, who has to police the coaches like a middle school principal.
Sure, there's all that drama. But, when it comes to actually determining how good you are on the field and having a chance to play for a National Championship? The Black Eyed Peas say it best, there's "no, no, no, no drama."
Three Down Conversions
-The Ohio State University - After years of disappointment, No. 15 Ohio State finally punted its struggles in big games and dominated No. 11 Penn State 24-7. Despite throwing for two touchdowns and running for a third, let's not give too much credit to Terrelle Pryor, who completed just 8 of 17 passes. However, the Buckeyes have finally put together an offense that doesn't require Pryor to dominate and instead simply take snaps. The running game accounted for 228 yards (including 68 from Brandon Saine and 58 from Daniel Herron), which allowed Ohio State to control the clock with 34:02 of possession. The defense was the true hero, however, giving up just 201 total yards and nine first downs.
Even before last Saturday, Ohio State controlled its own destiny in the Big 10, but with Iowa's loss (see Three-and-Outs), the Buckeyes can clinch the conference this weekend and head to the Rose Bowl. Interestingly enough, despite the Big 10 winner being guaranteed a Rose Bowl berth each year and Ohio State having dominated the Big 10 for the last decade, the Buckeyes haven't gone to the Rose Bowl since 1997 (a 20-17 win over Arizona State). Let's not discredit them, they've made three National Championship games since then, and thus passed on the trip to Pasadena for the shot at a bigger prize. But, the Buckeyes return to the "Granddaddy of Them All" appears near.
-The Cardinal - Stanford shocked No. 7 Oregon in an old-fashioned 51-42 western shootout. Oregon was fresh off handing USC its worst loss in over a decade and taking firm control of the Pac-10 Conference. However, the Ducks just couldn't figure out how to stop Stanford running back, Toby Gerhart. Gerhart averaged 5.9 yards/carry in amassing 223 rushing yards and scored three touchdowns in the upset. His performance has turned up the volume on his Heisman hype, and he's beginning to creep onto the back of the ESPN Experts' Ballots.
Up next, Stanford will head to Los Angeles to take on USC. The Cardinal shocked USC the last time it played at the Coliseum and is the only team to have beaten USC at home since 2001. A win would keep Stanford's hopes alive for the Pac-10 Conference (although they'll need help) and would thoroughly bury USC for this season.
-Eye of the Tiger - Technically, maybe it's the "J" of the Tiger, as in "C.J." Clemson running back, C.J. Spiller had a dominating performance in a 40-24 win against Florida State this weekend. Spiller rushed for 165 yards and touchdown and also caught a 58-yard touchdown pass for the Tigers. The win launched Clemson back into the rankings, at No. 24, and with just two games left in ACC play, it is still on track to make the ACC Championship game.
Three-and-Out
-Bye-owa - For weeks now, we've had a countdown of when Iowa will finally lose. When will its luck finally run out? It happened this past weekend when unranked Northwestern came to town and knocked off the No. 8 Hawkeyes 17-10. Despite Northwestern's mediocre standing, it shouldn't be a surprise that this was finally the team to beat Iowa. After all, it was only a matter of time until someone did. What was a surprise, however, was how much Iowa's fortunes changed.
Not only did the Hawkeyes lose the game, but quarterback Ricky Stanzi, the key to the offense, went down with an ankle injury. His back up, James Vandenberg, is just a 19-year old redshirt freshman, and he went just 9 for 27 with an interception in replacement of Stanzi on Saturday. Stanzi underwent surgery on his ankle on Monday and isn't expected back anytime soon. Good news? Iowa still controls its road to the Rose Bowl (where it hasn't been since 1991 and hasn't won since 1959). Bad news? They're going on the road against the toughest defense in the conference (yardage-wise) with a freshman quarterback making his first career start! Good luck, you'll need it!
-Clawless Wolverines - Michigan lost 38-36 at home to Purdue and fell to 1-5 in the Big 10. After having started the season 4-0, the Wolverines have lost five of six and need to beat either No. 21 Wisconsin on the road or No. 10 Ohio State in the Big House, just to be bowl eligible. The punchless defense has given up 35 points in each of the last three games (all losses), and it's hard to see Michigan turning a corner anytime soon.
-The Irish with No Fight - It's bad enough that No. 19 Notre Dame lost 23-21 to Navy at home. It's worse that after having beat the Midshipmen in 43 straight meetings, the Irish have now lost two straight to them in their own building. It's the worst that after the game Navy Head Coach, Ken Niumatalolo, criticized Notre Dame Head Coach Charlie Weis for having run the exact same defense he ran against the Midshipmen last year; a statement with which many of Weis' players concurred. They always say if you give a good coach an extra week to gameplan, he'll beat you. Well, Charlie, whether Niumatalolo is a good coach or not, if you give him 52 weeks, it's no surprise that he beat you!
Extra Point
For my Trojan contingent of readers: USC still has a shot at winning the conference. Oregon's loss to Stanford opens up a back door for USC to sneak into yet another Rose Bowl Game. With seven straight conference championships, USC has made five Rose Bowl appearances (the other two seasons, it went to the Orange Bowl due to National Championship location). Here's how it all must work out :
-Obviously, and most importantly, USC must take care of business and beat its remaining opponents. At the beginning of the season, three home games against Stanford, UCLA, and Arizona would have looked like a walk in the park, but, with the exception of the always dangerous rivalry game against the Bruins, there aren't any cupcakes here.
-Trojan fans should cheer for Arizona (unless they lose to Oregon, then you'll want to cheer against them, see below when I outline a three-way tiebreak between USC, Oregon, and Oregon State). USC will significantly benefit if the Wildcats win its next three games (at Cal, vs. Oregon, at Arizona State). That would set up a situation where 7-1 Arizona plays 6-2 USC in the final game of the year at the Coliseum. If USC wins, it is all but guaranteed to win a three-way tie with Oregon and Arizona.
The tiebreak would work as such. All three teams would be 1-1 against each other, so the tiebreak would go to each "team's record against the team occupying the highest position in the final regular season standings." Both USC and Arizona lost to UW, Oregon lost to Stanford. Currently, Stanford is 5-2 in the conference and UW is 2-4, so unless UW finishes the conference 3-0 and Stanford 0-2, then this tiebreak will eliminate Oregon and USC's win over Arizona will propel them to the Rose Bowl. If Stanford and Washington finish with 5-4 records, as is still possible, the next tiebreak would be BCS Standing (USC is currently #9, Oregon #13, Arizona #17), and USC would almost definitely hold serve and win that tiebreak as well (this is why you should continue to pull for teams like Ohio State and Notre Dame, except, of course, if USC meets Ohio State in the Rose Bowl!).
-Also worth noting that this system assumes current two-loss Stanford will be eliminated with a loss to USC this weekend, however, while two-loss Oregon State has lost to both USC and Arizona, it could still play a significant role in a tiebreak if it wins out (vs. UW, at WSU, at Oregon). Obviously, most people expect Oregon to beat Oregon State in Eugene, but let's wander down the other road while we're here.
A lot of this hinges on the outcome of next week's Oregon-Arizona game. Let's assume Arizona wins that and wins out the rest of the way (until a loss to USC). Thus, USC, Arizona, and Oregon State all finish with two losses. Against each other, USC is 2-0, Arizona 1-1, Oregon State 0-2. No need explain this tiebreak, USC goes to the Rose Bowl.
If Oregon beats Arizona and loses to the Beavers, the three way tie is between USC, Oregon and Oregon State. In this case, each team is 1-1 against the others, so again, we go down the standings. As I said, there's no way that Stanford (Oregon's loss) can finish below Washington (USC's loss), so USC can't be eliminated by Oregon in a three-way tie. Oregon State's other loss was to Arizona, so the Wildcats become the wild card (because Arizona's standing could fluctuate greatly). This format assumes two more losses by Arizona (to Oregon and USC) and they have four more Pac-10 games to play right now. Thus, they could finish anywhere from 6-3 to 4-5. This is where the tiebreak gets really muddled.
If Arizona finishes better than Stanford and Washington, Oregon State is eliminated first, thus, after Oregon State is gone, Oregon (via head-to-head win) takes the Rose Bowl over USC. If Arizona finishes tied with or below Stanford but ahead of Washington, then Oregon is eliminated before the Trojans, and thus USC goes to Rose Bowl (via head-to-head win over Oregon State). If, in the unlikely scenario Arizona finishes 0-4, Stanford finishes 0-2, and UW finishes 3-0, Arizona would finish below both of those teams (who would, in turn, be tied), thus Oregon State would knock out both USC and Oregon at the same time and go to the Rose Bowl.
Got it! It's that simple! (Do you feel at all like Josh Elliott in that new Sports Center commercial with Matt Ryan?)
Last Week's Final Score
Week Record: 2-1 Season Record: 18-9
Prediction: Alabama 23, LSU 14 Result: Alabama 24, LSU 15 -Almost got that one exactly right!
Prediction: Ohio State 20, Penn State 16 Result: Ohio State 24, Penn State 7
Prediction: Notre Dame 38, Navy 27 Result: Navy 23, Notre Dame 20 -I guess I got what I deserved for picking a "Mickey Mouse" game.
This Week's Gameplan
Unofficially the Official Big 10 Championship No. 15 Iowa (9-1, 5-1 Big 10) at No. 10 Ohio State (8-2, 5-1 Big 10), Sat 3:30 P.M. ET, ABC
There is no official "championship" game in the Big 10, but mathematically, this game will determine the conference winner. These two are tied a top the conference with one loss, the two teams with two losses (Wisconsin and Penn State) each lost to both of these teams. Thus, with only one game apiece after this, the winner of this game can't finish any worse than a tie with teams they've beaten.
Despite going 9-1, Iowa has looked weak, and as mentioned in Three-and-Outs, it will have to try to win this weekend without its offensive leader, quarterback Ricky Stanzi. That's just too much to ask for.
The Buckeyes steamrolled a very strong Penn State team on the road this past weekend, and since a stunning loss to lowly Purdue, they've looked like a team on a mission. In the three games since, they've outscored opponents 107-14, and this weekend shouldn't be much different. As stated in Three Down Conversions, the Ohio State defense is dominant and the running game has reeled off three straight games of 200-plus yards. This is a statement game for a team that has no shot at the National Championship, but is deeply vying for a little respect!
Ohio State 34, Iowa 6
No. 16 Utah (8-1, 5-0 MWC) at No. 4 TCU (9-0, 5-0 MWC), Sat 7:30 ET
This is the last, big test remaining for TCU on its quest for an undefeated season and an outside shot to be the first non-BCS conference team to win a National Championship since BYU did it in 1984. However, it might just be the biggest test yet.
TCU made good on its last challenge, whooping then-No. 16 BYU 38-7. However, the Horned Frogs can't get overconfident against the Utes. Remember the last time Utah played an overconfident, fourth-ranked team? Alabama's does, although I'm sure it wishes it didn't remember the 31-17 loss in last year's Sugar Bowl!
What makes Utah so dangerous as well is that it's been here before. The Utes have twice had undefeated seasons and crashed the BCS in the past decade. They know what it takes to do it, and, like an adversary learning the ways of his enemy so as to defeat him, Utah should be well prepared.
On the other hand, TCU is the better team and it's playing at home. Only twice have the Horned Frogs won games by less than 16 points this season; both those games were on the road. In the last four games, they've outscored opponents 178-25.
I certainly expect Utah to put up a fight, and I get the irony of the Utes ending TCU's quest for a undefeated season, but that doesn't mean that I have to buy into it.
TCU 27, Utah 19
No. 7 Georgia Tech (9-1, 6-1 ACC) at Duke (5-4, 3-2 ACC), Sat 12 Noon ET, ESPN2
All right, get the chuckles out the way. Yes, I'm previewing a Duke game. This is a Duke team I've given some ink lately since it recently won consecutive conference games for the first time since 1994. Given the Blue Devils couldn't win at archrival North Carolina last week. The loss broke a three-game conference winning streak for Duke, which, as I said is a huge achievement. It also knocked them out of control of their own destiny, as they are now tied with Virginia Tech (who beat them 34-26 earlier this season). However, considering Georgia Tech beat VA Tech earlier this season, it's fair to say that the Blue Devils are still fully alive in the Division...for now at least.
There hasn't been a November game this relevant on the Durham gridiron since, well, I don't really know how long! A long, long time (let's just say)! It's usually about this time of year when the Cameron Crazies start camping out for days on end just so they can get into a basketball game, Saturday, they'll actually be at the football game!
However, based on the track record of these two teams (frankly: one's good and one isn't), I'd say the first tent will be pitched by Cameron Indoor somewhere during halftime on Saturday.
Georgia Tech 34, Duke 10
My Top 25
1. Texas (Last week: 1) 2. Florida (3) 3. Alabama (2) 4. TCU (4) 5. Cincinnati (5) 6. Boise State (6) 7. Ohio State (13) 8. Pittsburgh (14) 9. LSU (8) 10. Georgia Tech (10) 11. Oregon (6) 12. Miami (19) 13. USC (11) 14. Houston (16) 15. Penn State (12) 16. Utah (20) 17. Arizona (22) 18. Iowa (9) 19. Oklahoma State (21) 20. Clemson (23) 21. Virginia Tech (18) 22. Oregon State (NR) 23. Wisconsin (25) 24. Stanford (NR) 25. Nevada (NR)
OUT - Oklahoma (15), Notre Dame (17), Cal (24)
Heisman Ballot
Starting this week through the end of the season, I'll give you my votes for the Heisman ballot. My votes are a combinations of performance up to this point of the year and the overall value a player has to his team (i.e. if he wasn't there, how would the team fare?). I'll also rank the next three players ("Notables") that don't make my ballot.
1. Case Keenum, Houston, QB 2. Kellen Moore, Boise State, QB 3. Mark Ingram, Alabama, RB 4. Ryan Mathews, Fresno State, RB 5. Toby Gerhart, Stanford, RB -- NOTABLES: 6. Tim Tebow, Florida, QB 7. Jimmy Clausen, Notre Dame, QB 8. Colt McCoy, Texas, QB
Ad blocker interference detected!
Wikia is a free-to-use site that makes money from advertising. We have a modified experience for viewers using ad blockers

Wikia is not accessible if you've made further modifications. Remove the custom ad blocker rule(s) and the page will load as expected.