The Philadelphia Flyers are set to kick off the 2008-09 NHL season Saturday October 11 at the Wachovia Center.  The fierce rivalry of the Flyers and New York Rangers is a great way to kick off the season.  I for one cannot wait to see the red, white, and blue (not the US of A) get their asses handed to them, taste the ice, and be slammed between a rock and the boards.  It's not that I have anything against the Rockettes, I just believe that watching a team that shouldn't even exist get the crap beat out of them is a brilliant form of fun...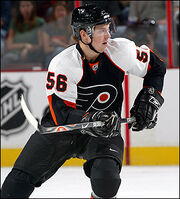 Moving on from the smack and getting down to some preview notes. 
Claude Giroux
is a name few know now, but wait until the end of the season.  The rookie is going to be given
every chance
to make the opening night roster.  There is no reason he won't be seeing his name listed on the line chart come October.  He is a speedy skater with a great sense and feel for the game.  He is young and still somewhat raw, but boy is he a talent.  I can't wait to see if he can carry his high level of junior play over to the bigs.  We are looking at a rookie of the year candidate come next spring...
With Jason Smith out of the picture, the Flyers currently stand without a team captain.  That is until tomorrow.  The Philadelphia Daily News reports that the 23 year old star of the Flyers Mike Richards will become the new captain of the team headed forward.  Players Kimmo Timonen and Simon Gagne were the others being considered of the job.  Timonen has experience as he was Nashville's captain in the 2006-07 season.  Gagne missed time last year due to injury...
The Flyers will open camp this season without two key members of last year's team.  R.J. Umberger was moved in a trade during the off-season and Derian Hatcher who is battling a career threatening knee injury.  With turmoil comes promise.  Hatcher and Umberger may be gone but Gagne and Giroux will join the team this season.  Gagne's lack of presence was obvious last season as the Flyers struggle at times to score goals.  Giroux will add to the young core of players the Flyers are building up.  Keep an eye out for star center Jeff Carter as this speedster is poised for a huge year.  Also, Daniel Briere is a guy to keep an eye on.  One of the highest paid players in the league, he disappeared at times last year.  Some more consistency out of Danny will help this young team return to the conference finals again this season...