I've decided to pretend that I'm a GM of various ailing NFL teams and describe exactly what I would do to turn the franchise around. Think of it as a guideline for these teams to follow so they won't suck as much next year.
The first edition: The San Francisco 49ers. The topic: The horrid QB situation they're faced with.
As we all know, the San Francisco 49ers had a QB carousel this season. Four different quarterbacks lined up under center in 2007: Alex Smith, Trent Dilfer, Shaun Hill and Chris Weinke. Call me crazy but that's a lot of quarterbacks, especially if for the most part, they all didn't show us much skill at all (except Shaun Hill). Firstly, let's take a look at each QB's stats (and their full names!):
Trent Farris Dilfer: 113 completions with 219 attempts for 1166 yards (51.6 completion %), 7 TD, 12 INT, 5.32 yards per attempt and a 55.1 QB rating. Trent played in 7 games.
Alexander D. Smith: 94 completions with 193 attempts for 914 yards (48.7 completion %), 2 TD, 4 INT, 4.74 yards per attempt and a 57.2 QB rating. Alex played in 6 games (and one play in a seventh).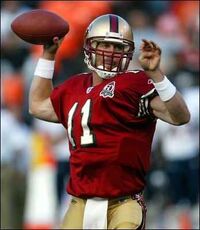 Shaun Hill (Couldn't find a middle name or initial): 54 completions with 79 attempts for 501 yards (68.4 completion %), 5 TD, 1 INT, 6.34 yards per attempt and a 101.3 QB rating. Shaun played in 3 games.
Christopher Jon Weinke: 13 completions with 22 attempts for 104 yards (59.1 completion %), 1 TD, 0 INT, 4.73 yards per attempt and a 86.2 QB rating. Chris played in 1 game… and I'm not entirely sure why.
To be fair, it's hard to compare Shaun and Chris to Trent and Alex due to the varying degree of games played. It's like comparing apples and pebbles, but, we're going to do it anyway.
Take a long look at that list. Soak in all of the statistics. If you owned an NFL team, which QB on that list would you want running your offense? What's that? None of them? If I absolutely had to pick one QB on the list it would be Shaun Hill, but those are stats for three games. THREE games!
Trying to give Alex Smith the benefit of the doubt(which is difficult, he nearly ruined my fantasy team this year), since he is the franchise quarterback after all, I took a look at his previous two years statistics.
2005 (rookie year): 84 completions with 165 attempts for 875 yards (50.9 completion %), 1 TD, 11 INT, 5.30 yards per attempt and a 40.8 QB rating. Alex played in 9 games his rookie year.
2006: 257 completions with 442 attempts for 2890 yards (58.1 completion %), 16 TD, 16 INT, 6.54 yards per attempt and a 74.8 QB rating. Alex played in all 16 games in 2006.
Smith's 2007 season was riddled by injuries but even so, the games he did play in were not of franchise QB caliber. You could say his 2007 was an off year and he could improve on both his 2006 and 2007 campaigns with a great 2008. I would have to disagree – the 49ers have waited three years on this kid, it's time to look elsewhere. Not let him go entirely, but look elsewhere.
Heading back to the Shaun Hill front (the only other on-team option – that's right, I'm not considering Weinke and Dilfer as options) I took a quick look at his career statistics. What I found was… nothing. In his six years in the NFL, all of Shaun Hill's career stats came in 2007 (save for two rushes when he was with the Vikings for a whopping -2 yards).
So the question that stands before us? Are three quality starts enough to base a whole 2008 season on? Of course not, so that is why the 49ers must take a QB in the upcoming draft. The Niners have the 30 th overall pick in the first round (acquired from Indianapolis) and by all accounts, they are going to take a WR with their first pick. Why shouldn't they? Their WR situation is more sordid than the QB one. They do have the 7 th pick in the 2 nd round, however. So here are some quarterback's that will most likely be available.
These are all promising picks, not to mention a bunch of other sleepers that we'll learn about at the NFL Combine. If I had to choose though, it would either be Brennan or Dixon – with a lean towards Dixon. I think the 49ers offense would benefit greatly from an agile quarterback considering that even if they get a great WR in the first round, they still won't have an all start cast at wide out.
Hopefully the 49ers will pick a quality QB this time and sure, he's going to have his learning curve. But coupled with a rookie WR, a rejuvenated Frank Gore and a few tweaks on defense, the San Francisco 49ers could very well return to their former juggernaut status of yore.
Ad blocker interference detected!
Wikia is a free-to-use site that makes money from advertising. We have a modified experience for viewers using ad blockers

Wikia is not accessible if you've made further modifications. Remove the custom ad blocker rule(s) and the page will load as expected.